Twitter Reactions: Ben Dunk's whirlwind 12 sixes enroute 99* propels Lahore Qalandars to a second win in two days
Ben Dunk remained unbeaten on 99 off just 40 deliveries, which includes 12 sixes.
Updated - Mar 9, 2020 10:14 am
1.8K Views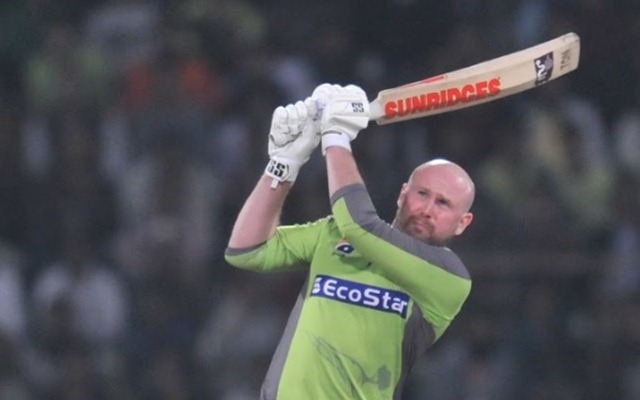 Follow us on Google News
The tide is finally turning to a different direction for Lahore Qalandars, who are beginning to smell something different. They are out of the last position, which is currently being held by the defending champions Quetta Gladiators, as the Qalandars are now dreaming of finishing in the top four for the first time.
The Karachi Kings were invited to bat first on Sunday and they lost Sharjeel Khan early on. Babar Azam was then joined by a supremely confident Alex Hales as the duo piled on the misery for the Qalandars. They stormed away in the powerplay overs before getting a bit cautious once the field was spread out. They added 60 runs for the second wicket before Babar Azam was dismissed.
The Qalandars picked up two quick wickets of Iftikar Ahmed and Cameron Delport, who didn't stick alongside Alex Hales for long. But the Englishman was untampered by what's happening around and completed his half-century. Hales seemed like getting close to a hundred, but Chadwick Walton's sensational cameo prevented that from happening.
However, the team benefitted profusely as Walton smashed 45 in just 20 deliveries to take the Kings to 187 runs for the loss of five wickets in their 20 overs. Maaz Khan picked up two wickets for the Qalandars.
Ben Dunk roars loud yet again
Having missed out on what could've been a memorable hundred against Quetta a few days ago, Ben Dunk came even closer on Sunday but fell agonizingly short by a run. However, it was the brutality of the innings that smears all the limelight. Fakhar Zaman was dismissed early on in the innings and despite stitching a decent partnership with Sohail Akhtar, Mohammad Hafeez's stay in the middle wasn't fruitful.
After the fall of the second wicket with the scorecard reading 50, Ben Dunk walked in and dealt with the boundaries. He showed no respite at any point for the Kings' bowlers and tonked the ball over the boundary whenever there was a possibility. He reached a half-century in next to no time and was followed soon by his captain Sohail.
Their partnership was beginning to murder Karachi's chances and Dunk hit the fifth gear in the final few overs. He finished the game with the 12th six of his innings, which took him to 99 and stranded him there. He scored those runs off just 40 deliveries and Sohail Akhtar remained unbeaten on 68 off 46 deliveries, as the Qalandars registered a much-needed 8-wicket win.
Here's how Twitter reacted:
Me attending 8AM lecture.

Neend : pic.twitter.com/ZzSKVtx1iG

— Assad (@oyebajwey) March 8, 2020
If I was Ben Dunk's agent, I'd be lining up some ultra lucrative bubblegum endorsements right about now…pic.twitter.com/ft2dgKKGKd

— Aatif Nawaz (@AatifNawaz) March 8, 2020
No one:

Ben Dunk after hitting six: pic.twitter.com/c5v58Wurjf

— Ahsan. 🇵🇰 (@imPakistaniLAD) March 8, 2020
Dunk na hota tu tera kia hota Qalandar! ❤️❤️👌👌👌 well played Sohail. A captain's knock. @lahoreqalandars vs @KarachiKingsARY

— Aalia Rasheed (@aaliaaaliya) March 8, 2020
There is an extremely good argument that Ben Dunk has just played one of the great innings in PSL history, in domestic T20.

Qualification on the line, game out of reach, Dunk found a different gear to everyone else in the match. Glorious, joyous batting.#HBLPSLV #LQvKK

— Ben Jones (@benjonescricket) March 8, 2020
No one:

Ghar ke bachay when you are going out pic.twitter.com/mnp5n1DmqJ

— PSL Memes (@PSLMemesWalay) March 8, 2020
Winning moment 🤯🤯🤯#HBLPSLV #LQvsKK pic.twitter.com/dyPi0TzCey

— PakistanSuperLeague (@thePSLt20) March 8, 2020
This match!! #lqvkk

— zainab abbas (@ZAbbasOfficial) March 8, 2020
"tenu khuda da wasta aj na challi" pic.twitter.com/01yljD12Sl

— z (@wxckygirI) March 8, 2020
BEN DUNK IS CHADWICK WALTON'S LONG-LOST BROTHER 👏

This is Walton's world and we are living in it! #HBLPSLV #TayyarHain #CricketForAll pic.twitter.com/38nJEHCLJr

— Cricingif (@_cricingif) March 8, 2020
تو پھر ہم نے کہہ دیا "لاہور لاہور اے" @lahoreqalandars #LahoreQalandar

— Shoaib Akhtar (@shoaib100mph) March 8, 2020
Such a treat to watch. Marvelous hitting by @bendunk51 a dozen sixes in an inning. Taking @lahoreqalander over the line for their 3rd win of the tournament. pic.twitter.com/wQJkFHgJns

— Fawad Alam (@iamfawadalam25) March 8, 2020
Absolutely magnificent knock under pressure @bendunk51 👏👏👏. One of the very best knocks in a chase . Well batted @imSohailAkhtar . Great win team @lahoreqalandars . Let's keep it going IA

— Salman Butt (@im_SalmanButt) March 8, 2020
Lahore arrives to PSL party. Exciting PSL Week Review.

Full Video: https://t.co/4sZJmwZ1AA#TheMatchWinner by #InzamamulHaq

— Inzamam ul Haq (@Inzamam08) March 8, 2020
We witnessed some amazing striking from @bendunk51 @AlexHales1 and James Vince today. Competition is heating up in the @thePSLt20 . #HBLPSLV pic.twitter.com/Czk1Rw2t2U

— Grant Elliott (@grantelliottnz) March 8, 2020
Ben Dunk 99*(40) has probably played one of the best PSL innings.
He hit 12 sixes & 3 fours.
Walked in when @lahoreqalandars needed 138 off 70 balls, chasing 188!
Just one of those days when @KarachiKingsARY tried everything but Ben Dunk was too good@OfficialPSL

— Sarang Bhalerao (@bhaleraosarang) March 8, 2020
kashif asking his nibbi to stay on the eve of break up. pic.twitter.com/Ibev41JDMu

— Mazher Arshad (@MazherArshad) March 8, 2020
Ben Dunk statue confirmed out of Lahore stadium by @azkhawaja1.

— Johns. (@CricCrazyJohns) March 8, 2020
Ben Dunk in the last 4 matches across 6 days:

23 sixes
13 fours#PSL5 pic.twitter.com/O1Quu65RJh

— Saj Sadiq (@Saj_PakPassion) March 8, 2020
DANNY MORRISON KNOWS BEN DUNK DID SOMETHING SPECIAL TONIGHT 🌟👏

Dunk's explosive masterclass left Danny awestruck 🙌#HBLPSLV #TayyarHain #CricketForAll pic.twitter.com/mh3GXPTFeV

— Cricingif (@_cricingif) March 8, 2020
Dean Jones "That was a terrific game of cricket, Ben Dunk was outstanding. He played one of the greatest knocks in PSL history" #PSLV #KKvsLQ pic.twitter.com/vzA6xdPWCu

— Saj Sadiq (@Saj_PakPassion) March 8, 2020
By our models, the deliveries Ben Dunk faced today – according to the ball tracking data – would on average have yielded 56 runs.

Karachi didn't bowl badly. Dunk batted in a different level to what anyone could've expected. Stunning stuff.#HBLPSLV #LQvKK pic.twitter.com/aclbCZRgaB

— Ben Jones (@benjonescricket) March 8, 2020
There have been four century-partnerships for Lahore Qalandars in all PSL.

Ben Dunk has been involved in 2 – Both in this season. Match Winner. #LQvKK #PSLV2020

— Israr Ahmed Hashmi (@IamIsrarHashmi) March 8, 2020
While Dunk played another outstanding knock tonight, let's not forget the way Sohail Akhtar batted. He deserves to be applauded, he took responsibility as a captain and anchored an important innings for @lahoreqalandars

— Faizan Lakhani (@faizanlakhani) March 8, 2020
Ben Dunk "This is one of the top leagues in the world. The standard of the PSL is very high and every team you come accross is full of world-class players. Just to get any win in this tournament you have to play really good cricket" #PSL5 pic.twitter.com/ts2faZfrl6

— Saj Sadiq (@Saj_PakPassion) March 8, 2020
He's done it AGAIN!

Four days ago Ben Dunk hit 93 off 43 for the @lahoreqalandars. Now this 🤯🤯🤯 pic.twitter.com/Pi0NMLNTDI

— KFC Big Bash League (@BBL) March 8, 2020
99 not out is better than any hundred. #LQvKK #PSLV2020

— Israr Ahmed Hashmi (@IamIsrarHashmi) March 8, 2020
Ben Dunk "I am just really happy and blessed that I have been given an opportunity to play in the PSL. There are so many people and cricketers who want to play in this tournament both locally and around the world" #PSL5

— Saj Sadiq (@Saj_PakPassion) March 8, 2020
LAHORE!

BEN DUNK has a question for you! #LQvKK #HBLPSLV pic.twitter.com/5ElYgk9vA2

— PakistanSuperLeague (@thePSLt20) March 8, 2020
Has to be right up there with one of the best innings of the HBLPSL! #bendunk #LQvsKK

— zainab abbas (@ZAbbasOfficial) March 8, 2020
A very impressive win for Lahore Qalandars, Quetta Gladiators now at the bottom of the table. Three spots in the playoffs still up for grabs pic.twitter.com/t27X7yyUAZ

— Saj Sadiq (@Saj_PakPassion) March 8, 2020
Just WOW 😍😍😍 @bendunk51 what an innings #360Degree Absolute Pleasure to watch , well done Team @lahoreqalandars Congratulations to all Fans

— Mohammad Hafeez (@MHafeez22) March 8, 2020
Most SIXES in a single edition of PSL

28 Kamran Akmal in 2018 (13 inns)
26 Asif Ali in 2019 (11 inns)
24 Luke Ronchi in 2018 (11 inns)
23 BEN DUNK in 2020 (5 inns)*
23 Kieron Pollard in 2019 (13 inns)#LQvKK #PSLV2020

— Israr Ahmed Hashmi (@IamIsrarHashmi) March 8, 2020
With 4 needed off 6 balls, Ben Dunk hit a six and preferred to finish on 99 not out. Last year, Quetta needed 5 off 6 and a batsman went for his century, got out on 99 and also lost the match by 1 run. #PSL2020

— Mazher Arshad (@MazherArshad) March 8, 2020
A truly Qalandars performance by Lahore Qalandars. Superb and extraordinary winning Knock by DUNK. Bounce back strongly after on losing streak. We are so excited for next games and IA will live up to the expectations of our Qalandar fans. #LahoreQalandars #DamaDamMastQalandars

— Haris Rauf (@HarisRauf14) March 8, 2020
Ben Dunk "The Lahore crowd is almost like our 12th man. As we start to build momentum in the game, you can feel the crowd getting louder and louder. I certainly feel blessed to have them cheering for us" #PSL5

— Saj Sadiq (@Saj_PakPassion) March 8, 2020
Follow us on Telegram