Twitter Reactions: Rilee Rossouw's fantastic knock propels Multan Sultans to emphatic victory against Peshawar Zalmi
Multan Sultans won the game against Peshawar Zalmi by four wickets.
The eighth season of the Pakistan Super League (PSL) 2023 continues to impress with high-scoring thrillers. The 27th match of the tournament saw Peshawar Zalmi take on Multan Sultans.
Zalmi were last involved in an immensely high scoring game against Quetta Gladiators, where they notched up a whopping 240 runs on the scoreboard but unfortunately ended up on the losing side.
Batting first, Peshawar Zalmi once again put in a fabulous performance. Continuing from where they left their previous game, Zalmi replicated a similar performance to again go past the 240-run mark.
Riding on the performance of skipper Babar Azam, the side once again managed to put 242 runs on the board. Saim Ayub and Babar Azam gave Zalmi just the start they needed, scoring 58 and 73 runs, respectively. Tom Koehler-Cadmore and Mohammad Haris also contributed to Zalmi's mountainlike total.
After losing a high-scoring thriller in their previous game, luck did not turn in Zalmi's favour this time around as well, as Multan Sultans put in an exceptional performance with the bat to chase it down.
Peshawar Zalmi lose yet another high-scoring thriller
Despite not getting the start they needed as both of their openers were dismissed early, Rilee Rossouw and Keiron Pollard stepped up and played amazing knocks to take Multan home. Rossouw completed his century as he scored 121 runs in just 51 deliveries. Pollard scored a half-century as well to register an emphatic victory.
The string of sub-par bowling performances for Peshawar Zalmi continues as, despite scoring runs, the side has time and again, been unable to defend the target and that is exactly what happened in today's game as well. Posting one of the highest first innings scores of the tournament, Zalmi failed to put up a decent bowling show as Multan Sultans won the game by four wickets.
Following the game, Multan Sultans find themselves in the third place in the points table with eight points in eight games, whereas, Peshawar Zalmi sit in the fourth place in the rankings with equal points from equinumerous games.
Peshawar Zalmi would look to get back to winning ways when they next take on Islamabad United in the 29th match of the tournament on Sunday, March 12. On the other hand, Multan Sultans will play their next game against Quetta Gladiators in the 28th match of the competition on Saturday, March 11.
Here's how Twitter reacted to Multan Sultans' fabulous win:

Green Shirts 🏏🇵🇰
@greenshirts17
11:37 PM · Mar 10, 2023
11:36 PM · Mar 10, 2023
Farid Khan
@_FaridKhan
Peshawar Zalmi are only team in PSL history to qualify for the playoffs in every single edition. They need to win their last match or hope Quetta Gladiators lose tomorrow to keep this record intact. If Quetta win tomorrow and Peshawar lose on Sunday, NRR will decide.
#HBLPSL8
11:38 PM · Mar 10, 2023
CricketGully
@thecricketgully
Yet another historic chase in PSL 💥!!
11:38 PM · Mar 10, 2023
Peshawar Zalmi
@PeshawarZalmi
Another game, another half century. 🐐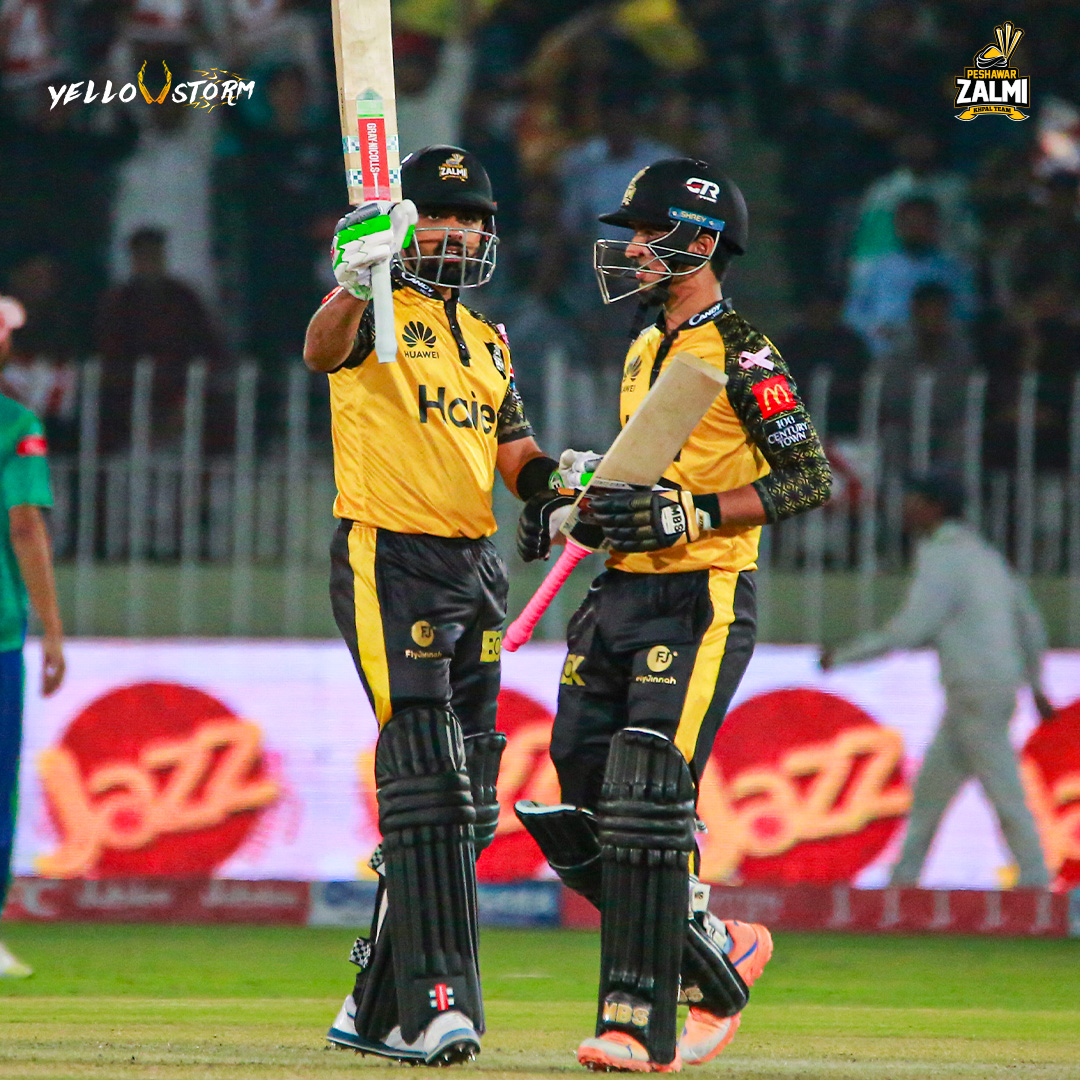 Abdul Hadi Siddiqui
@AbdulHadiSidd14
11:38 PM · Mar 10, 2023
Arfa Feroz Zake
@ArfaSays_
PSL8 in Pindi Cricket Stadium has turned into tapeball and stick cricket. PSL has been receiving praise for its quality bowling since many years but such abnormally high percentage of boundaries now is nothing more than making fun of PSL.
#HBLPSL8

11:38 PM · Mar 10, 2023
@farhhhaan
By any standards the boundaries are well within limits and much bigger than NZ grounds and overall bowling standards are well it's rawalpindi pitch and poor bowling selection by zalmi
@peakygooner
The fact that you had to compare it to NZ grounds says a lot. PSL wasn't known for this.
11:41 PM · Mar 10, 2023