Twitter Reactions: Dasun Shanaka slams 73 as Dambulla Viiking win the rain marred encounter in LPL
Samit Patel was also the hero for the Dambulla side.
Updated - Nov 29, 2020 11:04 am
26 Views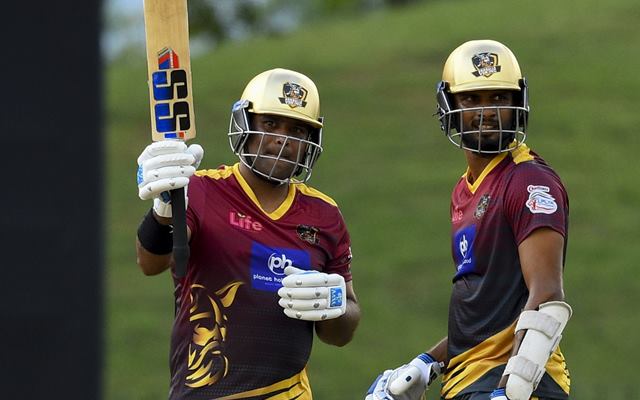 After a couple of brilliant matches to start the tournament, it was time for the first double header on Saturday in Lanka Premier League (LPL). The first game was between the Kandy Tuskers and the Dambulla Viiking. The former were playing their second match after losing their first encounter against the Colombo Kings.
They won the toss and opted to bowl first. Dambulla got off to a good start as they scored 53 runs in the powerplay without losing any wicket. However, Oshada Fernando had to retire due to an ankle injury. Both the set batsmen lost their wicket soon after the powerplay.
However, the loss of these wickets was probably a blessing in disguise for the Dambulla side. The two batsmen at the crease were Samit Patel and Dasun Shanaka. What unfolded then was something none of the teams would have expected.
The duo combined to score 127 runs together stand in just 10.4 overs. The former scored 58 runs off just 38 balls while the latter scored 73 in just 37 balls. Shanaka definitely played a captain's knock and showed a glimpse of his talent to the entire world. Their partnership helped the side reach 195 runs at the end of their 20 overs.
Rain interruptions cause Tuskers to lose
A chase of 196 was tough but not impossible. Tuskers had the batting to chase down this total. Though they lost a couple of early wickets they were well on track as they neared the end of half their inning. However, rain played spoilsport for the Tuskers as it arrived at the worst possible time.
The DLS par score at the end of 9.4 overs was 88 while the Tuskers had managed to score only 84 until then. Kusal Mendis was batting well and Asela Gunaratne had just come to the crease. The match was in the balance at that time. However, once the rain came in, it ensured that no more overs could be bowled.
Tuskers eventually lost the match by 4 runs and would definitely consider themselves very unlucky. This is now their second loss in a row and they would need to turn things around quickly in order to make it to the top four.
Here's how Twitter reacted:
If u allow to bat one ball it might be #KandyTuskers game unfortunately they lost the game want to see fire 🔥 comeback #KandyTuskers 👍 https://t.co/WygHXrwKjH

— Rizny Ahamed (@riznyrisi75) November 28, 2020
මං හිතන්නෙ #KandyTuskers මැච් ගහන්නෙ ගොඩක් පිඩනේක.ඒක අද තව වැඩිවුනා.
මුලින්ම කන්ඩායමට අනුග්‍රහක පිරිස් නැතිකම , විදෙස් ක්‍රීඩකයින්ගෙ අඩුව. නිරෝධායන කටයුතු නිසා සහ කොවිඩි වැලදිම් නිසා කන්ඩායම අස්ථාවර වෙලා තියෙනවා. ක්‍රීඩකයින්ගෙ ආබාධ
මෙවන් තත්වයක වුවත් කන්ඩායමේ හැකියාව අගය කලයුතුය. pic.twitter.com/k1GKe6boCh

— 프라윈 バンダラ ( Praveen abeysinghe ) 🇱🇰 (@praveenabeysin2) November 28, 2020
Kusal Perera is new to captaincy and no senior players in the team to guide him is a big loss for us..Hope he get his tactics right in the games to follow.. #TuskersInCharge #KandyTuskers #LPLT20 #LPL2020

— ZaKir (@zakir_sanga) November 28, 2020
#MI නම් දෙවෙනි මැච් එක පැරදුනේ නෑ. #KandyTuskers #LPL2020

— Indrajith Bandara (@IndrajithTweets) November 28, 2020
අර #RCB අවසාන මැච් 4 ම පරදී කිව්වා වගේ අනාවැකියක් කියන්නද ?#KandyTuskers ඊළඟ මැච් 6 න් 5 ක් ම දිනනවා. #LPLT20

— Oliver Queen (@ExcuzeMiii) November 28, 2020
කමිදු මෙන්ඩිස්ගෙ අක්කා පොඩි කාලේ සිට මාගෙ මිතුරියක්. 😌 #LPL2020 #KandyTuskers

— Sukiya 🇱🇰 (@da_sukiya) November 28, 2020
Rahmanullah Gurbaz gave a brilliant start to his team, but the weather made them wait to open their account in the points table#LPL2020 #dambullaviiking #kandytuskers #cricket #crictracker #gurbaz #dls pic.twitter.com/pJA6G5hBxA

— CricTracker (@Cricketracker) November 28, 2020
#KandyTuskers ලා දැන් ඉතින් කියයි වැස්ස නිසා තමා පැරදුනෙ කියලා.වැස්ස නිසා තමා ලැජ්ජාවක් නැතුව ලකුනු 4 කින් පරාද උනේ වැස්සෙ නැත්නම් allout වෙලා රෙදි නැතුව පරාද වෙන්නෙ 😂.වැස්ස නිසා දින්නත් එච්චර තමා විලි ලැජ්ජයිනෙ යකො 😂

— Jerry 🇱🇰 (@maalupaan) November 28, 2020
ගහලා පරදින එකට වඩා වැහලා පරදින එක නම්බු යි කියන්නේ 😁😁😁💔💔 දන්නේ නෑ නුවර නිළමේ කෙනෙක් කිව්වේ 😀😀🙏🙏#DambullaViikings #LPLT20 #KandyTuskers #DVvKT

— Djharris (@djharris32913) November 28, 2020
අම්නේ අම්ද වැම්ස ආවම්නේ. නැම්තම් අම්පි ගහම්නවම්නේ. අම්පි එහෙම්නම් අම්පයර්ම්ටත් ගහම්නවා. 😏 #KandyTuskers #LPL2020

— Indrajith Bandara (@IndrajithTweets) November 28, 2020
#Kandytuskers හ්ම් හ්ම් හ්ම්…😂

— ජනියා…⚓️🍃 (@JanithShey) November 28, 2020