Twitter Reactions: Dom Sibley and Ben Stokes bore West Indies with their proper Test match batting
An amazing second day of Test cricket awaits everyone.
Updated - Jul 22, 2020 12:33 pm
3.9K Views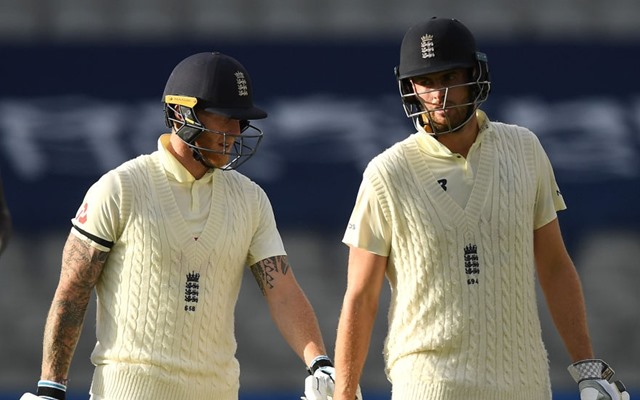 England finished at 207/3 at the end of day 1 of the second Test match versus West Indies. The England batting line up which faced a lot of criticism post the first Test match finally showed its prowess. While a couple of hiccups took place in between, England finished the day comprehensively ahead of the WI.
Let's look back and see what right or wrong did the teams do on the first day. While rain played spoilsport once again and the match began 1.5 hours late we still got 82 overs in the day. West Indies won the toss and elected to bowl. England had as many as 4 changes after Jofra Archer had to be pulled out, Wood and Anderson were rested, and Root was back. Caribbeans went in with an unchanged match-winning lineup.
The cloudy conditions led to West Indies electing to bowl however it was believed that after the return of Captain Joe Root this batting lineup would no longer simply falter. While England showed great resilience in the first 13 overs, captain Jason Holder gave the ball to Roston Chase just before lunch. This is where things took a turn.
On just his second ball, Chase dismissed Rory Burns for 15, and lunch was announced. This was not it, post-lunch Chase dismissed Zak Crawley on the very first ball for a golden duck. Root started off really well with a strike rate around 50 and was looking good with his defense. After fighting rather hard Root's dismissal came as a surprise to many.
It was just a lazy cover drive that should've been avoided by all means. Alzarri Joseph bowled two almost identical away swingers and Root fell for the trap on the second ball and edged one to slips where Holder took a comfortable catch. Root fell for 23 and England were 81/3.
Ben Stokes and Dom Sibley build a crucial partnership
Many believed that England would again falter and it would be a repeat of the first Test match. But here's where things changed. Sibley and Stokes proved everyone wrong with a 126-run partnership at stumps. Both batsmen look well set for big ones and this could be worrying signs for the Windies.
Dom Sibley is currently batting on 86* while Ben Stokes has scored 59* runs. Sibley can consider himself lucky as a drop catch by Holder gave him another life when he was on 68. He also survived a close LBW call when he was on 82. Ben Stokes has given no opportunity and has continued with his amazing form.
An amazing second day of Test cricket awaits everyone and it shall be really interesting to see who finishes ahead on Day 2 as this match is far from over.
Here's how Twitter reacted on Day 1
Proper day of Test Cricket …

— Michael Vaughan (@MichaelVaughan) July 16, 2020
No team has ever won a Test at Old Trafford having chosen to bowl first 👀 #ENGvWI pic.twitter.com/DqoH3FD60K

— ICC (@ICC) July 16, 2020
Dom Sibley is 24 and this is just his 8th test match. Anyone complaining about his S/R needs to understand the labours of test cricket and appreciate his continued work on his technique. Sometimes you got to score ugly to get better over time. #ENGvWI

— K H A Y A M (@KhayamSays) July 16, 2020
They showed Alastair Cook on TV!!! Cookieeeee 😍😍😍❤️❤️😭 #ENGvWI pic.twitter.com/0Wx2n6Aq5P

— 🏴󠁧󠁢󠁥󠁮󠁧󠁿Habibti🇮🇳 (@Yas_Queen17) July 16, 2020
WestIndies Winning a Test series away from home since 1995

1-0 v 🇳🇿 , 1995
1-0 v 🇿🇼 , 2001
2-0 v 🇧🇩 , 2002
1-0 v 🇿🇼 , 2003
1-0 v 🇧🇩 , 2011
2-0 v 🇧🇩 , 2012
1-0 v 🇿🇼 , 2017
1-0 v 🇦🇫 , 2019

With a chance to end their drought, they have opted to bowl first in the 2nd Test#ENGvWI pic.twitter.com/x8GsuibOiJ

— Cricket Lovers (official) (@Ehsancricket) July 16, 2020
Ben Stokes hits the first six in international cricket since March…#ENGvWI pic.twitter.com/Mh08xxMQfj

— Nic Savage (@nic_savage1) July 16, 2020
47 more deliveries and Sibley would have played an entire innings of an ODI.#ENGvWI

— 𝓢𝓮𝓱𝓻𝓲𝓼𝓱 🇵🇰 (@itsmeSehrish) July 16, 2020
Everytime I see Stokesy bat now nothing feels impossible in Cricket for me, be it tests or limited overs. ❤️🤧 #ENGvWI pic.twitter.com/8RxekSmQg2

— Sia²⁴ (@fcbsiaaaa) July 16, 2020
@benstokes38 is his best when there is no pressure of captaincy on him… #ENGvWI

— Naveen Rawat (@NaveenRawat5251) July 17, 2020
We all waiting for a 💯 from Sir Ben Stokes, What a player, he has been for England in 2019. 🎗🎖🏅#ENGvWI

— Cricketeer (@Naqi_786) July 17, 2020
England have done exceedingly well on the 1st day.Sibley has played proper boring test cricket which in itself is so entertaining. This is what wins you test matches on a consistent basis – its not a 2 hour race. You need to show steel & stamina for all 5 days. #Cricket #ENGvWI

— amakaladla (@lazybanz) July 17, 2020
Dominic Sibley is a classic opening Test batsman. Will dig in.

Refreshing to see from a traditionalist's point of view.#ENGvWI #Cricket

— CricBlog (@cric_blog) July 16, 2020
I know he's had some injuries but why isn't Toby Roland-Jones in amongst this test squad anymore?

He played four tests 3 years ago and took 17 wickets at 19. Plus a handy batting average of 20#ENGvWI #ENGvsWI

— Niall (@Crusty_Crouton) July 16, 2020
Sibley genuinely had the whole of the offside to aim at and still decided to tap it towards short mid-wicket #ENGvWI #ENGvsWI

— The Disgruntled Clubman (@clubman_the) July 16, 2020
People are complaining Dom Sibley isn't attacking enough. Jesus the number of times in my life I've begged England have an opener who can see 100+ balls regularly… #ENGvWI #RaiseTheBat

— Ben Jacklin (@BenJacklin) July 16, 2020
Head bands the new fashion accessory for the England boys? #ENGvWI

— Ciara J Metcalfe (@CiaraJMetcalfe) July 16, 2020
Please block me if you have anytbing negative to say @DomSibley's innings today – that's the sort of way we want our openers to bat all the time, that's what we've needed for bloody ages. Well batted Dom lad, keep it up! 🏏🏏🏏 #ENGvWI @englandcricket

— Joseph stack (@joeyy_stack1727) July 16, 2020