Twitter Reactions: England annihilate India by an innings and 159 runs at Lord's
The deadly trio of Broad, Anderson and Woakes were on a wicket-taking spree once again.
Updated - Aug 12, 2018 10:31 pm
1.4K Views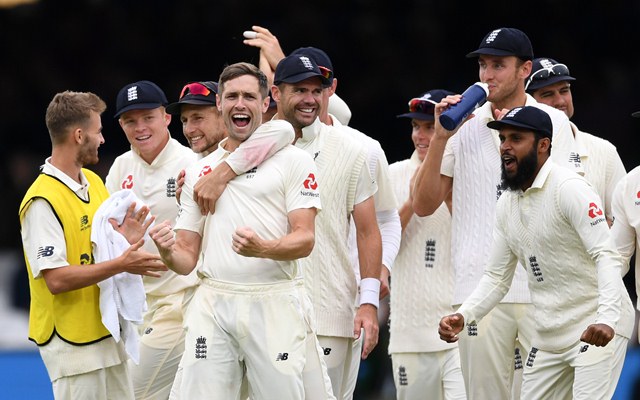 Follow us on Telegram
England have defeated, rather annihilated India inside three days of action at the iconic Lord's courtesy of some exceptional swing and seam bowling by a relentless attack. The story of the first innings repeated once again as the conditions changed once again and were completely different compared to the third day. But the batsmen didn't improve even a bit and surrendered abjectly as India were bundled out for 130 in the second innings.
The hosts surprisingly decided to bat in the morning and added some quick runs in the half-hour period. The duo of Sam Curran and Chris Woakes extended the lead up to 289 runs as their skipper Joe Root decided to declare after the former lost his wicket to Hardik Pandya. England eventually went on to post 396 runs in the first innings for the loss of seven wickets.
Amidst the rain interruptions, the second innings started for India. Meanwhile, they were also struck with a huge blow as their captain Virat Kohli was injured due to the back sprain. But nothing changed for the openers. Murali Vijay bagged a pair and was done in by an inswinger by James Anderson this time. The same happened with KL Rahul as he failed to identify the incoming delivery.
Pujara's steely knock
Cheteshwar Pujara though looked solid. He made up for the first innings' unfortunate run-out and fought bravely. Ajinkya Rahane walked in to bat at 4 as Kohli was out of the field for 37 minutes in the morning due to his injury. The duo batted well and just when one thought they were building a decent partnership, Rahane succumbed to a harmless delivery committing the same mistake once again. Kohli came out to bat then and played in grimacing pain.
He batted well once again and unfurled a couple of classy drive. However, Stuart Broad was in the middle of a superb spell which first rattled the stumps of Pujara with a vicious inswinging cherry and then had Virat caught at short leg. In the same over, Dinesh Karthik was caught plumb in front of the stumps which has summed up his 4 innings in this series so far.
At 61/6, it was only a matter of time for England to register a huge win. But Pandya and Ravi Ashwin staged a little fightback to post India's first fifty-run stand of the match. They looked comfortable and played some beautiful shots as well and only delayed the loss. Once Pandya was sent back by Woakes, it again started and were eventually bundled out for 130 runs with Ashwin ending up being the best batsmen of the match for them.
Here's how Twitter reacted during the play:
82.2 overs … 237 Runs … 20 wkts … That was a Test that lasted 170.2 overs … !!!!!! #2-0

— Michael Vaughan (@MichaelVaughan) August 12, 2018
Another fantastic win by @englandcricket. Well done @chriswoakes @jbairstow21 @StuartBroad8 and of course @jimmy9. This could be 2011 all over again! #ENGIND #2nil

— Matt Prior (@MattPrior13) August 12, 2018
Kohli isn't looking good. Missed playing county because of an injury. Seemed to have picked up a niggle here. Indian cricket's most important asset needs to be protected. #EngvInd

— Aakash Chopra (@cricketaakash) August 12, 2018
Petition to shift remaining test matches to India. #ENGvIND

— Shamaz (@shamazk13) August 12, 2018
Lack of fight has been the most disappointing aspect. This is really painful to watch. No batsman exudes any confidence. #ENGvIND

— Mohammad Kaif (@MohammadKaif) August 12, 2018
India effectively beaten inside two days. Brutal from England but shocking from the Indians. #ENGvIND

— Malcolm Upton (@Alky007) August 12, 2018
Abort the mission ! Go home ! #INDvENG #ENGvIND

— Arsheed Hussain (@MyselfArsh) August 12, 2018
So @ashwinravi99 is better than any India batsmen in this second test 😑😂😂😂#ENGvIND

— A….❤️M….. (@aarushi_45) August 12, 2018
Virat should just come back home, rest and recover well. He should not risk his career for such a test series where whether he plays or not, a whitewash is inevitable. Such are our flat track bullies. #ENGvIND

— VK is 🐐 (@BleedBlueForeva) August 12, 2018
Lol No. 1 Test team Couldn't been able to survive 2 sessions #ENGvIND That's wht we call inning defeat..

— عابد جانواری (@Aabidjanwari) August 12, 2018
We've lost a 4 day test in less than 3 days.

Absolutely brilliant! Feel so proud as a fan! #ENGvIND

— chatweet (@chatak) August 12, 2018
The humiliation is over, bt only fr nw#ENGvIND #ENGvsIND

— Priyabrat Samal (@vicky_nemesis) August 12, 2018
@ashwinravi99 scores > Rahane+Rahul+DK+Vijay..Way to go Lords test #ENGvIND

— Anmol Kumar Tiwari (@AnmolTiwari) August 12, 2018
James Anderson… 25.2 overs and match figures of 9-43. Astounding. #EngvInd

— Chetan Narula (@chetannarula) August 12, 2018
Losing is a part and parcel of sport. But the manner of loss is worrying. The fact that we did not learn anything from Edgbaston is worrying. And that we make the same mistakes is worrying. @cricketaakash @vikrantgupta73 @DeepDasgupta7

— Boria Majumdar (@BoriaMajumdar) August 12, 2018
🙁

— Prithi Ashwin (@prithinarayanan) August 12, 2018
Nothing to add. pic.twitter.com/Us20ZvqBtD

— Nikhil 🏏 (@CricCrazyNIKS) August 11, 2018
India have lost 9 of 11 Tests in England since 2011 now, won just one. It is a terrible record #ENGvIND

— Gaurav Kalra (@gauravkalra75) August 12, 2018
Well played, England. Of course England should prevail in English conditions, but still impressively dominant. #ENGvIND

— Centrist Dud (@MikeHoffman1) August 12, 2018
Wanna hear a joke…… INDIA HAS THE BEST CRICKET TEAM Hahahhahahahahaha Ghar k shair England m dhair #ENGvIND #engvind pakistan #PrimeMinisterImranKhan #IndiaTurnsGold

— Saad Ullah (@saadullah121) August 12, 2018
Also congrats to Adil Rashid for getting a paid a few thousand to only field in the whole match 👏🏻👏🏻 #ENGvIND

— S-J (@sjprice01) August 12, 2018
Shamed , shamed …3 more to come #ENGvIND

— 'Ram'say Adityanath (@gaubharath) August 12, 2018
Chris Woakes- 137*
India- 130 all out#dailydose #ENGvIND

— Dudewa (@kkarrann007) August 12, 2018
Ashwin is the top scorer for India 😱#ENGvIND

— renny (@soo_kimsoeun) August 12, 2018
This is the first time that India have lost a Test under the captaincy of Virat Kohli while batting first.#ENGvIND

— Umang Pabari (@UPStatsman) August 12, 2018
INDIA lost Lord's Test by an Innings & 159 runs… Actually one run short of historical milestone of 158… 🙂 👍🏏 #ENGvIND

— Arfa Feroz Zake (@ArfaSays_) August 12, 2018
#ENGvIND pic.twitter.com/RRyOt4y9sT

— @MSR (@myiravat) August 12, 2018
Follow us on Google News