Twitter Reactions: England enforce follow-on after Azhar Ali's unbeaten ton
Tourists need some inspiring performances to level the series.
Updated - Aug 24, 2020 10:34 am
618 Views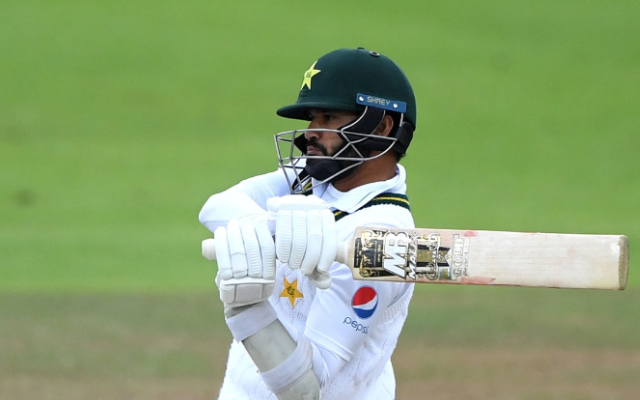 Follow us on Google News
Pakistan started off Day 3 at 24/3. They were trailing by 559 runs and required a big turn-around to make a comeback in this match. James Anderson, who had been in the wickets on Day 2, struck once again. He dismissed Asad Shafiq to claim his fourth wicket of the innings.
It was now time for the duo everyone had been waiting to see. It was these two men who needed to prove themselves really badly. Azhar Ali and Fawad Alam started off cautiously. After playing out the fast bowlers, the latter was dismissed by a peach of a delivery from the spinner, Dominic Bess. He needs a big knock in the second inning to justify his spot.
With a score of 75/5, it looked like another collapse for the Asian side. However, one of their best batsmen in this series, Mohammad Rizwan had just arrived. He, along with captain Azhar Ali gave the visitors a ray of hope. From a situation of 75/5, they reached 213/6 and gave their fans something to cheer for.
Azhar Ali gives a strong answer to his critics
The Pakistan skipper had recently been under the scanner. His failure to perform with the bat had put his position in doubt. Many also believed that a bad performance in the third Test could mean curtains for the man. However, instead of answering these questions himself, he allowed his bat to do the talking.
After coming in to bat at No.3, he remained not out till the very end. An unbeaten inning of 141 was a clear announcement that he was here to stay. His knock was praised by everyone as it was a high-quality inning. Rizwan too did a good job as he ended with a score of 53 runs. He would definitely feel that he missed out on an opportunity to score big, considering he was well set when he lost his wicket.
Post the wicketkeeper's dismissal, Ali shifted to a more attacking approach. Yasir Shah chipped in with a useful 20 while the rest of the tail failed to contribute. Pakistan were eventually bowled out for 273 runs. They were still trailing by 310 runs and it was a no brainer that England would enforce the follow on. However, bad light prevented the start of the third inning.
Talking about the English bowlers, Anderson got a five-wicket haul while Stuart Broad got two wickets to his name. Chris Woakes and Dominic Bess ended with one wicket each. With the weather prediction not very good for the coming two days, the hosts would be looking to dismiss the Pakistan side as soon as they can.
Dom Bess "Playing in those conditions, we have to think about players' well-being. Their numbers 10 & 11 facing Jofra Archer in those conditions was seriously dangerous. We all want to get cricket on, but there has to be more common sense in terms of when it's too dark" #ENGvPAK

— Saj Sadiq (@Saj_PakPassion) August 23, 2020
Congratulations @AzharAli_ both on a very good century and 6000 test runs!

— Mickey Arthur (@Mickeyarthurcr1) August 23, 2020
What a wonderful knock Ajju bhai! Good to see this outstanding inning from you under immense pressure. An epic show of mental strength and character. May you continue to rise and shine for Pakistan. #RiseAndRise #ENGvPAK pic.twitter.com/yTvUWUv4FV

— Imam Ul Haq (@ImamUlHaq12) August 23, 2020
👍 #ENGvPAK pic.twitter.com/G7SjyEQZVI

— Pakistan Cricket (@TheRealPCB) August 23, 2020
2️⃣9️⃣ five-fers 🖐
5️⃣9️⃣8️⃣ wickets 🙌
1️⃣ @jimmy9 🐐

Scorecard/Clips: https://t.co/nYZkpZUmia#ENGvPAK pic.twitter.com/mJyF7brvvf

— England Cricket (@englandcricket) August 23, 2020
So happy to see @AzharAli_ scoring runs under pressure,still long way thou #PAKvENG

— Sohail Tanveer (@sohailmalik614) August 23, 2020
Congratulations for century @AzharAli_ …..good partnership with @iMRizwanPak 👏🏻👏🏻👏🏻..Keep it up. Congratulations on completing 6️⃣0️⃣0️⃣0️⃣runs what a achievement!#ENGvPAK pic.twitter.com/CrtdAhSS3i

— Kamran Akmal (@KamiAkmal23) August 23, 2020
Brillant knock @AzharAli_ considering the pressure he was under and the hysteria created by certain fans and some Pakistan media. Just can never understand why the constant negativity while a team is playing. Also congrats on reaching 6000 test runs 👏👏👏. pic.twitter.com/Bue7opM5zt

— DrZaf (@sportsdrzaf) August 23, 2020
Congratulations @AzharAli_ on scoring 17th Test 💯 😍👏🏼 innings from a Strong character, Well done 6000 Test runs & many more to come 🤲🏼 Stay Blessed

— Mohammad Hafeez (@MHafeez22) August 23, 2020
Literally no one is visibly happy https://t.co/f0lUf3IRuw

— Will Macpherson (@willis_macp) August 23, 2020
Law 25.2 states that the innings of the opening batsmen only start at the call of Play, which didn't happen tonight. For other batsmen, it's when they enter the field of play.

So, by Law, Azhar Ali doesn't have to open tomorrow as his innings hadn't started.#ENGvPAK | @bbctms https://t.co/oOtD8nJu3Q

— Marylebone Cricket Club (@MCCOfficial) August 23, 2020
1️⃣4️⃣1️⃣* runs
2️⃣7️⃣2️⃣ balls
4️⃣0️⃣6️⃣ minutes
2️⃣1️⃣ fours

A great innings from Azhar Ali 👏 #ENGvPAK pic.twitter.com/9DakfCYHi7

— ICC (@ICC) August 23, 2020
Yes Fawad Alam has an unorthodox stance but at point of ball release he's in a solid position, judge him on his performance over time, not how he looks.
We have seen many exceptional test players with eccentric approaches succeed! #ENGvPAK

— Tom Moody (@TomMoodyCricket) August 23, 2020
#EngvPak pic.twitter.com/Q4FzfNOpdq

— Vithushan Ehantharajah (@Vitu_E) August 23, 2020
Most balls hitting batsman on helmet since Jofra Archer debuted in Test cricket:

Archer – 7
Cummins – 4
Nortje – 4
Hazlewood – 3
Umesh – 3#ENGvPAK

— The CricViz Analyst (@cricvizanalyst) August 23, 2020
Only if Azhar had shots and technique of Asad and Asad had patience of Azhar….

But

Yahan Kisi Ko Bhi Kuch Hasb-e-Aarzo Na Mila
Kisi Ko Hum Na Mile Aur Hum Ko Tu Na Mila

— Mazher Arshad (@MazherArshad) August 23, 2020
Michael Gough to make my life decisions, or Jos to catch me when I fall #EngvPak

— Vithushan Ehantharajah (@Vitu_E) August 23, 2020
The stand out performer for pak this series? @iMRizwanPak – great attitude,loves a fight,always looking to score runs & an exceptional keeper behind the stumps. Whether it was keeping up to the stumps with Abbas bowling or diving away for some brilliant takes,he's been a ⭐️.

— zainab abbas (@ZAbbasOfficial) August 23, 2020
Ajju bhai, congratulations on #6000Test runs. Hard work always pays off. Enjoyed every bit of your brilliant century today.👏👏 #ENGvPAK pic.twitter.com/ZLp9cYo1J9

— Babar Azam (@babarazam258) August 23, 2020
WOWWWW WHAT A CATCH!!

Scorecard/Clips: https://t.co/JVsNai1pz8#ENGvPAK pic.twitter.com/n5lbeQZGao

— England Cricket (@englandcricket) August 23, 2020
This is Azhar Ali's first Test hundred outside Asia since he scored 127 against West Indies, 21 innings ago at Dominica in May 2017 #ENGvPAK #Cricket

— Saj Sadiq (@Saj_PakPassion) August 23, 2020
Brilliant @josbuttler 👏🏼

— Matt Prior (@MattPrior13) August 23, 2020
The relief of scoring your first Test run for nearly 11 years #ENGvPAK #Cricket pic.twitter.com/bLZQ66diCg

— Saj Sadiq (@Saj_PakPassion) August 23, 2020
Follow us on Telegram