Twitter Reactions: Faheem Ashraf, Hasan Ali and Paul Stirling steer Islamabad United to victory
Chasing teams continue to win games in PSL 2021.
Updated - Mar 3, 2021 10:25 am
132 Views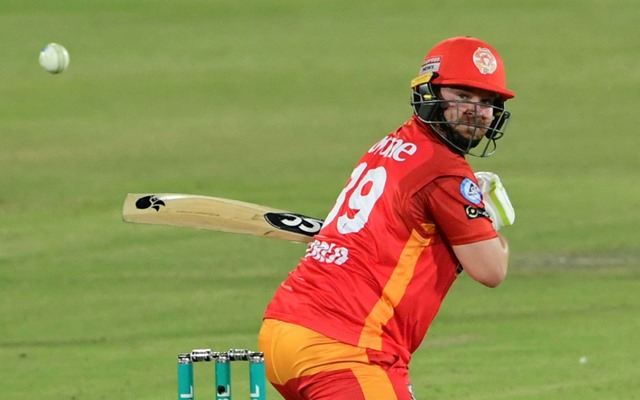 On account of the Covid-19 scare, the game between Islamabad United and the Quetta Gladiators had been postponed from Monday to Tuesday. After a player from Islamabad tested positive, various tests were conducted and it was announced that there was no threat to this game and it could smoothly be conducted today.
Islamabad won the toss and sent the Gladiators in to bat first. The batting side got off to a terrible start as they lost four wickets within the powerplay. A score of 41/4 after six overs meant that they needed to consolidate and up the scoring rate both at the same time.
Captain Sarfaraz Ahmed and Mohammad Nawaz were involved in a handy 63-run partnership to guide their side to a respectable score. Sarfaraz led from the front as he scored 54 runs in only 41 balls. His inning included three boundaries and four sixes. Nawaz on the other end played a supporting knock scoring 31 runs at almost a run a ball.
Faheem Ashraf stars with the ball to reduce Quetta to a below-par score
The lack of an aggressive finish meant that the side finished with only 156 runs on the board. Faheem Ashraf was undoubtedly the best in the pack as he took three wickets conceding only 11 runs in his four overs. Hasan Ali too was impressive as he secured two wickets conceding less than six runs an over.
Looking at the results in the tournament thus far it was evident that a score of 157 would not be sufficient enough. However, the Quetta side did have a good bowling line-up and a few early wickets could have taken the game either way.
Chasing 157, Paul Stirling and Alex Hales started off with a bang. They attacked from both ends and took their team to a score of 76 runs by the end of the powerplay. Alex lost his wicket in the sixth over after scoring 23 runs but he had done his job.
Stirling who made 56 runs was the top scorer for his side. He got good support from the other batsman and they cruised to a six-wicket win with three overs to spare. Zahid Mahmood was the only positive takeaway for the Gladiators as he bowled well to secure two wickets in his four overs. They have now lost four in four and will find it very tough to make a comeback.
Here are the best tweets
Updated PSL6 table. Look away if you are a Quetta Gladiators fan #psl6 pic.twitter.com/ucLHcuuV9I

— Saj Sadiq (@Saj_PakPassion) March 2, 2021
Pakistan Chasing League continues – for the 12th consecutive match – win the toss, choose to chase and won the match.

— Johns. (@CricCrazyJohns) March 2, 2021
Sarfaraz Ahmed "we are in a nothing to lose situation now & can't make any more mistakes. As a team, we haven't clicked with the bat, with the ball, or in the field" #PSL6 pic.twitter.com/wc9APn45xA

— Saj Sadiq (@Saj_PakPassion) March 2, 2021
I've always said PSL should only have 2 foreign players per team. We have enough local talent. Islamabad proved that tonight🌚

— Haroon (@hazharoon) March 2, 2021
Well bowled again bud! When you're in a purple patch, run with it, and you're doing just that! 👊 https://t.co/huYSLSEgGF

— Dale Steyn (@DaleSteyn62) March 2, 2021
Sarfaraz Ahmed "Zahid Mehmood is improving day by day and bowing really well and taking wickets for us. Unfortunately he's not getting much support from the other bowlers" #psl6 #IUvQG pic.twitter.com/iz4tQtxgfE

— Saj Sadiq (@Saj_PakPassion) March 2, 2021
Paul Stirling "it's lovely to be in Pakistan for the first time. I'm just trying to soak up the atmosphere. It's brilliant to have fans in as we've not had them in for such a long time. Hopefully we get to the final stages in Lahore and we might have a packed house" #PSL6 pic.twitter.com/IM2snxX2z8

— Saj Sadiq (@Saj_PakPassion) March 2, 2021
Absolutely loving Hasan Ali and Faheem Ashraf's bowling form in this PSL

These two along with Shaheen can form an ideal pace attack for Pakistan in WT20. Plus, Faheem and Hasan's inclusion ensures Pakistan bats till 9-10 in T20s#HBLPSL6 #IUvQG

— Zaid Hassan (@CricHassan) March 2, 2021
What a special talent Paul Stirling is England would have snapped him up. Ireland lucky to have him https://t.co/ERNaPXuTMB

— john kenny (@JohnKennyMedia) March 2, 2021
Aggression apart, unity and coalition is the best part!@SarfarazA_54 @76Shadabkhan @RealHa55an

Moment of the Day#MatchDikhao l #HBLPSL6 I #IUvQG pic.twitter.com/1SmgtlfFca

— Muhammad Arbaz (@MuhammadArbaz95) March 2, 2021
These boys are 😍😍😍 https://t.co/cP79fw4IxN

— Khushbakht Sarfaraz (@sarfarazkhush) March 2, 2021
Wow wow wow wow Kaptaaaaaaan 4 Sixes in a row by one n only @SarfarazA_54 😍😍😍😍😍😍😍😍😍😍😍#Sarfraz #QGvIU

— Qadir Khawaja (@iamqadirkhawaja) March 2, 2021
Great win tonight by @IsbUnited . Boys showed real character after all that's gone on. Could not be more proud. Onwards and upwards. #UnitedWeWin

— Saeed Ajmal (@REALsaeedajmal) March 2, 2021
Lovely knock boss @stirlo90 great win @IsbUnited @thePSLt20

— Niall John O Brien (@niallnobiobrien) March 2, 2021
PICTURE OF THE DAY…. 😍😍😍
KEEP SMILING ALWAYS KAPTAANNNN @SarfarazA_54@76Shadabkhan @RealHa55an #QGvIU pic.twitter.com/An0X5wkz0N

— Qadir Khawaja (@iamqadirkhawaja) March 2, 2021
Tonight was the 8th time in his PSL career that Asif Ali remained unbeaten in a successful run-chase.

Only one batsman has remained unbeaten in successful run-chases in PSL more times than Asif; Sarfraz Ahmed (10 times).#QGvIU #PSL2021

— Israr Ahmed Hashmi (@IamIsrarHashmi) March 2, 2021
We fight. We make up. We're brothers 💯🔥❤️#Brothersforlife. pic.twitter.com/gMysXEPmT4

— Sarfaraz Ahmed (@SarfarazA_54) March 2, 2021
12 out of 12 – Win Toss, Win match. In every match so far, the team who has won the toss has bowled first and gone on to win the match #PSL6

— Saj Sadiq (@Saj_PakPassion) March 2, 2021
Dale, you are my favourite. That's it, that's the tweet. pic.twitter.com/bUNG8IdjLc

— Hassan Ali 🇵🇰 (@RealHa55an) March 2, 2021
Quetta Gladiators have won only 1 out of their last 9 matches in PSL. #IUvQG

— Mazher Arshad (@MazherArshad) March 2, 2021