Twitter Reactions: Hardik Pandya lets the ball do all the talking
Twitter erupted in joy soon after Pandya clinched his maiden fifer.
Updated - Aug 19, 2018 8:28 pm
1.6K Views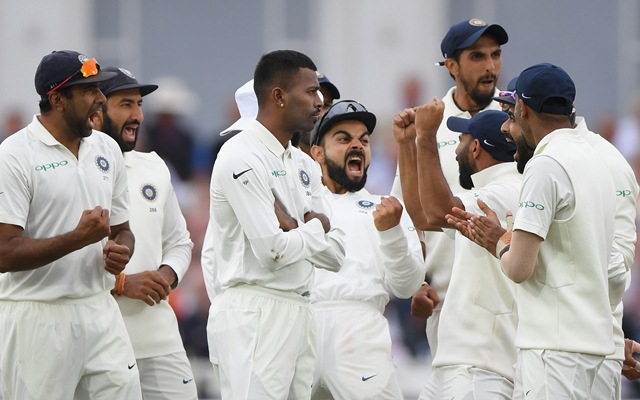 Follow us on Google News
The third Test between India and England is undoubtedly becoming more of a nail-biter with every passing run and ball. From budding opening partnerships to mammoth runs from the Indian skipper and vice-captain to the tail-enders crumbling under pressure, the Indian first innings was full of twists and turns. Now it's time for the English batsmen to take over and that part seems to building up pretty well too, courtesy some stunning bowling from Hardik Pandya!
Having won the toss, England put in India to bat first and the visitors mustered a slightly below average total of 329 runs on a delectable Trent Bridge pitch. In reply, the English openers started off well, with both Alastair Cook and Keaton Jennings looking to consolidate. However, the second innings of the second day found the Indian pacers come up with some top-notch bowling to get rid of the English top order.
Hardik Pandya stuns Joe Root & co.
The first session of play on the second day saw the Indian pacers remain largely ineffective with the new ball. However, the entire scenario swung faster than a pendulum in the post-lunch session where Ishant Sharma and Jasprit Bumrah scalped both the openers in consecutive deliveries, delivering a major blow to the hosts.
Soon after, it was Hardik Pandya's turn to join the party as he managed to uproot the English skipper, Joe Root off the very first ball he bowled in the ongoing Test match. On his part, the lanky all-rounder bowled a perfect outswinger that kept Root guessing. Subsequently, the batsman ended up nicking it to the waiting hands of KL Rahul at second slip.
Twitter erupted in joy soon after Pandya clinched the prized wicket of Root. Even the English captain was left shaking his head in disbelief at the turn of events. Praises and accolades came pouring in, congratulating Pandya on his show of impeccable bowling skills and for achieving the feat of a valuable wicket on the very first delivery of his spell. Pandya later picked four other big wickets.
Here's how Twitter reacted:
Pandya the destroyer. #ENGvIND

— Melinda Farrell (@melindafarrell) August 19, 2018
Exceptional from India. They have been terrific with the ball and some very good catching from Rahul and Pant as well

— Mohammad Kaif (@MohammadKaif) August 19, 2018
Great spell @hardikpandya7 first 5 wicket haul in test cricket.. wish you many more.. Go india 🇮🇳 💪👏👏👏👏

— Harbhajan Turbanator (@harbhajan_singh) August 19, 2018
Five wickets for Pandya. And I was advocating for his exclusion for a frontline batsman. Ouch. 🙈😐😇🙏 #EngvInd

— Aakash Chopra (@cricketaakash) August 19, 2018
Five wickets in a session, gr8 spell by Pandya, puts England on the mat!

— Cricketwallah (@cricketwallah) August 19, 2018
No garbage since Lunch …. outstanding display in this session!!! https://t.co/K0WFpggGpV

— Michael Vaughan (@MichaelVaughan) August 19, 2018
Make it 6. Pandya bowling his best Test bowling spell. Rahul making a strong to be played as a specialist slip fielder. #engvInd https://t.co/fbsC0UiOEC

— Aakash Chopra (@cricketaakash) August 19, 2018
Conditions today are really good for swing/pace bowling..india have a good chance to get this England batting under 250… what say guys ??

— Harbhajan Turbanator (@harbhajan_singh) August 19, 2018
Pandya is going to come back from the tea break with a paper in his pocket that says,

"Yeah Mikey, talk nah.#ENGvIND

— Suneer (@suneerchowdhary) August 19, 2018
What's happened to English batsmen? They are making Pandya look like Jimmy Anderson

— Vks (@VikHasya) August 19, 2018
I would like to see Pandya getting a 5fer & dedicate it to M. Holding 😜 #ENGvIND

— Mandar shinde (@Mandarshinde008) August 19, 2018
I heard some noises of @hardikpandya7 not being a genuine all rounder including that from some former #Indian players. The issue is that in #india we jump to conclusions too soon. Well done #pandya keep shutting off critics like this 👌👌👍👍

— Vikaas Kalantri (@VikasKalantri) August 19, 2018
Wait! What? Hardik pandya took 4 wickets till now? Can't believe my eyes.
But good effort though. #pandya #engvind

— Manik Lamba (@logicalLamba) August 19, 2018
This is some way to silence Holding but should not get too carried away. Hoping Pandya not carrying any note to flash 🙈 #ENGvsIND

— P₹akash $inha 🇮🇳 (@Predicto_Praky) August 19, 2018
Hardik pandya's place in the team will not be questioned anymore! Excellent spell from @hardikpandya7#ENGvIND

— RestingBitchFace (@arimotimeka) August 19, 2018
2 runs to save the follow on….2 wickets to go. Five catches for Pant. Pandya on a hattrick. India on fire. England on the mat. #EngvInd

— Aakash Chopra (@cricketaakash) August 19, 2018
India on fire 🔥after lunch break @MdShami11 @ImIshant @hardikpandya7 @Jaspritbumrah93 putting india in great position

— Harbhajan Turbanator (@harbhajan_singh) August 19, 2018
Even English batsmen can't play when the ball is swinging. #EngvInd

— Aakash Chopra (@cricketaakash) August 19, 2018
Joe Root was not angry bcs the decision was controversial, he was actually angry about the fact that it was Hardik Pandya's over.#ENGvIND

— Dexter (@MunnaKaTunna) August 19, 2018
Hardik Pandya gets Root!!!

Would have been less surprised if I had heard the opposite.

Great position for India now.

Where is Holding?

Come on, I need to listen to him right now

— Aadit Saluja (@aaditsaluja007) August 19, 2018
#ENGvIND Hardik Pandya to all those (including myself) who criticized him: pic.twitter.com/xvy3399TnJ

— Aniket Pshetty (@imAniketPshetty) August 19, 2018
Hahaha Hardik Pandya for you haters !

— Faded Reddy (@YoungTlGER) August 19, 2018
Pandya is not the next Kapil Dev. He is the first ever Hardik Pandya himself. What a player #ENGvIND

— Abhishek 🇮🇳 #408 (@ImAbhishek7_) August 19, 2018
Good catch. Good Catch. KL Rahul.

And what a subtle reaction by Hardik Pandya after the decision on the screen!!
More like "Talk Nah Holding"#ENGvIND

— Chandler Bing (@SarcasmChamp) August 19, 2018
Hey there Micheal Holding!
Hardik Pandya has got Joe Root off his First delivery!!

What the Fuck do you have to say now?#ENGvIND

— Chandler Bing (@SarcasmChamp) August 19, 2018
Hardik pandya comes in and sends Root ….Terrific ball to get root #ENGvIND

— Ganesh sobanapuram (@imGANESH25) August 19, 2018
Micheal Holding after Hardik Pandya took a wicket off his First delivery in the spell. #ENGvIND pic.twitter.com/TRNscagCek

— Chandler Bing (@SarcasmChamp) August 19, 2018
Root gone!!!!!!! Hardik Pandya strikes with his first ball of the match. This is India's match now. #ENGvIND

— Jasmin Chaudhari🎗 (@BeingJasmin7) August 19, 2018
Hardik Pandya's job with the ball is done! #ENGvIND #INDvENG

— Manoj Soni (@manoj_insane) August 19, 2018
MEANWHILE : Very Good First Delivery by Hardik Pandya. Big Fish Rood Gone. 💪💯👏#ENGvIND #Cricanandha

— Rj Anand (@cricanandha) August 19, 2018
This test series

So called class batsmen Joe Root
Innings:4
Runs:129

Acc to holding waste player hardik pandya
Innings:5
Runs:108

Afterall just ok bowling medha root ye kottalekapoyedu and hard in scored against Jimmy n broad but still people call here in overated🤦‍♂️

— Adithya (@Maheshaddict) August 19, 2018
Well, I couldn't recognise Hardik Pandya in a "normal" hairstyle🤣 But good on ya mate. Keep taking wickets! #ENGvIND

— Avni Malhotra (@PeripateticAvni) August 19, 2018
The most maligned bowlers on either side have ended up taking the wickets of the opposition's best batsman in this first innings (Adil Rashid picking up Virat Kohli & Hardik Pandya taking Joe Root's wicket) #EngvInd #IndvEng #sscricket #TrentBridgeTest

— thecricketblog (@thecricblogger) August 19, 2018
Follow us on Telegram