Twitter Reactions: India bury Adelaide ghosts and make a stunning comeback to level the series at MCG
On the fourth morning, India wrapped Australia's innings for 200 and then chased down 70 without much fuss.
Updated - Dec 29, 2020 9:47 am
78.4K Views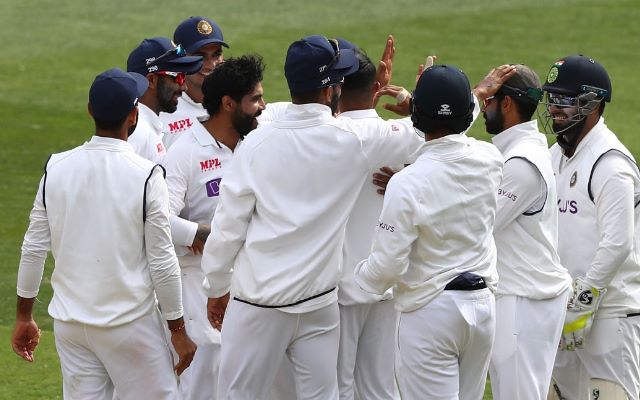 Follow us on Google News
"There is no chance India will comeback." "With no Kohli and Shami, India are stressed." "India will lose 4-0 without Kohli." These were the words from some of the experts and the former cricketers after team India registered its lowest ever Test total of 36 in Adelaide. But try telling that to this Indian team. Yes, there were concerns. But the team addressed it and made the required changes to make a stunning comeback in Melbourne.
Not that this performance was flawless. But the way the visitors have come out and played with confidence under Ajinkya Rahane's captaincy has to be admired. It wasn't easy though for them having lost the toss at the MCG where the average first innings score in last five Tests was around 440. Well, this was a rejuvenated bowling attack with its reserves also more than capable of delivering when needed.
And that is what the Indian bowlers did. Led by Jasprit Bumrah and Ravi Ashwin, they skittled Australia for just 195 in the first innings. India then batted well thanks to Rahane's excellent century and took a more than decent lead of 131 runs. The third day was deemed the best to bat on the MCG pitch with the ball not doing much and many felt it is a great chance for the hosts to bat big in their second innings.
Then again, the bowlers bowled tight lines not giving away easy runs and despite Umesh Yadav getting injured, the reduced four-man attack delivered when it mattered the most. At one stage, it seemed as if India will win by an innings when Australia were reduced to 99/6. Cameron Green and Pat Cummins though had other ideas as they played out more than an hour to keep India at bay.
India stay patient on 4th morning to wrap up Australia
With only a lead of two runs, Australia would've hoped for their overnight duo to score as many as they can. Both the batsmen tried their best, to be honest, but Indian bowlers were relentless and didn't give away easy runs. India didn't get a wicket for the most part of the first hour. However, once the new ball arrive, Jasprit Bumrah surprised Pat Cummins with a well-directed bouncer and dismissed him.
Green though was looking in absolute control and once Cummins went back, he started to open up a little to frustrate India even more. The youngster looked calm and composed only to once again fall in the short ball trap like he did in Adelaide. Siraj dropped one short to eke out a pull and the batsman did just that with Ravindra Jadeja pouching the catch with a well-timed jump at mid-wicket.
He scored 45 good runs off a huge 146 deliveries and his wicket officially handed India the match. But then Australia's 'never give up' attitude came to the fore as India had to wait for 13 more overs to wipe out the last two wickets. Siraj nipped out Nathan Lyon while Ravi Ashwin ended Josh Hazlewood's resistance to bundled Australia out for 200 runs.
India chase 70 without much fuss
The chase of 70 should've sent shivers down the Indian fans' spines but Adelaide's 36 all-out was still fresh in the minds. Mayank Agarwal and Cheteshwar Pujara's 's early dismissal increased those fears. With India at 19/2, the skipper Ajinkya Rahane came out while Shubman Gill had already impressed with his confident shots by then.
The duo blunted the relentless Australian attack and churned out boundaries consistently. Both the played with the much talked about 'intent' to take India home in the post lunch session in the 16th over. While Rahane continued his job from the first innings to remain unbeaten on 27, Gill looked in very good touch during his 35* as India won the match by eight wickets to level the series.
Here's how Twitter reacted:
A really special win at the MCG.
Great Determination and great character. Rahane led from the fron,the bowlers were terrific and Gill is chill. pic.twitter.com/X3UO8H2LgR

— Virender Sehwag (@virendersehwag) December 29, 2020
Well done India 🇮🇳…absolutely brilliant. Has to be one of the most impressive overseas win given the circumstances coming into this game 👏🏻👏🏻#AUSvIND

— Ajit Agarkar (@imAagarkar) December 29, 2020
Well done team India @BCCI. Never underestimate a wounded tiger 😉#AUSvIND pic.twitter.com/4kCHgRyW4i

— DK (@DineshKarthik) December 29, 2020
Lot of positives from this win. Rahane led the side brilliantly, bowlers were relentless but the biggest positive is the performance of two debutants. Both of them were confident and not overawed by the big occasion. Strength of Indian cricket is their strong bench strength.

— VVS Laxman (@VVSLaxman281) December 29, 2020
Stunning response from India after the 1st test, Australia's top order have been horribly exposed, some tough decisions required. #AUSvIND

— Tom Moody (@TomMoodyCricket) December 29, 2020
Congratulations @BCCI Well led and you do have to really take note of how good the Indian bowling unit is 👏👏#AUSvIND Well done 👍🏼

— Russel Arnold (@RusselArnold69) December 29, 2020
What a win guys 🇮🇳🇮🇳 congratulations to the team !great performance skipper @ajinkyarahane88 @imjadeja @Jaspritbumrah93 @ashwinravi99 and debut Guys @RealShubmanGill and #mohammedsiraj 🇮🇳💥💥🎉🎉🇮🇳🇮🇳 1-1 #AUSvIND pic.twitter.com/YhD0QOnN6r

— Rahul Sharma (@ImRahulSharma3) December 29, 2020
अद्भुत भारत, अतुल्य भारत, 'अजिंक्य' भारत! 🇮🇳 #INDvAUS #AUSvIND pic.twitter.com/KIgNjfe945

— Wasim Jaffer (@WasimJaffer14) December 29, 2020
To win a Test match without Virat, Rohit, Ishant & Shami is a terrific achievement.

Loved the resilience and character shown by the team to put behind the loss in the 1st Test and level the series.

Brilliant win.
Well done TEAM INDIA! 👏🏻 #AUSvIND pic.twitter.com/64A8Xes8NF

— Sachin Tendulkar (@sachin_rt) December 29, 2020
#INDvAUS #AUSvIND https://t.co/cpb0rUKMEF pic.twitter.com/QemqRrYuMJ

— Wasim Jaffer (@WasimJaffer14) December 29, 2020
WOW!! Incredible comeback. What a win. Fine display of mental strength and character. Congratulations to each and every member of the Squad. @BCCI #INDvAUS

— VVS Laxman (@VVSLaxman281) December 29, 2020
Yes! What a great test match win👏🏽 #INDvAUS

— Shikha Pandey (@shikhashauny) December 29, 2020
India winning the test at MCG against all odds.😊 #INDvAUS #AUSvIND pic.twitter.com/u6WLwT4Y3R

— Wasim Jaffer (@WasimJaffer14) December 29, 2020
Shubman is a special player. We are witnessing the early days of India's future batting superstar. Remember his debut. You might have to revisit it a good few times while writing eulogies in 2030. How he started as an opener and then settled down in the middle order for good…

— Aakash Chopra (@cricketaakash) December 29, 2020
Bits and pieces means non specialist…explaining the term yet again for the 'English challenged' 😁
In Tests have always supported Jadeja because he is a formidable pure bowler hence a specialist. Understood great Rajagopalan?😁 https://t.co/iiq6wovUdX

— Sanjay Manjrekar (@sanjaymanjrekar) December 29, 2020
@RealShubmanGill has a lot of time while facing the quicks 👊🏽 #specialplayer #AUSvIND #TestCricket

— Mandeep Singh (@mandeeps12) December 29, 2020
What a win this is, absolutely amazing effort by the whole team. Couldn't be happier for the boys and specially Jinks who led the team to victory amazingly. Onwards and upwards from here 💪🇮🇳

— Virat Kohli (@imVkohli) December 29, 2020
Calm Down. It will happen. Money back guarantee 😎😇 #AusvInd

— Aakash Chopra (@cricketaakash) December 29, 2020
Coming from 36 all out. No Kohli, Rohit, Shami & Ishant for the Second Test. Defeating Aussies in their frontier. Well led @ajinkyarahane88. Take a bow Team India. A memorable TEST victory to sign off 2020 #AUSvIND

— Hemang Badani (@hemangkbadani) December 29, 2020
Indns make it 1-All to silence the 4-0 OZ cry…nice to remain calm as @ajinkyarahane88 & deliver.There were a couple of hiccups on way to 8 Wkts triumph..but all's well that ends well..this OZ batting is pretty average-read mediocre-so Indns can win the series..InshaAllah..!!

— Bishan Bedi (@BishanBedi) December 29, 2020
Those two drives by Shubman. Cover drive off Cummins. Straight drive off Starc. Uffff….oozing of class. 👏👏 #AusvInd

— Aakash Chopra (@cricketaakash) December 29, 2020
I think more than Indian bowlers Australian top order batsmen would be more frustrated with themselves seeing how good their tail has batted. #perspective #INDvAUS #AUSvIND

— Wasim Jaffer (@WasimJaffer14) December 29, 2020
But the ball hitting the stumps 😳🙃 …. I going sleep 🛌 absolute Nonsense #AUSvsIND

— Tino95 (@tinobest) December 29, 2020
Brilliant #TeamIndia 👏🏼 #AUSvIND

— Pragyan Ojha (@pragyanojha) December 29, 2020
Great strength of team and individual character to bounce back after the ignominy of Adelaide… Brilliant from Team India.. Now looking forward to 2021.. #Ausvsindia

— Kartik Murali (@kartikmurali) December 29, 2020
😬😬😬😬❤️ – can go back to sleep happy 🙂 #BorderGavaskarTrophy #INDvAUS #bcci #cricket

— Rohan Gavaskar (@rohangava9) December 29, 2020
Follow us on Telegram