Twitter Reactions: India sail home smooth on Virat Kohli's scintillating century
Twitter was all praise for Virat Kohli's splendor with the bat.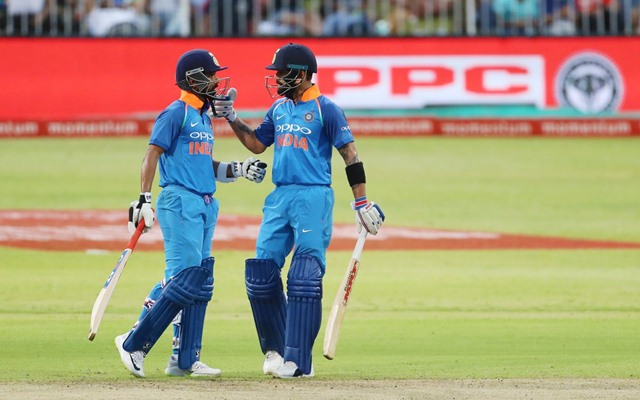 Follow us on Google News
The first One-Day International in Durban kickstarted with the Indians attaining a splendid victory. Virat Kohli scored a magnificent hundred and took the team all the way but home in what was expected to be a tricky chase on a sluggish wicket. Faf du Plessis' hundred in the first innings went in vain as India won the match by 8 wickets.
Batting first, South Africa began well despite losing Hashim Amla early. However, once the Indian wrist-spin twin came into play, the hosts struggled as they were reduced to 134/5. While wickets falling at one end, du Plessis stayed firm and kept going. The skipper along with Chris Morris put up a 74-run partnership for the sixth wicket.
However, just when it seemed the Proteas were running away with the game, Morris missed a full toss from Kuldeep. Faf led them from the front as he scored a fantastic hundred. Andile Phehlukwayo managed to partner the skipper and they set a target of 270 for the Indians to chase and break the Durban jinx.
Kuldeep Yadav was quite impressive as he attained best match figures of 3/34. Yuzvendra Chahal also got a couple of wickets. Bhuvneshwar Kumar didn't have a great day but he managed to pick one wicket. Jasprit Bumrah got the lone but important wicket of Amla.
India began their chase well as both Shikhar Dhawan and Rohit Sharma displayed sublime touch. While Rohit got out playing a loose shot, Dhawan was off to a brilliant start. However, some miscommunication between him and the skipper led to his run out. The dashing opener wasn't pleased at all.
Ajinkya Rahane came in at No.4. He and Virat Kohli combined for a fascinating 189-run partnership for the third wicket. While Rahane got out for a spectacular 79, Kohli went on to smash his first ODI century on South African soil and 33rd overall. Both of them made a mockery of the Proteas bowling attack.
India registered a smooth victory with 6 wickets with more than 4 overs to spare. Twitter was all praise for Virat Kohli's splendour with the bat. While there were also some jokes rolling around as Dhawan wasn't quite pleased after the run out.
Here we present to you some of the Twitter reactions from today's game:
Congratulations India. Very well done. A great start to the series. Very happy for Rahane. #INDvSA

— Virender Sehwag (@virendersehwag) February 1, 2018
Congratulations India on a very comprehensive victory. While Kohli and Rahane were outstanding, Chahal and Kuldeep 's spell was a big difference as well. #INDvSA

— VVS Laxman (@VVSLaxman281) February 1, 2018
Fabulous start to the series!! An all round effort in securing a big win. Another great century by the run machine, @imVkohli and a superb innings played by Ajju @ajinkyarahane88. Keep it up boys!@BCCI #INDvSA pic.twitter.com/uudgYEtl6k

— Suresh Raina (@ImRaina) February 1, 2018
He is at is again .. The Greatest chaser the game has ever seen .. #Fact #SAvIND @imVkohli

— Michael Vaughan (@MichaelVaughan) February 1, 2018
Make up for 2014, India. Tweet your thanks to @AnushkaSharma.#SAvIND

— Abhishek Mukherjee (@ovshake42) February 1, 2018
Kohli needed to ensure he spent enough time in the middle for Dhawan to simmer down #SAvIND

— Gaurav Kalra (@gauravkalra75) February 1, 2018
Dad: Aaj kya kiya?

Virat Kohli: Kuch nai bas century maara. #SAvIND #INDvSA

— Akshay Jain (@AkshayKatariyaa) February 1, 2018
Century in Australia, England, Sri Lanka, New Zealand, West Indies, Bangladesh and now South Africa.. King Kohli #SAvIND

— Sameer Allana (@HitmanCricket) February 1, 2018
Dhoni is making his final appearances at different grounds of the world by hitting ceremonial boundaries.

Long live the legend of MSD

— Gabbbar (@GabbbarSingh) February 1, 2018
Chase master Kohli strikes again! India's captain hits 112 to help his side take a 1-0 ODI series lead, beating hosts South Africa by 6 wickets in Durban! #SAvIND scorecard ➡️ https://t.co/EnNjmKO3hw pic.twitter.com/ZG85fGNuIW

— ICC (@ICC) February 1, 2018
Don't know if crowd is cheering Kohli going out to the Pavilion or Dhoni coming in to bat. #INDvSA

— Trendulkar (@Trendulkar) February 1, 2018
Kohli batting at a strike rate less than 90, Rahane batting at a strike rate of just over 96…#SAvIND

— Nikhil Mane ??? (@nikhiltait) February 1, 2018
Virat Kohli ko acha khel dekh Ajinkya se bhi Rahane gya#IndvSA #SAVIND

— Dr. Gill (@ikpsgill1) February 1, 2018
The irony of Kepler Wessels coming to India from SA to cover a series that is being played in SA… #SAvInd

— Ashish Magotra (@clutchplay) February 1, 2018
Watching Ajinkya Rahane batting like that.. #SAvIND pic.twitter.com/1EvDIaJXTv

— Sameer Allana (@HitmanCricket) February 1, 2018
The Chase Master is at it…again ??? #SAvIND #Kohli

— Aakash Chopra (@cricketaakash) February 1, 2018
Test, ODI or T20… Kohli's form be like….#SAvIND pic.twitter.com/S0S28P41Bd

— AkShAtA (@MenInBlueDvotee) February 1, 2018
Rohit Sharma is a Legend. He trends irrespective of whether he scored a 0, 20 or 200.

— Aman Bhardwaj (@amanbhardwaj998) February 1, 2018
When I grow up I want to be Virat Kohli batting in an ODI run chase.

— Peter Miller (@TheCricketGeek) February 1, 2018
Virat Kohli is currently on a trajectory that would see him become the greatest ODI batsman of all time. SA will want to get him early #SAvIND

— Cricket365 (@Cricket365) February 1, 2018
Rohit in ODIs in South Africa:
11
9
23
1
5
18
19
20

106 runs in eight inngs at 13.25, SR 53.26#SAvIND

— Deepu Narayanan (@deeputalks) February 1, 2018
Virat Kohli running between the wicket as if Karni Sena members are coming behind him??#INDvSA

— Sunil- The Cricketer (@1sInto2s) February 1, 2018
South Africa should play 11 batsmen, India is going to gift wickets anyway. #SAvIND

— Sameer Allana (@HitmanCricket) February 1, 2018
Amazing how confident we all are these days during an ODI Chase. There is Kohli and in case of a disaster, there is always Dhoni.
90s me opposition ke 200 banaate hi- O haar gaye oye.

— Gappistan Radio (@GappistanRadio) February 1, 2018
Dhawan shown in Pavillion. No prize for guessing chaste Delhi lingo being utilized to explain the dismissal and who caused it. #SAvIND

— cricBC (@cricBC) February 1, 2018
What a crap run, bad call, Dhawan looked on top. Huge relief for the Tahir spell. #SAvIND

— Gaurav Sethi (@BoredCricket) February 1, 2018
Kohli sees Bhuvi & Rahane getting some form, decided to drop them for the next game. Kohli sees Dhawan racing towards a half century, runs him out. Kohli, the new age Greg Chappel. Shocking if true. ?

— Ojas. (@Ojasism) February 1, 2018
Kohli has time and again said Dhawan is his best friend, but never did we get a bigger proof than that. Your best friend doesn't give a shit what you have become in life. ?

— Abhishek (@Sajjanlaunda) February 1, 2018
Kuldeep and Chahal celebrating the end of Ashwin & Jadeja's ODI career #IndvsSA pic.twitter.com/13xmooBSiV

— Abhishek ?? #408 (@ImAbhishek7_) February 1, 2018
The white ball liberates Rohit Sharma.

— Harsha Bhogle (@bhogleharsha) February 1, 2018
The only Batsman who can match up with Kohli when it comes to running between the wickets is Dhoni and others are either too slow or too lazy…

— Broken Pundit (@Brokenpundit) February 1, 2018
Rare moment where the batsman abusing after a run-out is not Kohli. #INDvSA

— Trendulkar (@Trendulkar) February 1, 2018
Follow us on Telegram