Twitter Reactions: India slightly ahead after 15 wickets fall on 2nd day in Adelaide
Despite wrapping up India with great vigor and immediacy in the first session, the rest of the day belonged to the touring party.
Updated - Dec 18, 2020 5:27 pm
3.8K Views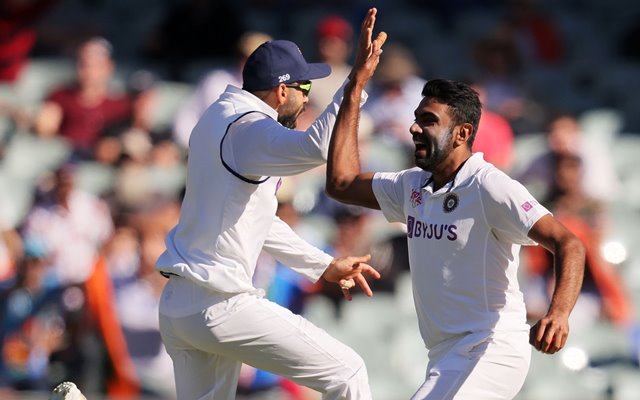 A sensationally eventful day of Test cricket unfolded on the second day of the first Test between the two sides, and despite wrapping up India with great vigour and immediacy in the first session, every adjudicator would reckon that the day belonged to the touring party. The suicidal dismissal of Virat Kohli on Day 1 had triggered a collapse that witnessed India slip from 188 for 3 to 206 for 6. The template did not change on the next day as all it took the Aussies to dismiss India was 25 balls.
Pat Cummins struck straight up as Ashwin nicked a length ball and ended his knock without adding anything to his overnight score. A similar tale unfolded for Saha, who soon fell to Starc after he tried to reach out to a wide one only to edge it to the keeper. Scripting a perfect start to the day, Starc got rid of Umesh Yadav, who tried to counterattack in his style, but to no avail. Skittled to 244 all out, India clearly missed gaining a much bigger score they were once looking set for.
Australia's sedate start
The trailing Australians were pushed into a shell by the new-ball bowlers as they took 28 balls to get off the mark. Both Jasprit Bumrah and Umesh Yadav tested the openers – Matthew Wade and Joe Burns – by bowling in the fourth stump channel at the start. Some attacking lines coupled with a bit of umpire's-call-luck falling India's way, Bumrah trapped Wade (8 from 51) LBW.
Joe Burns, the other opener, soon followed after he was struck low on the pads by Bumrah's yorker. He challenged the decision, however, the ball-tracker showed the ball to be marginally clipping the leg stump. India would have pushed Australia three down, had Bumrah, fielding at fine leg, been able to hold on to the chance that Marnus Labuschagne had given.
Ashwin runs through the middle-order
Resuming at 35 for 2 after Dinner, India was rather kind to give Labuschagne another chance as Prithvi Shaw messed up a simple chance at square leg. After some luck favouring the hosts, things changed the moment Ashwin was introduced in the attack. He struck in his first spell after Steve Smith, who laboured his way to 1 from 28, edged an under-cutter to Ajinkya Rahane at slips.
Before Australia could have come to terms with the massive jolt, Ashwin struck again, dismissing Travis Head (7 from 20) this time, who lobbed a simple caught-and-bowled chance for the spinner. Debutant Cameron Green's 24-ball outing was then brought to an end, again by Ashwin, after skipper Virat Kohli took a brilliant catch diving to his right at midwicket. With half their side in the hut at 79, India was, by some margin, the better side in the second session.
'Paine'ful session for Australia
Coming to deliver in the most anticipated time of a Day-Night Test: the twilight, Umesh Yadav struck twice as he first got Labuschagne trapped LBW, who missed his half-century by three; and then Pat Cummins, who failed to tackle a short ball and ended up ballooning it straight to gully, where Rahane made no mistake.
Mitchell Starc, the new man in, looked to take the attack to the opposition, whereas, from the other end, Tim Paine rode on his luck, after being dropped by Mayank Agarwal early in his innings, and completed his 50 from 68. The 27-run stand, however, came to an end after the latter failed to make his ground while trying to sneak a double.
Tim Paine, then, added 28 with Lyon for the ninth wicket, before Ashwin came and got his fourth with the latter falling to him at 10. Paine stood unbeaten at 73 as India managed to take a healthy 53-run lead in the first innings after Josh Hazlewood fell to Umesh Yadav.
India starts scratchily 
Coming to bat in the most dislikeable phase for any batsman, the Indians clearly looked to see the bowlers off. However, in the very brief passage of play, Pat Cummins managed to dissect the gap between Shaw's bat and pad again, as he knocked him over for 4. Only three overs left in the day, Jasprit Bumrah, the night watchman, joined Mayank Agarwal as India went 9 for 1, at stumps.
Here's how Twitter reacted:
Adelaide and Australia all out for 191 reminds of 2003, though that was in the second innings.
Bowling mast ki apan logon ne.

— Virender Sehwag (@virendersehwag) December 18, 2020
Feel for Prithvi Shaw, he is a wonderful talent but his eagerness to power the ball, also the challenge that T20 has on one's technique is his undoing. Most players searching for power lose balance and their hands stray away from their bodies. #AUSvIND

— Tom Moody (@TomMoodyCricket) December 18, 2020
Jasprit Dravid at no3! #BumrahCanDoAnything #AUSvIND

— Pragyan Ojha (@pragyanojha) December 18, 2020
Great stuff from Ravichandran Ashwin #INDvsAUS

— Laxman Sivaramakrishnan (@LaxmanSivarama1) December 18, 2020
When you have a good bowling attack it always keeps you in the game. Brilliant comeback by India! The lead could have been been bigger though…still well done to India! 👏👏👏#AUSvIND

— Sanjay Manjrekar (@sanjaymanjrekar) December 18, 2020
Day night Test dekhne mein feel hai.
53 is a handy lead. Excellent bowling performance by India, now to see off today without losing a wicket.
Out mat hoiyo

— Virender Sehwag (@virendersehwag) December 18, 2020
Well done Bumrah! How often has a batsman batted twice on the same day in Test cricket, remained unbeaten and bowled 21 overs? Anyone? @gaurav_sundar @Shiva_cricinfo @rajeshstats @MazherArshad @bhaleraosarang @AWSStats #AUSvIND

— Raunak Kapoor (@RaunakRK) December 18, 2020
That's a job well done by Bumrah!#AUSvIND

— Rajal Arora (@RajalArora) December 18, 2020
Now, Shaw should learn from Bumrah how to bat or rather survive in a test match. Bumrah looks a better bat than Prithvi Shaw. Not sure what is this guy doing on the squad #AUSvIND @BCCI

— Shailendra Srivastava (@shailendrasri1) December 18, 2020
Prithvi Shaw Needs to understand that make a bridge through the inning is about making partnership not making bridge between bat and pad #AUSvIND .

— آفتاب 🇮🇳 (@Devastated_Soul) December 18, 2020
Jitna time shaw crease pe rehta h usse zyada time toh vo pad-up hone k liye leta hai #AUSvIND

— ꜱᴡᴀyᴀᴍ (@swayamchauhan5) December 18, 2020
Mark Howard- Congratulations patty, wicket of Prithvi Shaw, well done mate.
Pat Cummins- That doesn't count. We were about to save his wicket for Marnus to get it but oh well🤷🏻‍♂️ #AUSvIND

— Parthu (@namastevoila) December 18, 2020
Is Prithvi Shaw's role in the playing 11 to be the chamiya of the team ? Coz he can't bat neither field ! Only thing he is good at is to be an entertainer off the field.#AUSvIND

— Bivash 🍊 (@Bivaash) December 18, 2020
India should export the likes of KL Rahul if they don't want them. Playing players like Shaw is a insult to them. Waisting talent for nothing! #AUSvIND

— WaZza (@WazZzaUtd) December 18, 2020