Twitter Reactions: Jason Holder holds the fort as West Indies dominate England on Day 2
Holder was ably supported by Gabriel, whose accuracy and pace hurried the batsmen.
Updated - Jul 10, 2020 9:31 am
506 Views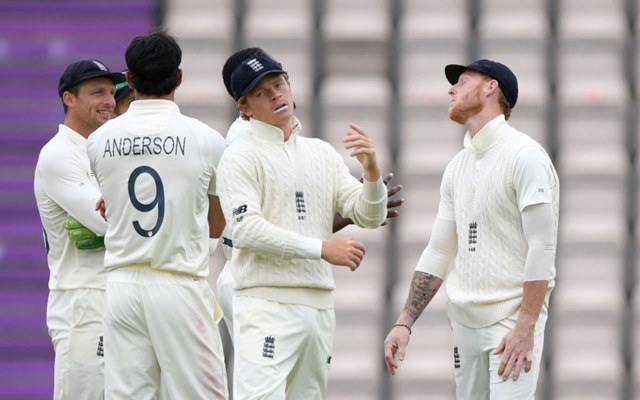 The West Indies batsmen survived a tricky evening session to reach 57/1 at the close of play on Day 2. The visitors played out 19.3 overs and now trail the home side by just 147 runs. Even though the English pacers, led by Anderson bowled probing lines, the visitors were up to the challenge.
Earlier in the day, West Indian skipper Jason Holder and Shannon Gabriel ripped through the England batting line up to skittle out the hosts for just 204 runs. While Holder finished with career-best figures of 6/42, Gabriel took 4 wickets as the English batsmen struggled under overcast conditions at Southampton.
In fact, none of the English batsmen could even score a half-century, with as many as 7 batsmen dismissed below 20 runs. Apart from a good partnership between skipper Ben Stokes and Jos Buttler and a quick 31 by Dom Bess, the England batsmen put up a disappointing performance on Day 2.
Jason Holder used his height to good effect to extract bounce from the surface and also bowled a tight line to tie down the England batsman. He was ably supported by Gabriel, whose accuracy and pace hurried the batsmen.
West Indies on top at stumps
On the other hand, the Windies openers provided a decent start, putting on 43 runs for the first wicket. John Campbell was confident in his 36 ball stay, stroking 3 boundaries before he was trapped in front by James Anderson for 28. Brathwaite and Shai Hope consolidated the rest of the day to prevent any further damage before rain forced an early close of play on the second day.
WI were also excellent with their reviews, with as many as 5 decisions turning out in their favor in the day. In fact, off the bowling of Holder alone, there were 3 LBW decisions that were overturned in the favor of the West Indies.
There is a forecast of better weather on Day 3, and the players and the fans will be hoping that rain stays away for the rest of the Test match. Caribbeans definitely have their nose ahead at the end of Day 2.
Here are some of the reactions from Twitter:
Denly's dismissal to Shannon gabriel was so bliss! What a perfect delivery in the slot by gabriel! 👌🏻#ENGvsWI

— Shashank (@shashankrameshk) July 9, 2020
A cracking delivery.

Scorecard & Clips: https://t.co/ldtEXLDT8V#ENGvWI pic.twitter.com/VwaaBEOkwp

— England Cricket (@englandcricket) July 9, 2020
Ridiculous numbers. 🔥#ENGvWI #JasonHolder #Cricket pic.twitter.com/eevxxf8vph

— CricBlog (@cric_blog) July 9, 2020
Jason Holder has taken 55 Test wickets at 14.05 since the start of 2018 👀

Handy.#ENGvWI pic.twitter.com/zjwyKgpUG2

— Wisden (@WisdenCricket) July 9, 2020
Is Jason Holder the world's most underrated cricketer? #ENGvWI pic.twitter.com/8TIJqPJdCf

— 3 Balls (@3ballssport) July 9, 2020
Face of pure joy, that #ENGvWI pic.twitter.com/Qg4nizAW4x

— Hannah (@hannah_itfc) July 9, 2020
6-wickets for the big man from Barbados, Jason Holder 🔥👌 Phenomenal bowling performance. All 6 wickets 👇#ENGvsWI #ENGvWI #cricket pic.twitter.com/n4Cd3udYWH

— Tanmay (@trj2301) July 9, 2020
Bowling Avg (Min 25 wkts) since start of 2018
Jason Holder – 13.49
Duanne Olivier – 17.12
Umesh Yadav – 18.54
Ishant Sharma – 19.14
Morne Morkel – 19.78
Pat Cummins – 20.00
Jasprit Bumrah – 20.33#ENGvWI pic.twitter.com/dz1LUyUkIm

— K H A Y A M (@KhayamSays) July 9, 2020
Jason Holder has been outstanding so far two great successful reviews 🔥looks out from the naked eye in both the occasions donno what the Umpire was thinking 😂😂 #ENGvWI pic.twitter.com/r0x6zQC9Tc

— ᏒᎧᎷᏋᎧ (@Thalaiva_Romeo) July 9, 2020
Test cricket is well and truly back #ENGvWI pic.twitter.com/mvlvl9ajwd

— n (@paceandbounce_) July 9, 2020
Jason Holder appreciation tweet 🙌🏿 #ENGvWI #MenInMaroon pic.twitter.com/UXg6ikPVCB

— Siphiwe Gabayi (@TheGreatGabayi) July 9, 2020
How we see jofra archer vs
How west Indies players see jofra archer #ENGvWI pic.twitter.com/HERHP3ppY2

— Rahul(temporary West Indies supporter) (@Ittzz_Rahul) July 9, 2020
While batting against @jimmy9, I noticed his remarkable ability to bowl reverse swing REVERSE!

He is one of the best exponents of this art! Will be interesting to watch him bowl once the ball starts to reverse. #EngvWI @brianlara pic.twitter.com/zhPM8MXsUM

— Sachin Tendulkar (@sachin_rt) July 9, 2020
"Even if it's a baby step at a time. Even a snail's pace. But I'm hoping it will continue in the right direction. Even at a snail's pace, I don't care"

Michael Holding fights back tears as he recalls the prejudice faced by his parents.https://t.co/iOm40vn1kt pic.twitter.com/BhYXRbtyd1

— SkyNews (@SkyNews) July 9, 2020
We will need all of you to carry it. https://t.co/bItfJeK5Dx

— Daren Sammy (@darensammy88) July 9, 2020
The world needs to understand what black people have been through on this earth with this white supremacy bullshit. Yet still we have been so forgiving and embraced everyone. Time for change is now. Keep flying the flag Mikey ✊🏿✊🏿✊🏿✊🏿✊🏿✊🏿. We here with you and for you https://t.co/MR7HbDH3F9

— Daren Sammy (@darensammy88) July 9, 2020
Jason Holder only the 3rd seam-bowling captain to take six wickets in an innings against England. Previously: Imran Khan (two 7-fors and a 6-for), and… any guesses… of course, South African Buster Nupen in 1930-31. Thanks be to Statsguru.

— Andy Zaltzman (@ZaltzCricket) July 9, 2020
Jason Holder putting on a masterclass with the ball today 🏏

— Charlie Beckett (@Charlie_Beckett) July 9, 2020
Jason Holder, batter, bowler, reviewer. The complete cricketer.

— Peter Miller (@TheCricketGeek) July 9, 2020
Jason Holder nailing reviews time after time is the stuff I need in my coffee every morning. 👏🏾👏🏾 @windiescricket #ENGvWI #cricketisback

— Alexis Nunes (@alexisenunes) July 9, 2020
Jason Holder is good at bowling, and batting and captaincy, and he speaks well… what an absolute gem of a player he is… West Indies have made an excellent move in making him skipper of this side.

— Jack Mendel (@Mendelpol) July 9, 2020