Twitter Reactions: Karun Nair converts his maiden Test century into a triple century, India in the driver's seat
Updated - Dec 19, 2016 12:56 pm
76 Views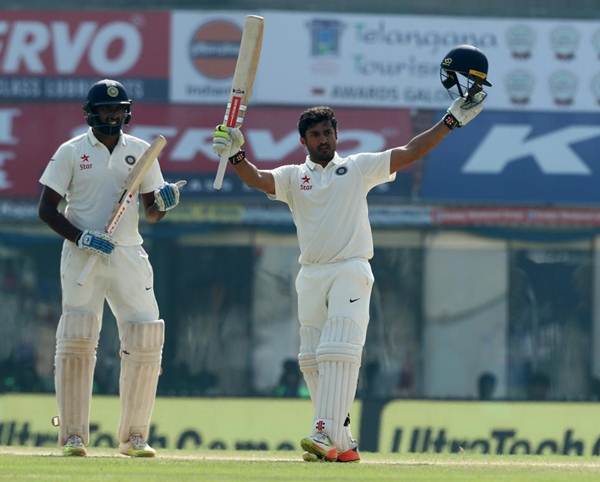 Playing in only his 3rd Test match, Karun Nair created history by becoming only the 2nd Indian and 23rd player overall to hit a triple century in their Test career. It was a monumental effort from the Karnataka lad after another Karnataka batsman KL Rahul missed out on his maiden double century by a solitary run on the 3rd day. The innings was constructed with 32 hits to the fence and 4 maximums. Courtesy his brilliant innings India reached the highest total in their Test history and declared their innings at 759/7 before England came out to bat for the last 5 overs of the day. Openers Alastair Cook and Keaton Jennings negated Ashwin and Jadeja quite comfortably to end the day at 12/0.
Beginning the day at 391/4, India carried on from where they left on the 3rd day. Overnight batsmen Murali Vijay and Karun Nair struck some delightful strokes in the morning session before Vijay fell to debutant Liam Dawson to give him his maiden Test wicket. World No.1 all-rounder Ravichandran Ashwin joined Nair in the middle and the duo played sensibly to take India past England's first innings score.
Nair unleashed a barrage of sweep shots including the conventional sweep shot and the reverse sweep in the post lunch session. He never allowed the spinners to settle down and went after them on a consistent basis. Adil Rashid was at the receiving end of a Nair special as he conceded 16 runs in a single over where he was hit for a six and two fours when Nair was pushing towards his triple ton. Ashwin also provided him good support before he was dismissed for 67 against the bowling of Stuart Broad.
Ravindra Jadeja took on the England bowlers from the outset and looked to score briskly. He hit a solitary four and two sixes during his innings of 51. Karun, on the other hand, kept on piling on the runs and scored at a brisk pace. After getting to his double century, Nair was unstoppable and started hitting boundaries in every overs. He eventually reached his triple century by square cutting an Adil Rashid delivery to the boundary. It was one heck of an innings and the youngster would be very proud of his effort.
Twitteratti was bound to remain active throughout the day's play, especially after Karun's herculean effort. There were certain tweets which described the proceedings in the best possible manner. Here are some of the best tweets.
Congratulations on the historic triple century @karun126! We all are delighted & proud of your remarkable feat.

— Narendra Modi (@narendramodi) December 19, 2016
Trying to work out whose continued unwarranted presence as leader of my two favourite sporting teams is most annoying: Cook or Wenger?

— Piers Morgan (@piersmorgan) December 19, 2016
Rohit Sharma: Virat bhai, I've recovered from my injury. Aa raha hu wapas for Australia series!
Virat Kohli: NEW NUMBER WHOS DIS? #INDvENG pic.twitter.com/8QgmAfQXiM

— Sameer Allana (@HitmanCricket) December 19, 2016
Welcome to the 300 club youngster @karun126 ????? #Super

— Chris Gayle (@henrygayle) December 19, 2016
What an effort 300? @karun126 ?????? keep rocking..His first test hundred and that's 300 not out.God bless @BCCI #INDvENG looks like 4-0?

— Harbhajan Turbanator (@harbhajan_singh) December 19, 2016
Extremely pleased to see the India-A plan giving rich rewards under #RahulDravid. Jayant & Karun shinning examples. @BCCI #TeamIndia

— Anurag Thakur (@ianuragthakur) December 19, 2016
Moral: If a 200 missed, 300 will happen soon. #KarunNair

— Jalandar (@scriblng) December 19, 2016
Congratulations to Karnataka's Karun Nair @karun126 for scoring world record maiden triple century

— CM of Karnataka (@CMofKarnataka) December 19, 2016
Well done karun @karun126 triple hundred

— Naman Ojha (@namanojha35) December 19, 2016
Congratulations @karun126 Nair on being India's first cricketer to convert maiden Test century into triple hundred #IndvsEng

— Rajat Sharma (@RajatSharmaLive) December 19, 2016
A brilliantly paced knock by a really talented young batsman! Congratulations @karun126 on a truly splendid knock! #INDvENG pic.twitter.com/qm2nXbv9yd

— Gautam Gambhir (@GautamGambhir) December 19, 2016
Last time England got stuffed this badly abroad, Cook made KP the scapegoat.
Needs to stab himself in the back this time. #INDvENG

— Piers Morgan (@piersmorgan) December 19, 2016
Take a bow!! Welcome to the 300 club. Karun Nair becomes the 2nd Indian to hit a triple century in Tests. ??3️⃣0️⃣0️⃣ #INDvsENG #INDvENG pic.twitter.com/g4ESYqqBPJ

— Khurram Siddiquee (@imKhurram12) December 19, 2016
Karun Nair is the only India to convert a maiden century into a triple century. Other two: Sir Garfield Sobers and Bob Simpson.

— TheField (@thefield_in) December 19, 2016
In the age of DRS and tough LBW laws to get a 300 ! Wow ! Well played @karun126 !

— vikram sathaye (@vikramsathaye) December 19, 2016
Take a bow @karun126 quality triple ?, India never short of batting talent, another emerges! #INDvENG

— Tom Moody (@TomMoodyCricket) December 19, 2016
@karun126 WOW!!! 303 not out. So proud of my old @rajasthanroyals mate. ????????And my @RCBTweets teammate @klrahul11 199 ???????? #INDvENG

— Shane Watson (@ShaneRWatson33) December 19, 2016
Meanwhile Anil kumble capture the moment as proof to submit Mr. Kejriwal ??
"Karun Nair"#INDvENG #EngVsInd

— Tushar Agarwal (@imtusharagarwal) December 19, 2016
Staying at the wicket & scoring big is all about temperament. Full credit to @karun126 for showcasing that. #303 #WayToGo #INDvENG

— Pragyan Ojha (@pragyanojha) December 19, 2016
15 Test triple centuries 1877-2001.
15 Test triple centuries 2002-2016.

— Tim (@timwig) December 19, 2016
Yay ! Welcome to the 300 club @karun126 .
It was very lonely here for the last 12 years 8 months.
Wish you the very best Karun.Maza aa gaya!

— Virender Sehwag (@virendersehwag) December 19, 2016
Karun Nair after taking off his mask. #INDvENG pic.twitter.com/ZDXUhdTEdE

— Sand-d Singh (@Sand_In_Deed) December 19, 2016
303 runs
381 balls
32 fours
4 sixes

Take a bow Karun Nair ?#INDvENG pic.twitter.com/0IvQCUuIzT

— BigSport (@BigSportGB) December 19, 2016
*Rohit Sharma call Kohli*
Kohli: Who is this ?
Rohit- Hi, Rohit Sharma here.
Rohit- Bro, u there ? Bro, Bro…….. #INDvENG

— Shashi (@AllTimeBakchod) December 19, 2016
Most runs from 4s and 6s in an inns:
Stokes- R-258 B-198 4×30 6×11=186
K Nair R-303* B-381 4×32 6×4=152
Younis Khan R-218 B-308 4×31 6×4=148 pic.twitter.com/Y9NyWXeW82

— Aamir Khan (@iAamirPK) December 19, 2016