Twitter Reactions: Klaasen and Duminy guide the Proteas to a scintillating victory
While Klaasen and Duminy were lauded, it was Chahal and Unadkat who were at the receiving end of the trolls on Twitter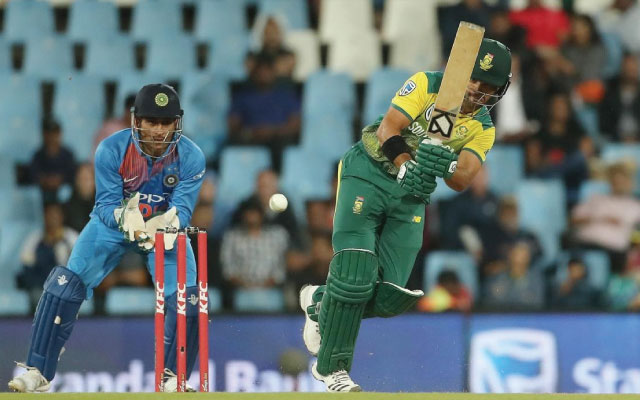 Follow us on Google News
The Centurion crowd witnessed yet another spectacular match. South Africa managed to register a fantastic chase as the series is now levelled 1-1. Henrich Klaasen and JP Duminy marvel partnership overshadowed Manish Pandey and MS Dhoni's efforts in the first innings.
Put to bat first, India were off to a slow start as Rohit Sharma was dismissed for a golden duck. Shikhar Dhawan made up for the maiden over as he smashed Chris Morris for 20 runs. However, Dhawan couldn't prolong his stay at the crease as he ended up hitting a full toss straight to the fielder at mid-on.
Skipper Virat Kohli had a rare early dismissal as India were reduced to 45/3. However, probably for the first time in this tour, the middle order came to the rescue. Suresh Raina looked good in his innings of 30(24). However, it was Manish Pandey who was absolutely phenomenal in the day.
The 28-year-old scored an unbeaten 79(48) as he took on the Proteas bowlers to the cleaners. MS Dhoni displayed his finishing abilities in style as he shut down his critics. He went on to register his second half-century in T20 Internationals. Both put up an unbeaten partnership of 98 runs from just 56 balls for the fifth wicket.
India went on to post a total of 188/4 in their quota of 20 overs. Junior Dala picked up a couple of wickets as he was the pick amongst the South African bowlers. However, they didn't have a great start as both openers were back to the pavilion with 38 runs on the board.
That's when the duo of JP Duminy and Henrich Klaasen put up a magnificent show in the midst. Both combined for a 91 run partnership from just 49 balls. Klaasen went on to smash a fantastic 69(30), an innings that had 7 sixes and 3 fours. Yuzvendra Chahal who has been a valuable asset in the limited overs tour so far was taken away for the cleaners. He conceded 64 runs in his quota of four overs.
While Klaasen got out, Duminy stayed till the end. His stupendous innings of 64*(40) helped the Proteas seal the victory in the penultimate over. Farhan Behardien also provided good support as South Africa managed to keep the series alive. While Klaasen and Duminy were lauded, it was Chahal and Unadkat who were at the receiving end of the trolls on Twitter.
Here we have some of the amazing Twitter reactions from the game:
Shardul & Unadkat remind us of the 90s batch of Indian medium pace.

— Gabbbar (@GabbbarSingh) February 21, 2018
Bhaiya, Klaasen ne to class le layi aaj . Chakke pe Chakka

— Virender Sehwag (@virendersehwag) February 21, 2018
Unadkat's career got a big downfall by JP Duminy smashing him for 2 consecutive sixes.

— Arfan ? (@Im__Arfan) February 21, 2018
RR while buying Unadkat for 11.5 cr. pic.twitter.com/PQLxIwNxKS

— Azor Ahai (@DarrKeAage) February 21, 2018
Ashwin after Chahal's spell. pic.twitter.com/U6XbLP1Tah

— Arun Pandiyan (@ArunPandiyanMJ) February 21, 2018
South Africa really love their rains. Two wins now chasing in the rain.#SAvInd #SAvsInd

— Suneer (@suneerchowdhary) February 21, 2018
JEAL PAUL DUMINY TO LEAD SOUTH AFRICA IN 2020 T20 WORLD CUP.

— Arfan ? (@Im__Arfan) February 21, 2018
11.5 cr wapas le lo be. #INDvSA

— Akshay (@AkshayKatariyaa) February 21, 2018
When Duminy's playing through, you know you have little chance.

— Nikhil ? (@CricCrazyNIKS) February 21, 2018
Bhuvi comes back to clean the mess. Just another day at work then. #SAvIND

— cricBC (@cricBC) February 21, 2018
If South Africa lose this you can surely find Choksi here #SAvIND

— GoanPatiala (@TheGoanPatiala) February 21, 2018
Bad day for Chahal. Ashwin's ethical mind must be thinking of throwing a party right now. #SAvIND

— cricBC (@cricBC) February 21, 2018
Both the losses have come while defending. Don't bat first.

— Alagappan V (@IndianMourinho) February 21, 2018
Hardik Pandya has bowled better than Chahal today ?#INDvsSA

— Prajakta Bhawsar (@ViratsFangirl18) February 21, 2018
Chahal: DM me your number
Klaasen: 664106 #SAvIND

— Shubh AggarWall (@shubh_chintak) February 21, 2018
STAT –

Yuzvendra Chahal now holds the unwanted record of most runs conceded by an Indian bowler in T20Is!#SAvIND

— Nikhil Mane ??? (@nikhiltait) February 21, 2018
The day belongs to

Kamal Haasan and Klaasen

— Bobgally (@Krishnan_Masi) February 21, 2018
Pretty sure Jaydev Unadkat's IPL fees of 11.5 cr is being funded by a loan from Punjab National Bank.

— Gabbbar (@GabbbarSingh) February 21, 2018
Preity Zinta would put David Miller on sale after this series if she could, just that she can't and there will be no buyers either.

— Saurabh Malhotra (@MalhotraSaurabh) February 21, 2018
Miller lets you down 9 times out of 10!! #SAvIND

— اسعد?? (@Asad_133) February 21, 2018
After Klaasen's inning, Morris would be the happiest man in the dressing room #SAvIND

— Dvl (@l_Dhaval) February 21, 2018
RCBians today,
CDG 10(6)
Southee 2-21-0.
Virat 1
Chahal 3-51-0.

— Arfan ? (@Im__Arfan) February 21, 2018
Klaasen has been among the rare bright spots for South Africa in these limited overs games. They have made the right call by making him bat up the order unlike the last game #SAvIND

— Gaurav Kalra (@gauravkalra75) February 21, 2018
Someone call Police. Chahal is being murdered at Centurion. #SAvIND

— cricBC (@cricBC) February 21, 2018
Mr. Klaasen is going to play for a lot of T20 franchises in the next 60 months or so.

— cricketingview (@cricketingview) February 21, 2018
Day of the wicketkeepers, you'd suppose? #SAvIND

— Manya (@CSKian716) February 21, 2018
ODI : Chahal comes to bowl. South Africans are scared.

T20I : Chahal comes to bowl. Indians are scared. #SAvIND

— Sejal ? (@sejal_mokal) February 21, 2018
Been a weird game this. 2 maiden overs and 38 in two others!!

— Harsha Bhogle (@bhogleharsha) February 21, 2018
Congratulations on your IPL contract, Klassen. Mumbai Indians welcome you.

— Alagappan V (@IndianMourinho) February 21, 2018
Last 4 overs 55 . Hathyar chalana nahi bhoolein, Special hits from a special player , Mahendra Singh Dhoni. Great effort from Pandey as well. Best wishes to the bowlers to defend 188

— Virender Sehwag (@virendersehwag) February 21, 2018
#Dhoni on ?. Watching a t 20 after long let's gooo indiaaaaa

— Varun Dhawan (@Varun_dvn) February 21, 2018
Dhoni haters disappearing faster than Nirav Modi.. #SAvIND

— Sameer Allana (@HitmanCricket) February 21, 2018
Follow us on Telegram