Twitter Reactions: MS Dhoni does it again, architects Sunil Narine's dismissal
It was an MSD special that saw him deflecting the ball to the stumps.
Updated - Apr 26, 2017 10:20 pm
13.5K Views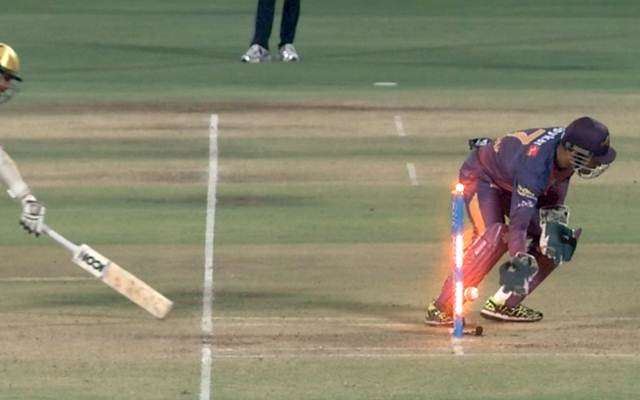 Rising Pune Supergiant wicket-keeper MS Dhoni has made it a habit of stunning the opposition batsmen with his quick glove work. He is renowned for his lightning quick stumpings and slight deflections to the stumps to complete improbable runouts. The veteran cricketer was at his very best yet again. The action perspired during the Kolkata Knight Riders innings of the RPS v KKR encounter in Pune.
It was in the third over of the run chase when Washington Sundar darted one on the legs of Gautam Gambhir. The non-striker batsman Sunil Narine had been looking very threatening with his power hitting at the other end. Sundar bowled on the legs of Gambhir as the KKR skipper played it down the fine leg area. Gambhir was quick to call for a single.
Narine, who is not the best runners between the wickets, had no other option but to oblige for the run. He ran and should have made the ground. The fielder in the fray was Shardul Thakur. Thakur threw the ball to the striker end with an underarm throw. Apparently, the ball would have missed the stumps and Narine would have reached the crease in a parallel world.
However, there stood a certain MS Dhoni in the way. It was an MSD special that saw him deflecting the ball to the stumps. He showed great match awareness to ensure that the ball crashed into the stumps. The umpire referred it to the television umpires. And the replays suggested that the batsman was well short of his crease. Narine had to make the long walk back after scoring 16 off 11 balls.
Earlier in the game, the Rising Pune Supergiant has scored 182/5 in their 20 overs. Dhoni had looked quite good with the bat too. He had scored a quick 23 off 11 balls with 2 sixes and a four to his name.
The social media went absolutely berserk over his wicket keeping. Here are the best reactions from the Twitterati:
Classic Dhoni: cheekily deflects the ball onto the stumps to run Narine out!#RPSvKKR #IPL

— Cricbuzz (@cricbuzz) April 26, 2017
MS Dhoni at his best. #IPL

— Nikhil ? (@CricCrazyNIKS) April 26, 2017
What a keeper he is just awesome This is @msdhoni for u#KKRvRPS #IPL

— Deepak Sharma (@deepakbhlscr) April 26, 2017
See, what I say! No one can replace #MSDhoni ! What a way to get out. Inform batsman of #kkr is out. #RPSvKKR #IPL

— CricketCasanova Buzz (@cricketsourabh) April 26, 2017
Narine MSDied….wicketkeeper hai ki jadugar??? #IPL #RPSvKKR

— Aakash Chopra (@cricketaakash) April 26, 2017
And it's Dhoni's guile again! Sneakily gloves the incoming throw on to the stumps. Only one #kingofthejungle. #RPSvKKR

— TheField (@thefield_in) April 26, 2017
The only way to get Narine out early into his innings is maybe a run out! Gambhir can be the best person to do that! Narine departs! #IPL

— HoldingWilley ? (@holdingwilley) April 26, 2017
Dhoni says Just 'Take Diversion baby' and the ball obeys perfectly to the Master by hitting the stumps asap.

Love you #msdhoni

— Aparna ? Kumar (@Aparna_offl) April 26, 2017
Classic #Dhoni .. Flick onto the wickets and #narine is trolled.. Advice is #ShardulThakur and the combination works. #CaptainCool @SonyMAX

— Aviraj Auris Bose (@AvirajAurisBose) April 26, 2017
Street smarts level: MS Dhoni. What a deflection to effect the Narine run out! Wasn't even visible to the naked eye. #MSDhoni #RPSvKKR #IPL

— iErr (@vivekiyer20) April 26, 2017
There's nothing as Vintage Dhoni, because Dhoni is still the same champion he was years back and he just proves it in every match.

— Jessica. (@Jessica_Varun) April 26, 2017
Dhoni's specials are the reason so many people watch cricket #RPSvKKR

— Vijay Mallya (@VijayMalliya) April 26, 2017
May Be DHONI Instructed Thakur to throw d ball under arm!! One ball before!! Sharp KEEPING ?#RPSvKKR

— Տɑiվɑɑrɑ! ᴿᴾˢ (@BeingKushSharma) April 26, 2017
Dhoni says "Take Diversion" for that run out.

— Razim Mohammad (@Rasamsadham) April 26, 2017
MS Dhoni surely must have been a great footballer as a kid. Not just goalkeeping. Tough to write what im trying to say ??

— Aneesh Chandoke (@AneeshChandoke) April 26, 2017
MS Dhoni behind the stumps is a ROBOT ! You can't expect human error! #RPSvKKR #ipl

— CENATION Network (@NetwrkCenation) April 26, 2017
Dhoni Delay: The extra time saved by Dhoni when affecting a run out or stumping.

— Clive (@vanillawallah) April 26, 2017
Dhoni behind the wickets is Vishnu avatar.

— Silly Point (@FarziCricketer) April 26, 2017
Wicket-keeping is his yard! Match winner with his gloves alone!! #MSDhoni #RPSvKKR

— Saurav Jha (@iamsauravjha) April 26, 2017