Twitter Reactions: New Zealand nose ahead at the end of day 1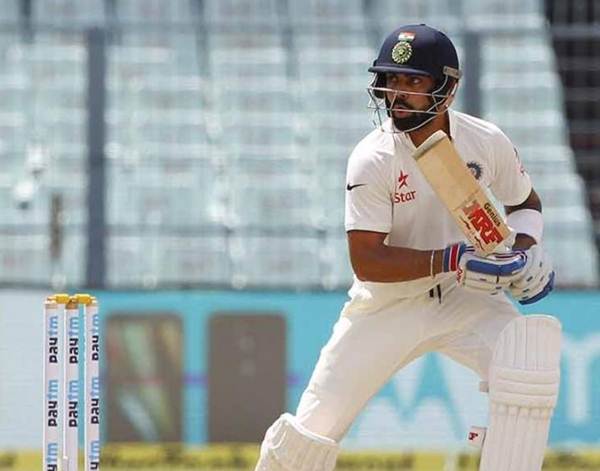 The Eden Gardens witnessed history as India started proceedings of its 250th Test match at home soil against the Kiwis. Earlier in the day, it was Virat Kohli who won the toss as India elected to bat first. Ross Taylor was captaining the visitors in Williamson's absence.
India made two changes in the winning XI from the first game. Shikhar Dhawan was brought in for the injured KL Rahul while Bhuvanesh Kumar replaced Umesh Yadav. The Kiwis began with a bang as they had Dhawan back to the pavilion in no time.
The bowlers dominated throughout the session as stalwarts like Virat Kohli and Murali Vijay were dismissed cheaply. At 46/3, India surely needed some respite from the other batsmen. That was when they had two of its best batsmen at the crease of the traditional format.
Both Cheteshwar Pujara and Ajinkya Rahane rose to the occasion as they recovered India from the early slump and put them in a commanding position. Both missed out on well-deserved 100s as Pujara got out for a scintillating 87 while Rahane too played a valiant knock of 77.
After failing to get a single wicket in the second session, NZ bowlers struck in the third session. Rohit yet again played a loose shot and got out scoring 2 (12). Ashwin got a start but was trapped in front of the stumps.
Henry bowled fiercely well for his 3 wickets. Jeetan Patel, the man on comeback also did a fine job as he got a couple of wickets. The day belonged more to New Zealand as they first toppled the Indian top order and later pulled things back in hand after Pujara-Rahane seemed to take the game away at one stage.
Twitter had some amazing reactions for the game. While the trolls had a good start as Rohit and Dhawan had a bad day, there was much adulation for Pujara and Rahane for their classical innings though they failed to convert their half centuries into big ones. Here are some of the best tweets throughout Day 1 of the Test match:-
Fantastic day's play. Strong comeback by NZ in last session. But India's lopsided scorecard (only Pujara & Rahane getting 50s) tells a story

— Cricketwallah (@cricketwallah) September 30, 2016
New Zealand get the better of Day 1 of the second #IndvNZ Test, Matt Henry's 3 wickets helping reduce India to 239-7 https://t.co/ZI2hbFTicE pic.twitter.com/CHyNrDR3kP

— ICC (@ICC) September 30, 2016
Ashwin this year in Tests has a better batting average than Misbah, Younis, Kohli, Warner, Root and Cook. #PAKvWI

— Sameer Allana (@HitmanCricket) September 30, 2016
Rahane falls. India in an unexpected bind. Acid test from here for the Kiwis to keep score below 300 & give themselves a chance in the match

— Cricketwallah (@cricketwallah) September 30, 2016
#CricketBelieveItOrNot #INDvNZ pic.twitter.com/xVtnR8coMN

— Abhishek (@absycric) September 30, 2016
Kohli asking Ashwin to pad up once Rohit went out to bat. #INDvNZ pic.twitter.com/vapa5eJc4c

— Nikhil ? (@CricCrazyNIKS) September 30, 2016
100 on Test debut. 264 in ODI. Winning IPL 2013 and 2015.
If Rohit Sharma can't do it here, he can't do it anywhere else.

— Jalandar (@scriblng) September 30, 2016
In test series with more than one match, Rahane averages 23.8 in the 1st match and 94.5 in the 2nd. Clearly works out bowlers well. #INDvNZ

— Michael Wagener (@Mykuhl) September 30, 2016
Shades of Laxman and Shades of Dravid again Doing for India at Kolkata… ?

— Broken Cricket (@BrokenCricket) September 30, 2016
Rahane averages more than 90 in the 2nd Test of a series. 8 of his 16 50+ scores and 4 of his 7 100s have come in 2nd Tests. #IndvsNZ

— Bharath Seervi (@SeerviBharath) September 30, 2016
Wicket-less sessions should be called as "Dravid-Laxman Sessions" – at least in Eden Gardens

— Jalandar (@scriblng) September 30, 2016
India didn't pick Gautam Gambhir today so that he can go watch Dhoni's movie.

— dorku (@Dorkstar) September 30, 2016
Pretty good session for India. Hard-fought one. 79 runs off 31 overs for no wickets. #INDvNZ

— Nikhil Mane ??? (@nikhiltait) September 30, 2016
Pujara showing what patience can do on a slightly difficult wicket.
Great demonstration of sticking it out.@cheteshwar1

— Mohammad Kaif (@MohammadKaif) September 30, 2016
Pujara since West Indies tour.

166, 256*, 62, 78 and now another half-century. https://t.co/DLm7Y2Bf6C

— Moulin (@Moulinparikh) September 30, 2016
Indian spinners in a home test watching the proceedings, going from Day 1 to Day 2 to Day 3. pic.twitter.com/kiH6HirPXG

— Abhishek (@absycric) September 30, 2016
Gee Kiwis did well in that session ! Another failure for Kohli-long way for him to reach level of Williamson, Smith & Root in Tests #indvnz

— Brett Graham (@worldofBG) September 30, 2016
Good crowd, good weather, good pitch. The only bad thing about this day is Shikhar Dhawan. #indvsnz

— Jatin (@LogicalBakwaas) September 30, 2016
1st session clearly New Zealand's. But India bat very deep in this test. All hands on deck by the looks of it!

— Harsha Bhogle (@bhogleharsha) September 30, 2016
Shikhar Dhawan is picked in the playing 11 so that we can make jokes on him #INDvNZ

— Shashi (@AllTimeBakchod) September 30, 2016
Whole team will play some useless shots. End of match talking: pujara's strike rate

— Sidvee (@sidvee) September 30, 2016
Kohli loves to chase and this time he chased a ball well outside off and that cost him his wicket.#INDvNZ

— Umang Pabari (@UPStatsman) September 30, 2016
New Zealand have bowled fairly poorly this morning. Not accurate enough to exploit the bounce and movement. #INDvNZ

— Paul Dennett (@the_summer_game) September 30, 2016
India's 2 best leavers of the ball at the crease. Test cricket porn, right there.

— if Shrikant,who can? (@HomerOpines) September 30, 2016
Shikhar Dhawan's career is now placed forever in Eden Gardens. pic.twitter.com/i8v9xb5SQY

— ️Silly Point (@FarziCricketer) September 30, 2016
Dhawan is trolling Gambhir to the next level. Now he will sit beside Gambhir & watch the whole game with him & laugh at Gambhir's fate.

— Ojas. (@Ojasism) September 30, 2016
https://twitter.com/darrkeaage/status/781708945727553536
Is there some SRH match happening today? pic.twitter.com/xdrCS8VnYf

— Arjun (@_WellOfCourse) September 30, 2016
https://twitter.com/denniscricket_/status/781707584424116224