Twitter Reactions: New Zealand pull off a close win to take the series 2-0
Updated - Nov 29, 2016 5:52 am
26 Views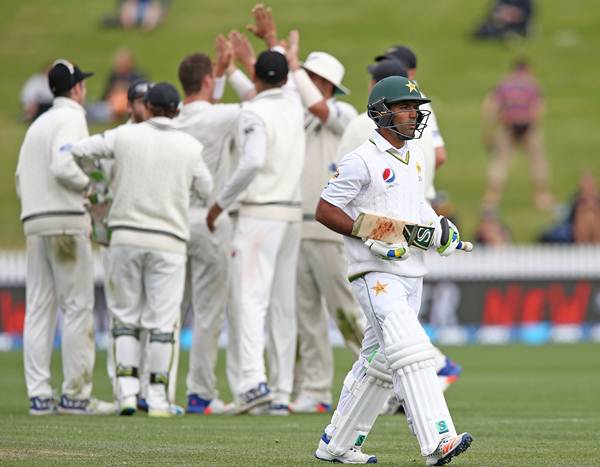 It was the last day of the last Test of the series and the New Zealand bowlers had three sessions to bowl out Pakistan to ensure a victory. The Pakistani openers lasted the three-over test last evening and were resilient this morning as well. With the way Sami Aslam and Azhar Ali started off, it kicked all the hopes of saving the match alive but Pakistan being Pakistan crashed from 158/1 to 230 all out in no time and conceded the game and the series 2-0.
While both the openers were at the crease it appeared that the New Zealand bowlers weren't going to get through their defense and breach their determination but like he has done so often in the recent past Mitchell Santner was the bailer and drew first blood with the wicket of Azhar Ali as he clean bowled the Pak opener. He didn't let Babar Azam settle in and had another bowled dismissal claiming both the wickets they had on the morning.
It was then that the experience of Tim Southee brought them the wicket of Aslam who fell just nine short of a well deserved ton. Pakistan looked worried now, and we all know why, it's their biggest problem of sliding off the road just when the drive looks smooth. Sarfaraz Ahmed was run out, Southee had Younis leg-before and then there was a string of wickets.
They still had hopes as the clock was ticking and the ask was just to see through a few overs but the New Zealand bowlers made every ball count and made life difficult for survival. Neil Wagner also got into the act and plucked three quick wickets and all of them for ducks to wrap the game up. With that the Black Caps beat Pakistan 2-0 in a Test series for the first time in 31 years.
Here is how Twitter reacted to Pakistan's disastrous batting in the last session:
PAK batsmen in this #NZvPAK series
Babar Azam: 142 runs
Sami Aslam: 122
Azhar Ali: 95
Sohail Khan 94
Sarfraz: 69
Asad: 56
Misbah: 44
YK: 16

— Jasveer Singh Kharra (@imjsk27) November 29, 2016
1 run for 4 wickets off 14 balls when saving a Test match with around 20 overs to go. A weak tail is suicide in modern cricket #NZvPAK

— Nikhil Mehra (@TweetinderKaul) November 29, 2016
Congratulations Pakistan for winning yet another overseas series… #NZvPAK

— Sir Ravindra Jadeja (@SirJadeja22) November 29, 2016
For Pak fans who wanted a win than a draw with "nothing to lose" statement:

1) Whitewash
2) Drops from Rank 2 to Rank 4#PAKvsNZ #NZvPAK

— Tabrez Shaikh (@its_tabrez_4u) November 29, 2016
One minute silence for those, who did not sleep last night only to watch Pakistan's stunning victory in Hamilton Test#NZvPAK

— Ali Raza (@AliRazaTweets) November 29, 2016
WORLD RECORD: Pakistan are the first team in history to lose 9 wickets in the final session of a Test #NZvPAK #BBCCricket pic.twitter.com/p4rIU3r4cO

— Test Match Special (@bbctms) November 29, 2016
from 1994 to 2014
NZ won 3 tests out of 18 against PAK
and after that NZ have won their last 3 tests against PAK#NZvPAK

— Jasveer Singh Kharra (@imjsk27) November 29, 2016
It took me one hour to reach the office and team Pakistan to collapse. #NZvPAK

— H. Warsi? (@hum_sa411) November 29, 2016
Pakistanis making Captaincy Debut at Seddon Park, Hamilton
Inzamam-ul-Haq: Lost by an innings & 185 runs
Azhar Ali: Lost by 138 runs#NZvPAK

— Israr Ahmed Hashmi (@IamIsrarHashmi) November 29, 2016
Itni Jaldi To Biscooot chai Mein NAi doobta

Jitni Jaldi Pakistan Ki batting line up doob jati hai ??#NZvPAK #PAKvsNZ

— DhaT Teri (ง'̀-'́)ง (@Sheikhhhassnain) November 29, 2016
Pakistani cricket team is consistent at being inconsistent #NZvPAK

— Shashi (@AllTimeBakchod) November 29, 2016
Pakistan have gone from 131-0 to 230 all out. 10 wickets down for 99 runs. #NZvPAK

— Junaid Khan (@imJunaid10) November 29, 2016
This is New Zealand's First Test Series Win against Pakistan since 1985.#NZvPAK pic.twitter.com/WXvn1pQ6ah

— Cricketopia (@CricketopiaCom) November 29, 2016
That was a collapse reminiscent of 1930's South Africa, 1970 Australia, 1980's Sri Lanka, 1990's New Zealand or modern West Indies. #NZvPAK

— Michael Wagener (@Mykuhl) November 29, 2016
Kamikaze batting from Pakistan.. from 158-1 to 230 all out !!! Congrats NZ on clinching the series.. #NZvPAK

— Navneet Mundhra (@navneet_mundhra) November 29, 2016
This is Pakistan's first series defeat in Tests in 27 months and New Zealand's first series win against Pakistan in 31 years. #NZvPak

— Mazher Arshad (@MazherArshad) November 29, 2016
Pakistan cricket team: Let's bat through and save the Test.

Pakistan cricket team: Lol! #NZvPAK pic.twitter.com/t1u4pJCMBS

— Nikhil ? (@CricCrazyNIKS) November 29, 2016
Solid consistency from Pakistan when it comes to collapses. From 158/1 in 67 overs at tea to 230 all out in 92.1 overs. #NZvPAK

— Jamie Alter (@jamie_alterTOI) November 29, 2016
Pakistan lose nine in the final session!

131-1
159-2
181-3
199-4
204-5
218-6
229-7
230-8
230-9
230 all outhttps://t.co/jCUzAnl3eD #NZvPAK

— ESPNcricinfo (@ESPNcricinfo) November 29, 2016
Pakistan keeping Test cricket alive since eternity. #NZvPAK

— Nikhil ? (@CricCrazyNIKS) November 29, 2016
3 guys dismissed trying to smash it through the off side and a run out. Doesn't seem much like batting for a draw tactics. Next question? https://t.co/KE9rYn80Eb

— Jimmy Neesham (@JimmyNeesh) November 29, 2016
That's got to be one of our best Test wins ever. Outstanding.

— Jimmy Neesham (@JimmyNeesh) November 29, 2016
Sarfraz Ahmed is run out for the first time in his Test career and he has only himself to blame for it. #NZvPak

— Mazher Arshad (@MazherArshad) November 29, 2016
Sami & Azhar faced 360 balls for opening partnership 131, this Pakistan's longest opening p/s (by balls) in 4th innings of a Test. #NZvPAK

— Faizan Lakhani (@faizanlakhani) November 29, 2016
Sami Aslam's 50 off 188 balls is slowest by a Pakistan opener in Tests in 23 years and 4th slowest overall. #NZvPak

— Mazher Arshad (@MazherArshad) November 29, 2016
Pakistan's loss in New Zealand means this Test is now being contested by the teams ranked 1st and 2nd by the ICC.https://t.co/sgv62kmxAg pic.twitter.com/igQyOK6Ebj

— Test Match Special (@bbctms) November 29, 2016
What a moment! 2-0, up to 6th in the rankings #NZvPAK ^WN pic.twitter.com/CwZnQXFsGY

— BLACKCAPS (@BLACKCAPS) November 29, 2016