Twitter Reactions: Rain and gritty Pakistan batsmen spoil England's party on Day 4
England need eight wickets to win the game while there is a forecast of rain on the fifth day.
Updated - Aug 25, 2020 10:26 am
555 Views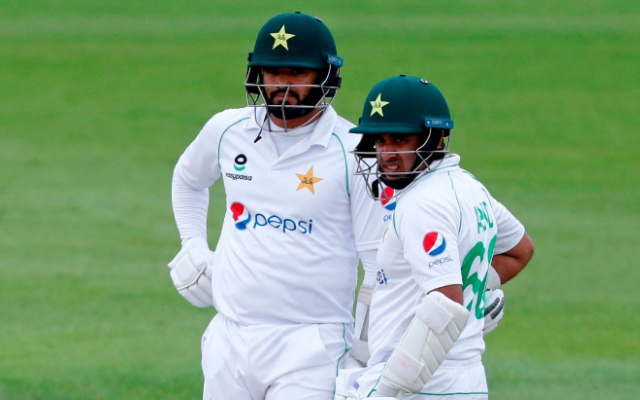 Follow us on Telegram
Like it has been all summer, rain played its part on Day 4 of the third Test between Pakistan and England. The visitors finally have some hope of saving the game thanks to rain and some gritty batting from their top four. Pakistan ended the day on 100/2 with two of their best batsmen, Azhar Ali and Babar Azam fighting it out in the middle.
They were trailing by 310 runs when the second innings started and needed a major turn-around to make a comeback in this match. Azhar Ali who had decided to open on the previous day, changed his mind this time around. He decided to go in with the conventional openers and was allowed to do so. This was because their second inning had not started the previous day on account of bad light.
To everyone's fear, the weather predictions came true. There were constant interruptions due to rain and only 56 overs could be bowled in the entire day. After three days of amazing cricket, the England side may feel they missed out on Day 4. With the weather forecast being worse for Day 5, they would've hoped to capitalise better on the opportunities they had got.
For the Asian side, it was a day they could finally be proud of. Their batsman played with some great determination and showed the world why they shouldn't be underestimated. They lost only two wickets and could well get away with a draw on Day 5. A calm and composed effort with the bat would be the need of the hour for them. They should avoid doing anything silly that could land them in trouble once again.
James Anderson just one wicket short of 600
Abid Ali and Shan Masood started off proceedings for the visitors. They played with caution and looked to see off the new ball. They were successful in doing so and did not lose any wickets in the first 20 overs. Shan Masood was later dismissed on 18 runs by Stuart Broad in the 24th over of the innings.
Abid Ali played a solid knock before being given LBW to a ball from James Anderson. He scored a 162-ball 42, which shows how patiently the batsman played. Anderson was now on 599 Test wickets, just one short of the dream 600 mark. He would've become the first fast bowler to achieve this feat. He might have completed his goal on Day 4 had Jos Buttler not dropped a straight forward catch.
The hosts would be looking to go all out on Day 5 in order to get a much-deserved win. The visitors, on the other hand, would be hoping for the weather forecast to be right so that minimal play takes place. It would be interesting to see which side this match goes.
Here's how Twitter reacted:
ANOTHER catch is dropped off Jimmy Anderson's bowling.

Anderson is seething.#ENGvPAK

— Wisden (@WisdenCricket) August 24, 2020
Not a lot of people know this, but the "Win" in WinViz is actually short for "Winston the Dog" https://t.co/04WKCxRXc3

— Ben Jones (@benjonescricket) August 24, 2020
Be Jimmy's 600th?

Be a part of, what will be, one of the most replayed wickets in Test history?

Would you?

— Iain O'Brien (@iainobrien) August 24, 2020
Nice to see him wearing the correct accreditation #ECBShame https://t.co/jhlSkCUE3n

— Vithushan Ehantharajah (@Vitu_E) August 24, 2020
"One of the best captain's knock in modern cricket."
– Brian Lara on Azhar Ali's century at Southampton. #ENGvPAK pic.twitter.com/rzdi0qAZOt

— Faizan Lakhani (@faizanlakhani) August 24, 2020
Just checking up on WinstonViz, I reckon that checks out.#WinstonViz .@cricvizanalyst pic.twitter.com/L88TcQL9vQ

— Will Marshall (@WillMarshall15) August 24, 2020
Lovely words from Brian Lara on Instagram about Pakistan's effort with the bat yesterday #ENGvPAK pic.twitter.com/yRvo4n18eY

— Saj Sadiq (@Saj_PakPassion) August 24, 2020
Abid Ali in 9 inns has batted 900 balls – an average of 100 balls/inns as opener. Even on this tour, he's 70 balls/inns. Considering England conditions and the fact that it is his first away tour this is a fine fine effort. Not that he hasn't scored runs. His batting avg is 65.71

— Mazher Arshad (@MazherArshad) August 24, 2020
High praise for Azhar Ali from Brian Lara who says Azhar's 141 not out was one of the best captain's knock in modern cricket and that his TV remote remained untouched while watching the game. #EngvPak

— Mazher Arshad (@MazherArshad) August 24, 2020
Follow us on Google News