Twitter Reactions: RCB end losing streak in Bengaluru, beat KXIP in another last over finish
Royal Challengers Bangalore beat the Kings XI Punjab by 4 wickets.
Updated - Apr 13, 2018 11:48 pm
2.3K Views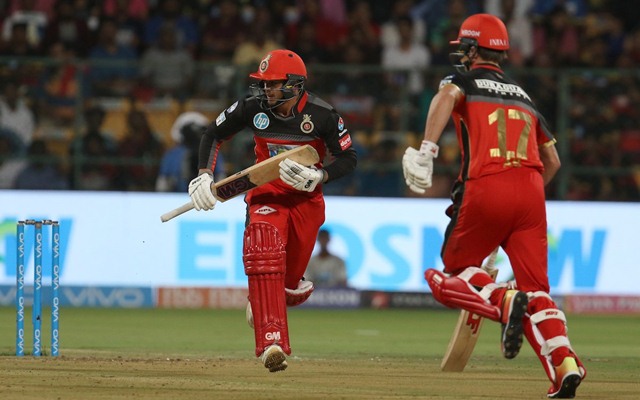 The Royal Challengers Bangalore locked horns with the Kings XI Punjab in their first home game of the season. Coming in to the game, they were under some serious pressure to win at the venue. Their last five games at the M Chinnaswamy Stadium had yielded negative results for them. With this backdrop, they needed to end the jinx sooner or later in the 2018 season.
And as the things turned out on the day, they managed to beat the visiting KXIP side by 4 wickets with three balls to spare. It was the number 8 batsman Washington Sundar who hit the winning runs on the day in the final over of the game. The run chase of 155 looked modest but some fine bowling from the KXIP camp had brought them back in to the equation.
Eventually, a steady head AB de Villiers proved to be the difference between the two sides. ABD rallied along nicely to put RCB in the winning position. He was unfortunate to have not stayed till the very end in the game. But his knock of 57 was indeed the turning point in the game. Add the 17th over heroics, where he hit two sixes off Mujeeb ur Rahman, and that makes up the gist of the winning tale for the night.
Earlier in the game, the Royal Challengers Bangalore skipper Virat Kohli had no hesitation in going with the trend of bowling first after winning the toss. He was taken aback for a brief while when the KXIP openers – KL Rahul and Mayank Agarwal – teed off in fine fashion in the first three overs of the game. It was the fourth over, bowled by Umesh Yadav, that brought RCB right back in the hunt. Umesh Yadav struck thrice in the fourth over to dismiss Mayank Agarwal, Aaron Finch, and Yuvraj Singh.
At 36/3, things looked grim for Kings XI Punjab. The in-form batters, KL Rahul and Karun Nair, then added a crucial 58 run stand for the fourth wicket to even out the equation. But once Rahul (47) and Nair (29) were dismissed, the KXIP innings crashed yet again. The visiting skipper, Ravichandran Ashwin, then played a handy cameo of 33 runs in 21 deliveries to take the KXIP total past the 150-run mark. They eventually bundled out for 155 in 19.2 overs.
In the run chase, Royal Challengers Bangalore were dented early with the loss of Brendon McCullum. Virat Kohli perished cheaply as well. Quinton de Kock (45) and AB de Villiers (57) played handy knocks to keep the run chase alive. Handy cameos from Mandeep Singh and Washington Sundar also helped the cause of the home side as they registered a four-wicket win.
Here is how the fans reacted to the match:
What a ball to dismiss @imVkohli absolutely amazing to watch @Mujeeb_Zadran ??????????

— Rashid Khan (@rashidkhan_19) April 13, 2018
Good for RCB to get points on the board. Mujeeb bowled beautifully for 3 overs, the ball to get Kohli was a dream delivery, but ABD turned the game in his 4th over with those two sixes, will be a great learning curve for the 17 year old. #RCBvKXIP

— Mohammad Kaif (@MohammadKaif) April 13, 2018
Couldn't go Wrogn now for RCB, could it? #RCBvKXIP

— Gaurav Kalra (@gauravkalra75) April 13, 2018
Just a week of #IPL2018 and how many last over finishes already?! It's like no one wants to win easily this season. #RCBvKXIP

— Chetan Narula (@chetannarula) April 13, 2018
This is a @ABdeVilliers17 masterclass … #IPL #SelectDugout

— Michael Vaughan (@MichaelVaughan) April 13, 2018
In Mujeeb there is a mystery but don't forget Abd has a great history…great history of winning matches n doing unthinkable @ipl @StarSportsIndia ( I know he jut got out but had to say that)

— Irfan Pathan (@IrfanPathan) April 13, 2018
Washington proves to be Sundar again, this time for RCB. #IPL

— Sameer Allana (@HitmanCricket) April 13, 2018
Stop trying to do an #SRH on us, #RCB

— Saurabh Malhotra (@MalhotraSaurabh) April 13, 2018
Anushka be like ! #RCB pic.twitter.com/tYqjau4ixl

— Saurabh Malhotra (@MalhotraSaurabh) April 13, 2018
RCB have won an IPL match including AB de Villiers for the first time in 12 matches.

They had lost each of their previous 11 games in which ABD featured. #RCBvKKR

— Bharath Seervi (@SeerviBharath) April 13, 2018
Mujeeb ur Rahman did in only his 2nd IPL game what his captain Ravichandran Ashwin couldn't in 10 IPL seasons.
Dismissing VIRAT KOHLI in the IPL. #IPL2018 #RCBvKXIP

— Sampath Bandarupalli (@SampathStats) April 13, 2018
Washington Sundar is following Simbu's words. Helping a team from Karnataka. #UniteForHumanity

— Ravi Maestri (@ravimaestri) April 13, 2018
.@ABdeVilliers17 must be like wake me up only when things are not going @RCBTweets way. He has been a bowler slayer. Btw kaam to hogaya "haathi nikal gaya reh gayi pooch" #RCBvKXIP #VIVOIPL

— Prragyan Ojha (@pragyanojha) April 13, 2018
good game – a 17 year old bowled the ball of the tournament and an 18 year old hit the winning runs #RCBvKXIP

— Gaurav Kalra (@gauravkalra75) April 13, 2018
RCB breaks the curse on Friday the 13th. #IPL

— cricBC (@cricBC) April 13, 2018
R. Ashwin in last one year:

1. Have learnt leg spin like Chahal.

2. Have learnt round arm bowling like Jadhav.

3. Forgot genuine off spin and carrom ball like R. Ashwin.#RCBvKXIP

— Sunil- The Cricketer (@1sInto2s) April 13, 2018
Ashwin – 1 over me 5 runs defend krne hai thik hai…

Mohit – #RCBvKXIP pic.twitter.com/8DCeiDMvMi

— Gujarati Jon Snow (@Gujju_Jon) April 13, 2018
Drop Baz, Open batting with Sundar.
Bring Southee in place of Baz. #IPL2018 #RCBvKXIP

— Tabrez (@its_tabrez_) April 13, 2018
Hands down (Pun intended) this was best moment from the match. @AnushkaSharma love this crazy side of yours! #RCBvKXIP pic.twitter.com/tGp0n6iXaz

— n. (@DinShagnaDa) April 13, 2018
Just a reminder : Kohli's team won when Anushka was there in stadium.
Unlucky?#RCBvKXIP

— Ajitdeep (@CHAIHOLIC_) April 13, 2018
Three magical words : "AB de Villiers" ?#RCBvKXIP pic.twitter.com/HloSIPptEf

— Nehal Bhatt ?? (@_lazybaba_) April 13, 2018
AB de Villiers
539 runs at an average of 41.5 and a strike rate of 158 in 17 innings against @lionsdenkxip @ABdeVilliers17

— Jasveer Singh Kharra (@imjsk27) April 13, 2018
One more final over finish this @IPL, Well done @RCBTweets on the Victory #RCBvKXIP

— Rajeev Shukla (@ShuklaRajiv) April 13, 2018
Bowling at the PSL definitely seems better than bowling at the IPL.
Batting at the IPL definitely seems better than batting at the PSL.#Cricket

— Saj Sadiq (@Saj_PakPassion) April 13, 2018
A Chennai 17 year old finishing it off for Bangalore. Protesters? Will you now say Washington is a traitor? You beat people and shame yourself but cricket will always be the great leveller. That's why it is a great game. #IPL

— Boria Majumdar (@BoriaMajumdar) April 13, 2018
7 out of 8 wins for the chasing side in the 2018 IPL.

— cricketingview (@cricketingview) April 13, 2018
For the latest cricket news, follow CricTracker.