Twitter Reactions: Shikhar Dhawan's century guides India to an 8-wicket victory
The duo of Kuldeep Yadav and Yuzvendra Chahal were lauded while the Sri Lankan batting was trolled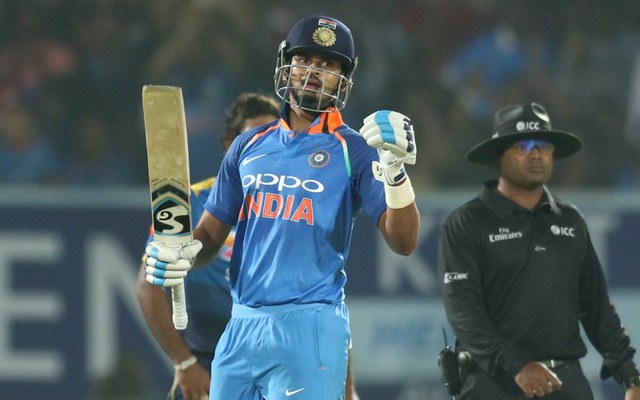 Follow us on Google News
In the series decider at the Vishakapatnam stadium, India managed to win the series 2-1 after being 0-1 down. It was the Indian skipper Rohit Sharma who won the toss and they elected to field first. They made one change as Kuldeep Yadav was brought in for Washington Sundar. As for Sri Lanka, they had Sadeera Samarawickrama coming in for Lahiru Thirimanne.
The visitors weren't off to a great start as Danushka Gunathilaka was dismissed early. However, Upul Tharanga and Samarawickrama combined for a stupendous 119-run partnership for the second wicket. While Tharanga continued to bat after completing his half century, Sadeera was dismissed by Chahal.
While Sri Lanka were looking good for 300 at one stage, Sadeera's wicket triggered a collapse in the Sri Lankan batting ranks. The likes of Angelo Mathews, Niroshan Dickwella and Asela Gunaratne all made short appearances at the crease. Spinners Yuzvendra Chahal and Kuldeep Yadav cashed in as Sri Lanka went from being 136/1 to 215 all out.
As for India, double centurion from the last game, Rohit Sharma got out early. However, he did show some glimpse with a huge six on his penultimate ball. Shikhar Dhawan and Shreyas Iyer then followed it up with a scintillating 135 run partnership for the second wicket.
Iyer went on to register back to back fifties as he slammed 65 (63). As for Shikhar Dhawan, he converted his knock and registered his 12th hundred in ODIs. In the process, he also completed 4000 runs in ODIs. He became the second fastest Indian to reach 4000 after Virat Kohli.
Team India won the game by 8 wickets with more than 17 overs to spare. Twitter was filled with splendid reactions. The duo of Kuldeep Yadav and Yuzvendra Chahal were lauded while the Sri Lankan batting was trolled. Dhawan's innings was also applauded.
Here we present to you some of the Twitter reactions from the final ODI:
Congratulations team india Well done boy's good win 2-1 ✌✌✌ @circleofcricket @ICC @BCCI

— Mohammad Shami (@MdShami11) December 17, 2017
Congratulations for 100 gabbar well done @circleofcricket @SDhawan25 @ICC

— Mohammad Shami (@MdShami11) December 17, 2017
Another series & another victory. Great all-round performance by the entire team. Coming back & winning the series after an unexpected defeat in the first game is truly commendable, #TeamIndia. My best wishes for the T20 series. #INDvSL???✌️ pic.twitter.com/LA96weSj76

— Suresh Raina (@ImRaina) December 17, 2017
SL seem to be playing Only 20 overs out of the 100. Today were brilliant with bat in the 1st 20 and in Dharamsala picked up 7 wickets in the 1st 20 overs which sealed the win

— Russel Arnold (@RusselArnold69) December 17, 2017
Sri Lanka got all out for 215 runs because they didn't want Rohit Sharma to score another double hundred. #INDvSL

— Sameer Allana (@HitmanCricket) December 17, 2017
Solid foundation being laid by the Rohit Sharma with the quick-fire 7 runs he scored!

— Keh Ke Peheno (@coolfunnytshirt) December 17, 2017
I love how Shreyas Iyer is playing this. Isn't a 'let's-play-it-out-steady and-secure-my-place' kind of innings. It's a proper play-your-shots counter attack. #indvsl

— Raunak Kapoor (@RaunakRK) December 17, 2017
Shreyas Iyer looks good. Has a little unusual technique but hand-eye coordination is on point. Superb prospect for no. 4 once Kohli comes back.

— अनर्गल राजपूत (@Pun_Singh) December 17, 2017
Shreyas Iyer may have just pitch forked himself ahead of the long queue #IndvsSL

— Vikrant Gupta (@vikrantgupta73) December 17, 2017
Rahul Dravid is so unsung, even his ads are cut before they get going. #INDvSL #okbye

— Nikhil ? (@CricCrazyNIKS) December 17, 2017
Young Shreyas Iyer must learn quickly from @SDhawan25 (and other pros) how not to squander opportunity to make big score when going's good

— Cricketwallah (@cricketwallah) December 17, 2017
Last time Karthik scored a selfish boundary to finish the innings for India leaving Tendulkar on 96* ! Will he do the same for Shikhar Dhawan ? #IndvSL

— Ananth (@AN4NTH) December 17, 2017
Well played @SDhawan25 no contest. Moment SL wasted the start result was a given. @imVkohli @ImRo45 and Dhawan are best top 3 in the world.

— Boria Majumdar (@BoriaMajumdar) December 17, 2017
If Suraj Randiv bowling there, Shikhar Dhawan would have remain not out on 96 till the end.#INDvSL

— Sunil- The Cricketer (@1sInto2s) December 17, 2017
Sri Lankan inning collapsed like my last love story.#INDvSL

— Vodka + Cyanide (@Riskiest_Poison) December 17, 2017
If Dhoni appeals, even God has to surrender his decision. #INDvSL

— Ambrish Saxena (@AmbrishSaxena12) December 17, 2017
Sri Lanka lost their last nine wickets for 79 runs in 135 balls!#IndvSL

— Mohandas Menon (@mohanstatsman) December 17, 2017
Tough luck Sri Lanka! had the chance to win the series 2-1 but the same old batting collapse and dropped catches cost yet another match and series. Thisara's captaincy impressive. @PereraThisara #INDvSL #SriLanka #LKA

— Daniel Alexander (@daniel86cricket) December 17, 2017
Unlucky for Tharanga missing out on his century /: #INDvSL

— Shenali Fernando (@shenalifernando) December 17, 2017
First three innings in ODIs
Sachin Tendulkar 0, 0, 36
Sadeera Samarawickrama 0, 0, 42#IndvSL

— Mohandas Menon (@mohanstatsman) December 17, 2017
Change the SI unit of speed from m/sec to MAHI. #INDvSL

— Akram ?? (@akramismm) December 17, 2017
From zero to watching #INDvSL how much lonesome & spiceless life are you living?

— Drunk BATMAN (@Caped_Humor) December 17, 2017
Think the reason why India are not yet convinced with Kuldeep is since on better batting decks, against decent sides, he has not threatened much, when compared to Chahal. #INDvSL

— Nikhil ? (@CricCrazyNIKS) December 17, 2017
Top knock this from Shreyas Iyer. Hasn't altered his style to fit in and survive. Impactful back to back fifties.. Has pit out a solid manifesto for the number four spot when Virat returns.. #IndvSL

— Jatin Sapru (@jatinsapru) December 17, 2017
Never seen another WK so sure about his stumping. Kudos mate. @msdhoni #INDvSL

— Mimi Sen (@mimisen25) December 17, 2017
Alert Indian Fans. Sri Lankan Players will start their usual tricks to deny Dhawan a well deserved 100 #INDvSL

— Cricket Temple (@Cricket_GIF) December 17, 2017
Can't wait for Washington Sunder to play under Kohli & drop a catch and listen Kohli shouting "Washington B.C."#INDvSL

— Drunk BATMAN (@Caped_Humor) December 17, 2017
Any Indian spinner's wife : Say those 3 magical words…

Spinner : MSD behind stumps ?#INDvSL

— Manya (@CSKian716) December 17, 2017
216 to chase… अकेला Dananjaya kya karega ?
Sorry, but had to get this out of my system.. #IndvSL

— Jatin Sapru (@jatinsapru) December 17, 2017
Unbelievable..Its almost 2018 and umpires are still reviewing and checking after Dhoni has appealed for a stumping ?‍♂️ #IndvSL

— The-Lying-Lama (@KyaUkhaadLega) December 17, 2017
4000 One Day International runs for Shikhar Dhawan, the 15th Indian batsman to achieve the feat. He's also the second fastest Indian batsman to reach 4000 after Virat Kohli. (Overall 5th) #INDvSL

— Sameer Allana (@HitmanCricket) December 17, 2017
MS Dhoni Stumping Style ??#INDvSL pic.twitter.com/VD6mf4M9ak

— 18? (@Crichipster) December 17, 2017
Follow us on Telegram