Twitter Reactions: Skipper Mohammad Shahzad drives the Panthers to another impressive win
Twitterati was highly impressed with the way Shahzad went about his business.
Updated - Oct 15, 2018 1:09 pm
763 Views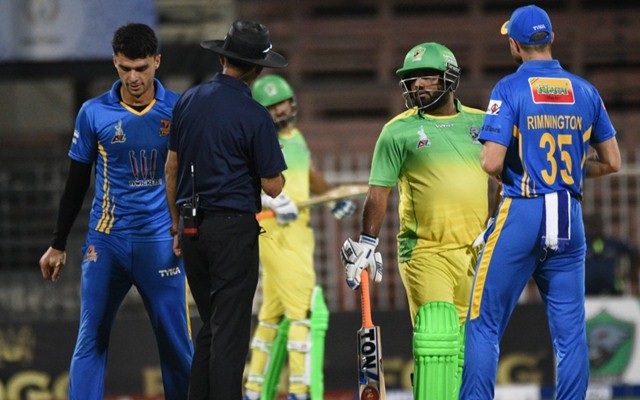 The Paktia Panthers, with another impressive win under their belt, are now second on the points table. They won the 15th match of APL 2018 against the Nangarhar Leopards by 7 wickets. There were some clinical performances both with the bat as well as the ball. Mohammad Shahzad, led from the front with the bat was the 'Man of the Match'.
On the same pitch where 467 runs were scored in the earlier game, the Nangarhar Leopards failed miserably. They were restricted to a low total and the Panthers absolutely had no problems chasing it down despite the threat from Mujeeb Ur Rahman. The Leopards have now lost five out of the seven games they played and the next game for them will be a must win one.
19-year-old Ziaw Rahman impresses with the ball
Ben Cutting, after winning the toss, decided to bat first. However, the Nangarhar Leopards suffered an early blow with Ziaw Rahman dismissing Najeeb Tarakai. Soon, Shahid Afridi got the better of the dangerous Anton Devcich. Although Johnson Charles tried to go aggressive, he got out after scoring 22 off 16.
Rahmat Shah, who played a cautious inning crawled up to 32 which came off 38 balls. Ben Cutting provided the side with the much-needed impetus scoring 21 off 12 balls but that was never going to be sufficient. Mohammad Shahzad was brilliant as the skipper and was clinical behind the stumps. The Leopards were bowled out for 126 in the 20th over after they lost three wickets off the last three balls.
Mohammad Shahzad scores 64 runs just through boundaries
The Paktia Panthers started the chase on a positive note when Mohammad Shahzad tonked Mujeeb Ur Rahman for a six which landed on the roof right of the second ball of the innings. He kept going hard whenever they was an opportunity and played out the good balls. Although Sandeep Lamichhane picked two wickets in the 10th over, he never really backed off.
He was unbeaten on 78 which came off 43 balls. He scored 64 of those runs in just 12 balls all through boundaries. The Panthers chased the target down in 14.4 overs to register their fourth win and also bettered their net run rate.
Twitterati was highly impressed with the way Shahzad went about his business. They also praised Ziaw Rahman for his bowling spell while some felt bad for the Nangarhar Leopards.
Here is how Twitterati reacted:
Panthers have done it again, and quite proudly so! Paktia pip Nangarhar by 7 wickets. Who's next?! #APLT20 @ACBofficials #PaktiaVsNangarhar pic.twitter.com/vYBQDLagCN

— Afghanistan Premier League T20 (@APLT20official) October 14, 2018
Champions' stuff by Sandeep Lamichhane. Conceded 18 runs in his first over. Came back to dismiss Cameron Delport & Sikandar Raza for 5 runs in next 3 overs. Even Mohammad Shahzad was happy to see him through. Lad knows how to bowl in T20 cricket. Well done. #APLT20

— Momo Cricket (@momocricket) October 14, 2018
Paktia won the match ❤❤
ShahiD Afridi Performance Like A champion🙈🙈
BOom BOom For A Reason 🌹
Congratulations Lala😊
1 run out
2 wickets
3 catches
Welldone #Lala 👍👍 @Paktiya1 @SAfridiOfficial @TEAM_AFRIDI #PaktiaVsNangarhar #APLT20 pic.twitter.com/4CmlNqfo9T

— Khan Muhammad 😍 (@Khan_Afridii10) October 14, 2018
Paktia won the match ❤❤
ShahiD Afridi Performance Like A champion🙈🙈
BOom BOom For A Reason 🌹
Congratulations Lala😌🌹#APLT20@SAfridiOfficial

— Iman💫🇵🇰 (@ziddiAfridian10) October 14, 2018
Shahid Afridi….
Angry😡😡😡 in this Wicket…
😎😎😎😎😎😎 pic.twitter.com/lE2q3Cf0yK

— Sadeeq Khan (@SadeeqK52652527) October 14, 2018
Awaiting his first 100 in the APL T20, Shahzad can't be complaining about his 3 fifties either! Including the very special one he unleashed on the Leopards tonight. Congratulations! #APLT20 @ACBofficials pic.twitter.com/vNwf13qsSP

— Afghanistan Premier League T20 (@APLT20official) October 14, 2018
Today APL
Shahid Afridi
4-0-27-2 & 3 Caught & 1 Run OuT
–
"TauSeeF_M^S"

— PTV Sports (@PTVSports07) October 15, 2018
Excellent bowling by our star #BoomBoom
Stylish player Of The Day #ShahidAfridi @SAfridiOfficial pic.twitter.com/uXyGZTBXfD

— Khalil Khan (@khalil_afridi10) October 14, 2018
Boom Boom Shahid Afridi having great day on the field
4-0-27-2
1-Run out
3-Catch
2 catches dropped on his bowling #APLT20.

Its Boom Boom Day 💥💥😍😍😍 pic.twitter.com/6PaFDqMnxv

— Dheeraj 💛(Afridian)💜 (@Dheeraj7875) October 14, 2018
#NLvsPP APL 2018 Dubai…
Shahid Afridi for 4-0-27-2 Wkts, and Congregations by Boom Boom Shahid Afridi.@SAfridiOfficial pic.twitter.com/cRIJZTdgMe

— SHAHID AFRIDI k@ سپاہی (@SHAHIDAFRIDIk5) October 14, 2018
it looks like a common practice for Shahid Afridi to bowl brilliant three overs ad get smashed in 4th one. #APL #T20

— Usama (@RajaSaami) October 14, 2018
Shahid Afridi in Afghanistan Premier League,
His 1st over: Dropped, dropped, stumped but NO ball, 2 runs, knocked over Devcich stump

— Muneeb Ahmed Khan (@MuneebKhanPTI) October 14, 2018