Twitter Reactions: Sri Lanka put up a superlative performance to enter the finals
Bangladesh lost by their biggest margin in terms of balls to spare.
Updated - Jan 25, 2018 3:51 pm
671 Views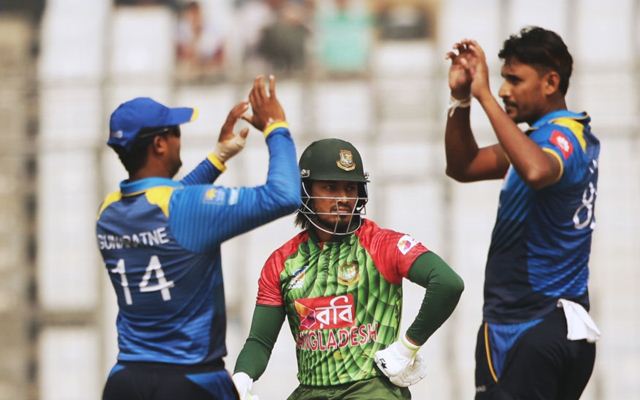 Follow us on Google News
Sri Lanka have been sinking deeper and deeper day by day across all formats of cricket. Before the start of the series, Angelo Mathews took over the captaincy role again. The team headed into the series with hope that they can regain the lost pride and bring back the lost confidence in the players.
However, the Lankans had a disastrous start in the opening games of the tri-series. They lost the first two games against Bangladesh and Zimbabwe. Just when it looked like the Sri Lankans would be out of the tournament, they pulled up a strong performance to defeat Zimbabwe in their third game. This meant that Sri Lanka faced a must-win situation against Bangladesh.
Today in the most important game the team made a brilliant comeback. Sri Lanka bundled the Tigers for just 82 runs and then scored those runs in just 11.5 overs without losing a wicket. After opting to bat, the Tigers had a disastrous start. None of the batsmen crossed the 30-run mark. Mushfiqur Rahim was the top scorer for Bangladesh with 26 runs.
Suranga Lakmal picked up the Man of the Match award for his splendid spell of 3/21. The other bowlers scalped two wickets each while openers Danushka Gunathilaka and Upul Tharanga ensured that there were no further hiccups. Luckily for Bangladesh, they got the wake-up call before the final. The screws must be tightened before the big game to pull off a win and bag the series.
This was Bangladesh's heaviest defeat against Sri Lanka in terms of balls to spare. They were no match for the Lankans on the particular day and they stole the show. The game was closed half an hour before the scheduled lunch break. This win will surely give confidence to the Sri Lankans ahead of the final of the tri-series.
Here is how fans on Twitter reacted to the game:
Congratulations @BCBtigers! I got your Strategy though! Today you're lost because you wanna give them a chance to relax @OfficialSLC cricket Team! They, are relaxing now and you're planing to Win the final. Great Strategy.#BANvSL

— Raju Ahmed Polash (@RealPolash) January 25, 2018
A throwback Thursday performance from Bangladesh. The bad kind. #BANvSL

— Roushan Alam (@roushanalam) January 25, 2018
Feels good to win ?? #BANvSL #lka #SriLanka #Cricket

— Arshad Azeez (@arshad__azeez) January 25, 2018
Suranga Lakmal bags the Man of the Match award for his fiery spell up-front

7 overs 1 maiden 21 runs 3 wickets #BANvSL pic.twitter.com/RLsz6xcKQu

— mahalakshmi (@mahalakshmi3117) January 25, 2018
Fifth biggest ODI win for Sri Lanka in terms of 'balls left'

Third time Sri Lanka have beaten Bangladesh by 10 wickets in ODIs #BANvSL

— Adnan Ahmad (@adn_merry) January 25, 2018
Tigers mauled in Mirpur as Sri Lanka beat Bangladesh by 10 wickets with 38 overs to spare! #BANvSL

— Adnan Ahmad (@adn_merry) January 25, 2018
This 50 game and the #NZvPAK T20 match started at the same time. While the T20 game is still under way this game is done and dusted! ??#BANvSL

— ímααm (@Im_aam95) January 25, 2018
the team @bcbtigers probably have wedding reception or something to attend in the evening so why not finish the match early #BANvSL

— Akbar Hossain (@bigpsfan) January 25, 2018
Asian teams in 2018 so far

INDIA – 2-0 ( third one in progress)

Bangladesh- 3-1

Pakistan 6-1

Srilanka 2-2 #Cricket #SAvIND #NZvPAK #BANvSL

— Nibraz Ramzan (@Nibrazcricket) January 25, 2018
Humiliation! Humiliation !! Humiliation
Day night international fixture over in broad daylight!!!#BANvSL #10wicketdefeat #82allout

— Nayir Iqbal (@IqbalNayir) January 25, 2018
Bangladesh' 82 at Dhaka is their 2nd lowest ODI score v Sri Lanka next to their 76 at Colombo on 5 August 2002 #BanvSL

— Arthur_S (@allanholloway) January 25, 2018
India is the only South Asian team who still didnt win a match in 2018.

Pakistan – 1 win, 6 losses
Sri Lanka – 2 wins, 2 losses
Bangladesh – 3 wins , 1 loss #SAvInd #BANvSL #NZvPAK

— Aleem Muhammad (@AleemMuhammad10) January 25, 2018
Some unexpected results today in cricket:
1. Afganistan won EASILY against the host newzealnd in #U19CWC #NZvAFG
2. Srilanka win EASILY against Bangladesh #BANvSL
3. Pakistan win EASILY against Newzeland #PAKvNZ
4. India not getting wicket EASILY against SA #INDvSA #SAvIND

— Mohit Jha (@7mohitjha) January 25, 2018
What a farewell tribute from Tigers to the former head coach of @BCBtigers Chandika Hathu! Best farewell gift ever. Hope you are now happy. ??#BANvSL

— Shishimanu Uzumakei (@nazsvo) January 25, 2018
Now u can rant about this win for next 10 years..Congrats @daniel86cricket #BANvSL

— 18? (@Crichipster) January 25, 2018
Now that's more like a proper #BANvSL match.

— Haaziq (@HaaziqUvais) January 25, 2018
Danushka Gunathilaka 35 (35b, 3*4, 2*6) but that direct hit and flying catch set the match up for Sri Lanka. played @danushka_70 #TriSeries #SriLanka #LKA

— Daniel Alexander (@daniel86cricket) January 25, 2018
Before coming into this match Sri Lanka needed not to lose by around 70 runs or not allow Bangladesh to chase in 38 overs. But Sri Lanka dismissed Ban around 70 (82) & won with 38 overs left. What performance by Sri Lanka. #TriSeries #LKA

— Daniel Alexander (@daniel86cricket) January 25, 2018
Sri Lanka qualify for tri-series final, will play Bangladesh on 27th January. Zimbabwe knocked-out. #TriSeries #SriLanka #LKA

— Daniel Alexander (@daniel86cricket) January 25, 2018
2 matches,an #odi #banvsl #banvssl & a #t20i #nzvpak #nzvspak both began at same time 11:30 am IST, & d #odi got over first!
???#SAvIND #bbl07

— Ashutosh Paibhale (@astutetosh) January 25, 2018
Just now Bangladesh was able to safely land from moon before final of #TriSeries.#BANvSL #BANvsSL #SLvBAN

— A Cricket Fan (@VishuddikaSri) January 25, 2018
#BanvsSL reminds me of the good old days!
Maybe too soon!

— Shiran Fernando (@ShiranFdo) January 25, 2018
Irresponsible, ridiculous, suicidal effort from our batters. — watching Bangladesh vs srilanka

— Kay Ahmed (@kromannoy) January 25, 2018
Seems Hathu's is using his Trump cards aganist Bangladesh.#BANvSL #SLvBAN #BanvsSL

— A Cricket Fan (@VishuddikaSri) January 25, 2018
What a sublime performance by @OfficialSLC against ban. The message was clear after loosing badly to them & hope SLC keep this moment and win the final#BanVsSL

— Jahem (@Jahem_01) January 25, 2018
#BANvsSL Bangladesh won the toss and decided to suicide.

— Sukitha U (@sukithar) January 25, 2018
Follow us on Telegram