Twitter Reactions: The Caribbean men help the Northern Warriors break several records
It was an absolute carnage from the Caribbean quartet.
Updated - Nov 24, 2018 10:20 am
6.3K Views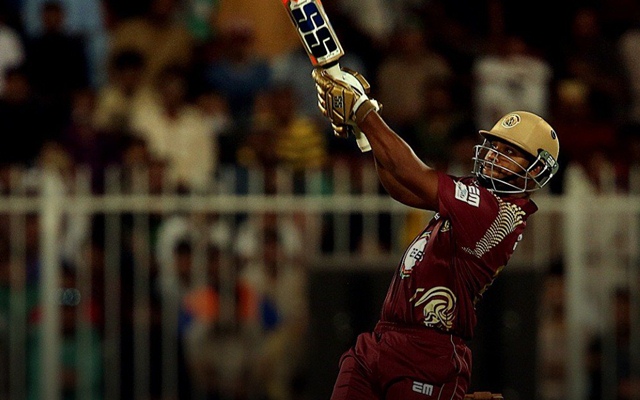 The two innings of the 8th match of the T10 League were completely different stories. While one was about sheer hitting and going bonkers after the bowlers, the other was about disciplined bowling and hitting great areas. It was the Northern Warriors who were highly oppressive in both these innings and broke many records on the way.
They registered the highest score ever in the league. Going at an inconceivable run rate of 18.3, they put up 183 runs on the board for the loss of two wickets. Nicholas Pooran registered the highest score ever in the T10 League. Ravi Bopara pulled off a great performance with the ball in hand. Furthermore, their win margin is the highest ever thus far.
The 'Champions' leave the fans mesmerised with some breath-taking hitting
If ever one has to think about a brutal massacre with the bat in hand, this innings would be right there at the top. Such was the impact the Northern Warriors batsmen created in this match. Lendl Simmons' innings, i.e., 36 off 21 balls with six fours and one six looked pretty much ordinary in front of the other batsmen. Nicholas Pooran, who opened the innings with him was absolutely destructive.
He scored 77 off 25 balls. Pooran hit 10 sixes in his innings, which is another all-time highest. The openers put up 107 runs together, the highest for the opening wicket and second highest overall. Andre Russell, who came in next hardly took the foot off the pedal. He tonked the ball all over right from the word go and was unbeaten on 38 off 9 balls. Rovman Powell finished things off with 21 off 5 to help his team register this massive score.
The chase was nowhere close to the first innings. It seemed as if the Punjabi Legends were batting on a different track. There were a few soft dismissals and the batsmen hardly got going. All they managed was 84/7 in 10 overs which wasn't even half of the first innings score. They lost the match by 99 runs – the highest margin of defeat ever till date.
Twitterati was left in a state of shock watching this innings. They absolutely couldn't believe what was happening watching the Caribbean boys strike the ball that way. Ravi Bopara also received a part of the praise for his 4-wicket haul.
Here is how Twitterati reacted:
I am not watching #IPL11 if there is no NICHOLAS POORAN. 🙏

— Ovi (@Abhijit_19) November 23, 2018
#NicholasPooran the player to watch for #WI and #IPL.Incredible hitting in #T10 cricket #T10League

— Arun G (@Arun_GP) November 23, 2018
Watta cracker!!! 💥 Nicholas Pooran gone ballistic at #Sharjah tonight!!! Talk about carving over the top! #smokeit 😆 #calypsoclass & 'Superman Andre Russell'…. simply sensational 🔥 #wattacatch 🤭

— Danny Morrison (@SteelyDan66) November 23, 2018
Highest ever individual score in a #T10 match!

Take a bow, Nicholas Pooran! 🙌#T10League pic.twitter.com/asDMRiDao8

— T10 League (@T10League) November 23, 2018
183 runs in 10 overs! Highest total in T10s. 19 sixes in the innings. Ridiculous hitting by Nicholas Pooran and Andre Russell. #T10League.

— Sachin Padwal (@sachin140778) November 23, 2018
Unbelievable hitting from Nicholas Pooran! Has taken his game to a different level since the time I saw him in PSL earlier this year! #T10League

— Vikram Chandrasekaran (@Vikram7723) November 23, 2018
Typical west indies show
Nicholas pooran and andrea rusell cracking blows 🔥🔥 made T10 league highest score ever 183 runs 😨😱 entertaining and love to watch those blows out of the park 😍❤ #T10League pic.twitter.com/UVa3dgsw0z

— insaf ali (@inshaf_official) November 23, 2018
Nicholas Pooran smashes 77 off 25 including 10 maximums… #T10League
Meanwhile #SixthTeam to pooran : pic.twitter.com/7ic4X2t3nb

— Mr Majboor (@asim0_0) November 23, 2018
Nicholas Pooran in demolition mode. Clean hitting.🔥🔥 #T10League

— ASAD ULLAH QASIM (@asad_q78) November 23, 2018
What an innings Nicholas Pooran!!!! Thats why I rate him so highly

— – (@TheWelbeckChop) November 23, 2018
16 balls 50* for Nicholas Pooran #T10League

— Navin🇮🇳 (@Mister_Awesomee) November 23, 2018
Nocolas pooran!!!! How well he hit the cricketing ball!!!!just wonderful to watch!! @nicholas_47

— Waleed Sabir (@waleedsabir8w7) November 23, 2018
183 runs in 10 overs! Highest total in T10s. 19 sixes in the innings. Ridiculous hitting by Nicholas Pooran and Andre Russell. #T10League

— Mazher Arshad (@MazherArshad) November 23, 2018
The caption says it all, Andre Russell! 😉👏#T10League #T10 pic.twitter.com/Y5sGqAK40U

— #PAKvNZ (@LiveScoreGEO) November 24, 2018
Congratulations to @nwarriorst10 for securing a VERY BIG win tonight!#T10League pic.twitter.com/XmWHKEFGDV

— T10 League (@T10League) November 23, 2018