Twitter Reactions: The Warriors register a remarkable win against Patriots
Chris Gayle's heroics were overshadowed by some sheer brilliance from Shimron Hetmyer.
Updated - Aug 10, 2018 2:01 pm
7K Views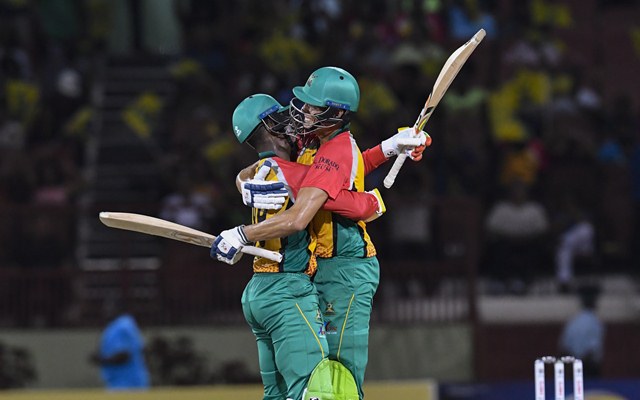 Follow us on Google News
After the opening game of the Caribbean Premier League (CPL) ended up being a one-sided contest, the second game too ended up being somewhat of a similar sort. The Guyana Amazon Warriors kicked off this edition with a brilliant win at their home ground. Under the leadership of Shoaib Malik, the side responded beautifully and defied all the odds to win this game. They defeated St Kitts and Nevis Patriots by 6 wickets and with more than 3 overs to spare.
After restricting the visitors to a low score, the hosts comfortably chased the target down after an initial top-order collapse. Although Chris Gayle was brilliant in this game, his efforts were overshadowed by the local hero Shimron Hetmyer. He sustained all the pressure and scored unbeaten 79 off 45 balls to get his team over the line.
'The Universe Boss' gets going!
St Kitts and Nevis Patriots were put into bat first by the hosts. The entire first innings was a one-man show from the mighty Chris Gayle. He has struggled to get the runs in the recent past. However, it was pleasing to see the big man get back amongst the runs. The skipper, after scoring 33 off 34 balls in the first nine overs announced his arrival in the 10th over with two consecutive sixes. After having got to his 50 in 41 deliveries, he decided to shift gears.
But, every time he looked to hit the big shots, there was a wicket that fell at the other end increasing the pressure on him. Finally, he fell in the 19th over of the game to Imran Tahir after scoring 86 off 65 balls. The next highest individual score was just 15 which definitely affected the team. Keemo Paul picked two wickets in the innings.
The Local Hero – Star of the Night
The Patriots started off brilliantly with the ball. The Warriors were down to 9/2 just inside the 2nd over having lost both their openers. Soon, skipper Shoaib Malik also perished after scoring 14 runs as the side was under tremendous pressure. But, in this sort of a situation, the local hero, Shimron Hetmyer took the onus upon himself.
With slight support from the other end, Hetmyer scored 79* off just 45 balls on a track that was tough to bat on. His innings included 9 fours and 4 sixes and he remained unbeaten till the end. Although Sheldon Cottrell and Sandeep Lamichhane picked two wickets each, the hosts ran away with a 6-wicket win.
Twitterati was thrilled to watch the performances from Chris Gayle and Hetmyer in this game. They hailed the local hero and congratulated Gayle for the brilliant shows. Sandeep Lamichhane was also applauded for the incredible debut in CPL.
Here is how they reacted
#CPL2018 Sohail Tanvir bowls Ben Cutting after being hit for a six the previous delivery, then gives him the double finger!! Shocker! Has to be some sanction from that..kids watching. That said appears anything goes these days pic.twitter.com/vMLpUEdVdb

— Lukesters (@Lukesters) August 9, 2018
Sandeep Lamichhane's #CPL2018 debut: 4-0-12-2; with wicket on first ball. Superb bowling @IamSandeep25.

— Cricket Nepal (@NepalCricket) August 10, 2018
Four Overs, 12 runs, 2 wickets. Masterclass from the little man. @IamSandeep25 #CPL2018 #GAWvSKP pic.twitter.com/3UU6w6aaoD

— अविनास मिश्र (@avmi74) August 10, 2018
Lamichhane 4-0-12-2 on his CPL debut for @sknpatriots. Incredible. #CPL2018

— Momo Cricket (@momocricket) August 10, 2018
2-0-4-1 for Lamichhane in powerplay overs. 58 runs were made in rest of the 4 overs. Hetmyer 36* off 16 was given a lifeline when Thomas missed the stumping off Lamichhane. Stand out bowler so far for STKNP. #CPL2018

— Momo Cricket (@momocricket) August 10, 2018
Sohail Tanvir gives Ben Cutting a double middle-finger salute after bowling him with a yorker for 15. He'll probably be getting to meet match referee Denavon Hayles after the match. Patriots 119/3 in the 17th. pic.twitter.com/2tnzak0wmJ

— Peter Della Penna (@PeterDellaPenna) August 9, 2018
Pathetic send off from Tanvir #CPLT20

— Chris Lynn (@lynny50) August 9, 2018
Just saw it bruh, that's no good.

— Gurinder Sandhu (@gurinder_19) August 10, 2018
Chris Gayle tonight dismissed by a leg-spinner for the first time in his CPL career. Imran Tahir, playing his first ever T20 in the West Indies, got the better of him. #CPL2018

— Mazher Arshad (@MazherArshad) August 9, 2018
Yet another league, Yet another debut and Yet another wicket in the 1st over of the match. Exceptional stuff by @IamSandeep25 once again and this time wicket in the maiden CPL delivery. #CPL2018

— Cricket Concern (@CricketConcern) August 10, 2018
.@chrisgreen_93 on the wrong end of a very 'hometown' decision against Gayle. Deadset that's a stinker #CPL18 pic.twitter.com/2ycg7MuzJb

— Max Bryden (@max_smart) August 9, 2018
Chris Gayle kicks off his #CPL18 journey with a half-century.

50 runs | 41 balls | 4 fours | 3 sixes 👉 https://t.co/XZrMHDpUuY #GAWvSKP

— Cricbuzz (@cricbuzz) August 9, 2018
Lamichhane is a beautiful name for a cricketer #Sidetracked #CPL18

— SKNPatriots (@sknpatriots) August 10, 2018
Truly beautiful play by Hetmeyer tonight. Congratulations to @GYAmazonWarrior this evening. No doubt we'll be seeing them again and the outcome will surely be different. #CPL18 #BiggestPartyInSport never disappoints. See you on Saturday! #PatriotNation always. 🇰🇳🇰🇳🇰🇳

— SKNPatriots (@sknpatriots) August 10, 2018
ALL OVER! Shimron Hetmyer, take a bow! A brilliant unbeaten 79 from the youngster steers Guyana Amazon Warriors to an impressive six-wicket victory over St Kitts & Nevis Patriots.#GAWvSKP #CPL18 #CricketPlayedLouder

— CPL T20 (@CPL) August 10, 2018
The #UniverseBoss is back doing what he does best!!! #GAWvSKP #CPL18 #CricketPlayedLouder pic.twitter.com/MYrCSLWySz

— CPL T20 (@CPL) August 10, 2018
A winning start for the The Guyana Amazon Warriors as they win by six wickets!!! #GAWvSKP #CPL18 #CricketPlayedLouder pic.twitter.com/bEw3XI3aRg

— CPL T20 (@CPL) August 10, 2018
Follow us on Telegram