Twitter Reactions: Windies seal T20I series amidst controversy in Dhaka
Evin Lewis turned out to be the difference between the two sides.
Updated - Dec 22, 2018 8:12 pm
421 Views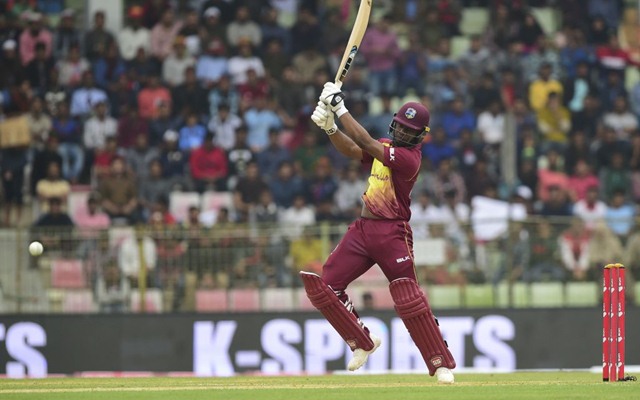 The deciding T20 International between Bangladesh and Windies at the renowned Sher-E-Bangla National Stadium in Dhaka turned out to be a controversial one due to some reasons. As far as cricket is concerned, Windies beat the Tigers by 50 runs to win the series. Shakib Al Hasan and Co looked good in phrases, but couldn't be consistent enough to humble the Caribbean team in Mirpur.
Lewis inflicts mayhem
Bangladesh won the toss and opted to field first and the decision backfired on them as Windies racked up 190 in 19.2 overs. Shai Hope and Evin Lewis cobbled together an incredible stand of 76 runs from 30 balls to get their team off to a blistering start. Skipper Shakib cleaned up Hope to give the Tigers' their first wicket. A couple of overs later, Mustafizur Rahim accounted for Keemo Paul's wicket.
Nevertheless, Lewis kept throwing the kitchen sink at everything and scored 89 runs from 36 balls with the help of six boundaries and eight hits over the ropes. Mahmudullah dismissed him in the 10th over to halt Windies' surge. Nicholas Pooran scored a 24-ball 29 to take the visitors to a competitive score as Bangladesh made a decent comeback, picking up lost quite wickets in the second half of the innings.
Controversy galore in Dhaka
Bangladesh's run chase would be remembered more for more than actual cricket. In the fourth over, on-field umpire Tanvir Ahmed ruled Liton Das not out off a legal delivery. Carlos Brathwaite took the Decision Review System (DRS), but according to the law, the decision wasn't reversed. The scenario went to such an extent that match referee Jeff Crowe had to come down on the pitch.
Das was eventually nipped out by Keemo Paul, who went on to take a five-wicket haul. After the chaos, the hosts lost their way as their batting kept capitulating at an alarming rate. Sarkar, Mahmudullah and Shakib perished for single-digit scores. The likes of Mehidy Hasan Miraz and Abu Hider Rony tried their hearts out, but the required rate kept climbing, eventually out the Tigers' radar.
Here is how Twitter reacted
Thomas has Das caught by Rutherford 👏

Umpire gives it a no-ball 😱

Brathwaite reviews and it is not a no-ball 😕

The umpires ask Das to leave 😵

Match referee intervenes and calls him back 😒

Drama continues and it's a free-hit 🏏

Sarkar hits free-hit for a SIX 😲#BANvWI pic.twitter.com/RE68N1rzWt

— Cricingif (@_cricingif) December 22, 2018
Huge controversy: Liton Das has been caught but umpire has called it a no-ball when it was not. And Carlos Brathwaite has asked to review it. He is having an animated conversation with the fourth umpire and match referee. Umpire has called it a no-ball finally. #BANvWI

— Cricbuzz (@cricbuzz) December 22, 2018
Dramatic scenes at the Shere Bangla National Stadium. #BANvWI pic.twitter.com/r5pvAl9EEy

— Cricbuzz (@cricbuzz) December 22, 2018
Umpire huddle – could be seeing a red card for the dodgy umpire… #BanvWI pic.twitter.com/KlDCcES52Q

— Innocent Bystander (@InnoBystander) December 22, 2018
Incredible … this is called No Ball 😳😳😳… #BANvWI pic.twitter.com/2YTSH5SsNl

— Harsh Sidhu (@Gurindersidhu6) December 22, 2018
ICC need to check this umpires bank account – just blatant now… #BanvWI

— Innocent Bystander (@InnoBystander) December 22, 2018
the hitting talent in this windies T20 line up is insane, just assembly line of brutal ball strikers #BANvWI

— Gaurav Kalra (@gauravkalra75) December 22, 2018
Difference between Bangladesh and west indies,
After controversial decision, Bangladesh broke windows
and WI broke BN bones ! #BANvWI

— Bhupesh Dave (@Bhupesh_live) December 22, 2018
The way West I dies have come around post controversy in this game, they deserve this victory. They played brilliant cricket and the results show it. #BANvWI

— 💀🐸 Nafee 🐸💀 (@infernafee) December 22, 2018
Most Runs Conceded in T20i
(After 3 Overs)

56 ~ Oshane Thomas (Today)*
56 ~ Dawlatzai (vs ENG, 2012)
52 ~ Rampaul (vs ENG, 2010)
50 ~ M Morkel (vs NZ, 2014)
50 ~ Narine (vs IND, 2016)#BANvWI

— Cαρтαιɳ ɱαɾνєℓℓσυѕ (@Marvellous_Capt) December 22, 2018
And it's difficult for umpires to look after the foot and provide accurate decision on no balls.. DRS can be made applicable for that… #BANvWI

— Ankit Parikh (@Aparikh_206) December 22, 2018
Thank God that umpiring blunder was NOT against Bangladesh. We'd have called names, burned the web and shut down Facebook and Twitter by now !
++
That one shot from Ariful probably cost him his place in the team. #BANvWI

— Rabiul Alam (@rabiul81) December 22, 2018
Delhi Daredevils' Kemo Paul
4-0-15-5#BANvWI

— Gandi Sudheer (@gandisudheer) December 22, 2018
Umpire should be addicted of social media and took "liton das is not out still batting" slogan seriously #BANvWI

— कमल जोशी (@kamalprasadjos3) December 22, 2018
If all other Cricket teams play with 11 players….Bangladesh Cricket Team has Other ideas of playing with 16 players on the field.
Including 1st,2nd and 3rd Umpires….And also 2 Commentators …#CricBuzz #BANvWI #RiseOfTigers

— VishnuCR7 (@VishnuCR711) December 22, 2018
Lasy days of 2018,still quality of umpires is Zero.why the hell they cant recruit professionals in umpiring roles?#DRS #BANvWI

— Adil A (@ADILabdr07) December 22, 2018
There have already been some poor DRS laws made by @ICC and adding today's no ball DRS law… #WIvBAN #BANvWI

— Ankit Parikh (@Aparikh_206) December 22, 2018
Um…. Wtf! This is so dodgy. Match fixing from the umpire? pic.twitter.com/gxpaL2gRgN

— JT (@jt715) December 22, 2018
The basic rules in cricket says only 11 players can play for a team, but why Bangladesh team is violating it!? They are playing 13 players!!-including umpires 😁 #BANvWI #CBHaveyoursay

— Rakshith Yogesh (@rakshith_yogesh) December 22, 2018
The basic rules in cricket says only 11 players can play for a team, but why Bangladesh team is violating it!? They are playing 13 players!!-including umpires 😁 #BANvWI #CBHaveyoursay

— Rakshith Yogesh (@rakshith_yogesh) December 22, 2018
Controversy on NO ball Bangladesh vs Windies fast bowler Thomos 2 legal deliveries umpire called No balls @ICC @windiescricket pic.twitter.com/ktYWxJNihr

— Rashid Latif (@iRashidLatif) December 22, 2018