Twitter salutes Afghanistan U19 cricketers as they decimate the Kiwis into submission
The Afghanistan side ran riot as they ousted hosts New Zealand in the quarterfinal of the U19 World Cup.
Updated - Jan 25, 2018 12:56 pm
864 Views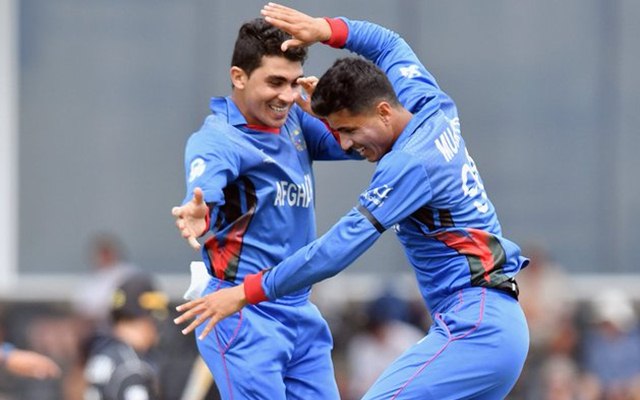 Follow us on Google News
Afghanistan cricketers have given their fans plenty to cheer ever since they forayed into international cricket. They have grown in stature as a cricketing nation and have given the best of teams a run for their money with their aggressive brand of cricket. While the senior team has earned praises and accolades for their jaw-dropping cricket, the junior team has been stupendous as well.
Their Under-19 squad is currently plying their trade in the World Cup in New Zealand and recently played their Quarter-Final contest against New Zealand. They humbled Pakistan and Sri Lanka in the league games to enter the Quarter-Final against the hosts at the Hagley Oval in Christchurch. Quite expectantly, the odds were heavily stacked against the Afghans.
A Kiwi hammering by Afghanistan 
However, they rose to the occasion, decimated the Black Caps by 202 runs and stormed to the semi-final of the ICC Under-19 Cricket World Cup. Their batsmen started off handsomely as Rahmanullah Gurbaz and Ibrahim Zadran notched up a 117-run stand to kick-start proceedings for Afghanistan. However, both perished after scoring 69 and 68 each.
The Afghans lost a few wickets mid-way, however, Bahir Shah played a handy knock of 67 runs and injected momentum into their innings. Nevertheless, it was Azmatullah Omarzai's blistering knock of 66 runs off 23 balls that propelled Afghanistan beyond the 300-run mark in the knock-out game. His onslaught with the fetched 83 runs for the Afghans in the last 35 balls and they ended with 309/9.
The chase was going to be a hefty task for the Kiwis, however, they had the firepower to trace down the target. Nevertheless, the sparking Afghans punched above their weight and bowled the hosts out for a humiliating 107 runs as Naveen-ul-Haq's men marched to the semis of the prestigious tournament. 16-year old Mujeeb Zadran ripped apart the Kiwis with a spell of 8.1-3-14-4.
Qais Ahmad, Afghanistan's gun bowler during the event, also nipped out four wickets to prolong the agony for New Zealand. The 66-run stand between Katene Clarke and Dale Phillips was the solitary saving grace for Kaylum Boshier's men. Apart from that, the hosts were no match for the might of the Afghans. They will now face Australia in the semi-final of the tournament.
After their victory, Twitter hailed them and showered them with love and praises for their awe-inspiring performance at the global stage. Here are the Tweets.
What a performance! After posting 309/6, Afghanistan bundle out New Zealand for 107 for a 202 run victory – New Zealand's biggest ever defeat in U19 ODIs!@ACBofficials reach the #U19CWC semi-finals! ? #NZvAFG pic.twitter.com/5fbKD20kI0

— Cricket World Cup (@cricketworldcup) January 25, 2018
Afghanistan emerging as a serious cricketing force. They have knocked the hosts New Zealand out of the U19 World Cup with a comprehensive win. It's gonna be Mujeeb Zadran vs Lloyd Pope in the semis. #futurestars #U19CWC

— Mazher Arshad (@MazherArshad) January 25, 2018
#FutureStars unearthed! Thrilling performance from Afghanistan U19 today. Destructive batting followed by some ruthless bowling. So much maturity and understanding of the modern game. Great strike zones, bowlers with X factor, it was all there! #U19CWC #NZvAfg @ACBofficials

— Ajesh Ramachandran (@Edged_and_taken) January 25, 2018
Afghanistan crushed New Zealand. Ah, ok, it is known as U19 side. Just kidding 🙂

— Bharath Ramaraj (@Fancricket12) January 25, 2018
A comprehensive victory for Afghanistan U19 over hot favourite hosts NZ. Well done boys #FutureStars #U19UC

— BhaskarGanekar (@BhaskarGanekar) January 25, 2018
History has been created….

Afghanistan ?? beat the Host New Zealand by 202 runs and enter the Semi-final of U19 World Cup ? #U19CWC pic.twitter.com/YlesRoXkWK

— Abhijeet (@TheYorkerBall) January 25, 2018
That was one helluva performance by Afghanistan U19. They have now beaten host New Zealand U19 by a massive margin of 202 runs and are into semis. #ICCU19WorldCup #U19CWC #FutureStars #NZvAFG

— Abhishek Kumar (@abhik2593) January 25, 2018
Afghanistan qualify for the semifinals of the U19 World Cup after knocking out the hosts New Zealand with a comprehensive 202 runs win.

— Azzam Ameen (@AzzamAmeen) January 25, 2018
Afghanistan u19 s are a seriously good team #rahmanullah

— Rob Key (@robkey612) January 24, 2018
Stunning display by Afghanistan U19's here at Hagley Oval ? #U19CWC 309/6 fabulous… serious young talent outta #Afghanistan ? Exciting for future tourny's #maximumsgalore ?

— Danny Morrison (@SteelyDan66) January 25, 2018
Amidst all gloom @ACBofficials U19 delivers joy and happiness! Afghanistan reaches U19 ? reaches semis of youth cricket pinnacle! One more can further near us to making history! Congrats to all

— Mushtaq Rahim (@mushtaq_rahim) January 25, 2018
This won't be as easy as many expect for the NZ U19 team. Afghanistan is quite good at that level.

— Guy Heveldt (@GuyHeveldt) January 24, 2018
Congratulations Afghanistan, well done champs, you really made us proud. #U19CWC @MashalAtif @ShafiqStanikzai @ACBofficials @ICC @MohammadNabi007 @rashidkhan_19 pic.twitter.com/TRhoQqSDos

— Gulbadin Naib (@GbNaib) January 25, 2018
Our sense of pride comes from a place unexpected. You UNITE us, make us SMILE and MOTIVATE us Through your image. #Afghanistan stands proud. Our Blue ? Tigers ?. @afghcricket @ACBofficials @MashalAtif pic.twitter.com/HIIdMR8jFz

— Zakia Wardak (@ZakiaWardak) January 25, 2018
If you wanna be a champion, be like Afghan #BlueTigers Congratulations for this big move to #u19worldcup semi final #Afgu19stars our #FutureStars @ACBofficials @MashalAtif @imnaveenulhaq @ICC @ICCMediaComms pic.twitter.com/VAb8HKSQRf

— Wahidullah Waissi (@WahidWaissi) January 25, 2018
Well done #bluetigers by reaching to the Semi final stage of @ICC @cricketworldcup. Am sure @imnaveenulhaq and his team will give the nation a sweet gift of this trophy InnshaAllah@MashalAtif @EklilHakimi @SadatNaderi @ashrafghani @afgexecutive @DrOmarZakhilwal @MohammadNabi007 pic.twitter.com/TmX1zrOOQN

— Shafiq Stanikzai (@ShafiqStanikzai) January 25, 2018
Congrats to All Afghan nation for this great win over NEw Zealand ????? pic.twitter.com/y8Lj6ksDiF

— Rashid Khan (@rashidkhan_19) January 25, 2018
Amazingly done ! Our young lads outplays the hosts at their backyard to secure the semi finals spot. Congratulations . pic.twitter.com/eWyvVAbhzi

— Nawroz Mangal (@nawrozmangal48) January 25, 2018
Congratulation for wining quarterfinal against Newzland great win throw to semifinals first time,we'll play against Aus@imnaveenulhaq ?????? pic.twitter.com/fw5sCCVUv0

— KARIM SADIQ (@karimkhansadiq) January 25, 2018
Amid these ugly news our heroes put a smile on our faces and give us immense hope that yes we can do it. Congratulations once again to our gallant nation as our heroes booked their place in semifinal agst Australia @ U-19 cric World Cup. As I sd b4 Heroes will bring d trophy Home pic.twitter.com/blXb0umFvc

— Sadat Mansoor Naderi (@SadatNaderi) January 25, 2018
An absolutely compelling performance from @ACBofficials Under 19s today to knock out @BLACKCAPS Under 19s in @cricketworldcup U19 #U19CWC #FutureStars @rashidkhan_19 @MohammadNabi007 This team can go all the way and win the #U19CWC

— Alan Wilkins (@alanwilkins22) January 25, 2018
Really great win proud of u blue tigers ? Afghanistan are into the #U19CWC semi-finals!@ProfDeano @MashalAtif @ShafiqStanikzai @rashidkhan_19 @ACA_Players @afghcricket ???????????? pic.twitter.com/vduxARDYhW

— Mohammad Nabi (@MohammadNabi007) January 25, 2018
Follow us on Telegram