Twitter shocked after Mohammad Amir takes indefinite break from international cricket
Amir revealed that he is being mentally tortured.
Updated - Dec 17, 2020 2:32 pm
11.5K Views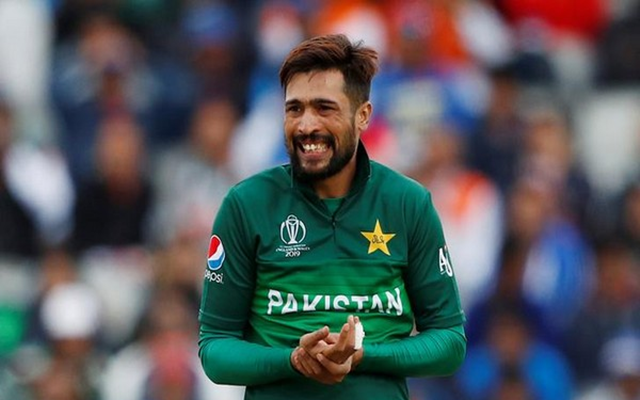 Follow us on Google News
Pakistan's veteran left-arm fast-medium bowler Mohammad Amir left the cricket fraternity shocked with his decision of formally taking an indefinite break from international cricket. A disheartened Amir took this decision after getting sidelined by the management for the Pakistan tour of New Zealand comprising three T20 Internationals.
In his statement, the veteran also accused the management for mentally torturing him after retiring from the Test format last year. Mohammad Amir had announced his retirement from the purest format of the game in 2019 stating that his body couldn't handle the physical stress of playing all three formats. However, this didn't go well with PCB and the two parties were at loggerheads since then.
"Right now I am leaving cricket. I am being mentally tortured. I don't think, I will be able to handle this kind of torture because I have been tortured a lot from 2010 to 2015," he said in a video released by Khel Shel.
Mohammad Amir was main man behind Pakistan victory in 2017 Champions Trophy
In the end, the Pakistan stalwart also cleared that he would be officially releasing a statement regarding the whole matter after reaching Pakistan and consulting with his family. "I will reach Pakistan within two days and meet my family. I will then release a proper statement telling the actual reason for my decision," Mohammad Amir concluded.
Over the past few years, the 28-year-old had emerged as the backbone of Pakistan's bowling line-up. Though his career had taken a halt after he was found guilty for match-fixing, the pacer had made a solid comeback in January 2016. His exploits with the ball were the main reason behind Pakistan lifting the 2017 Champions Trophy while he had also played an instrumental role in his team's victory in 2009 T20I World Cup.
Since his debut in 2009 against Sri Lanka at the age of 17, the left-arm seamer has collected 119 strikes in 36 Test games along with 81 and 59 scalps in 61 ODI and 50 T20 Internationals respectively. As the announcement of Mohammad Amir taking a break from international cricket broke on the social media, Twitter flooded with the messages for him.
Here's how Twitter reacted:
Mohammad Amir retired from International Cricket. Might move to England now, and will be eligible to play the IPL as well. Mega auction is near, @RCBTweets must keep 👁️ on him. 🤞

— Jiतेন 🇮🇳 (@im_jiten2) December 17, 2020
Mohammad Amir Ab RCB se khelega 😳

— Former-Farmer (@Yuvi96857752) December 17, 2020
Mohammad Amir retires. Waste of talent😔

— Kanav Bali🏏 (@Concussion_Sub) December 17, 2020
Mohammad Amir wth yaar seriously! Think about your fans bruh! We still want you to play. @iamamirofficial

— S (@auntyParveen1) December 17, 2020
WTF Mohammad Amir announces his retirement from cricket 😳
totally waste of talent

— jagdish sapkota (@Los_Blancos25) December 17, 2020
Mohammad Amir retires from cricket, Omg.

— Arjun (@LifeIsAnElation) December 17, 2020
Mohammad Amir announced retirement from International Cricket.

Seriously, for me he lost all his respect in the past 20 months, starting from his test retirement, egoistic statements against Misbah, and no patience of getting another chance.

Thank you for few word class spells

— Faizan Hayat Khan (@FaizanHayat13) December 17, 2020
Aaj 1 bar phr ❤ tor diya💔 @iamamirofficial 😥

Ye kya bat hoi Mohammad Amir sb #amir pic.twitter.com/SN3m3kZGIL

— M Abu Bakar Farooq Tarar (@abubakarSays_) December 17, 2020
Pakistan pacer Mohammad Amir has taken an indefinite break from international cricket after reservations with the national team management.

— Amjath AJ (@CricProfAJ) December 17, 2020
Mohammad amir announces retirement from international cricket😭😭#tooearly

— Saram Hafeez (@SaramHafeez2) December 17, 2020
Did Mohammad Amir really retire? 😢

— Naeemah Benjamin (@NaeemahBenjamin) December 17, 2020
Inke yahaan ye hi laga rehta hai .. aao jao .. aao jaao #MohammadAmir #PCB https://t.co/MfAaJW9WRl

— VirotKuehli (@VirotKuehli) December 17, 2020
Mohammad Amir retired! 👀

— Rashmi (@Iam__Rashmi) December 17, 2020
Mohammad Amir announces his retirement from cricket.

What the ….. 🙄😬

— Cricket Fan (@V18R45Cricket) December 17, 2020
So Mohammad Amir bids farewell to international cricket#MuhammadAmir #Cricket

— Farah Jamil (@Farahjml) December 17, 2020
Follow us on Telegram