Twitter shows concerns for Ajinkya Rahane after a string of consistent failures
Here's how Twitter reacted to Ajinkya Rahane's consistent failures.
Updated - Dec 2, 2017 6:11 pm
1.8K Views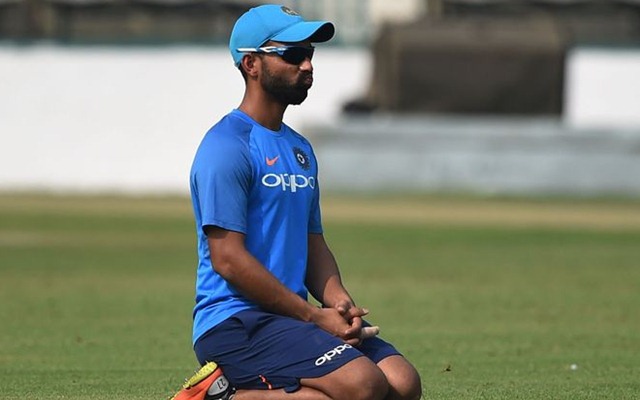 Indian middle-order batsman Ajinkya Rahane has been a consistent performer in the longest format of the game in his short span of career so far. His average and performance in this format of the game have never been a doubted for the Indian team after making his debut in 2013 against Australia. But a string of low scores in the ongoing Test series against Sri Lanka at home is definitely causing some worries in the Indian dressing room especially before the big tour to South Africa, later this month. Many people on twitter also showed concerns and raised question regarding the current form of India's vice captain.
Rahane has played 43 Tests in which he has scored 2816 runs at an average of nearly 45 with 9 hundreds to his name. He has been a key member of the Indian team while playing in the overseas conditions as he also supports a healthy average even outside the sub-continent. Both captain Virat Kohli and the team management would also like their best batsman to contribute to the highest levels.
Consistent poor scores a cause of worry for the Indian team
Rahane's scores in this three-match Test series against Sri Lanka are 4, 0, 2 and 1 so far. It is also a fact ignoring the overcast conditions in the first match at Kolkata, the Lankan bowling has not looked par to anyways trouble the Indian batters. The rest of the Indian players have notched up big scores at will when given the opportunities. While Rahane has had his share of struggles in his short stay at the crease in the whole series so far. It is a big worry for the Indian team before the start of Test series in South Africa next year in 2018.
But even after consistent failures, everyone including the 29-year-old batsman himself knows how to comeback strongly and in a different mindset. Captain Kohli and the team management would also feel that Rahane is just one big knock away from getting back into his old and successful touch. And there could not be a better stage to make a comeback, then the overseas tours lined up next year, starting with a three-match Test series against Proteas in their own backyard in January 2018.
Here's how Twitter reacted to Ajinkya Rahane's consistent failures:
4,2,0,1 against this SL attack. 2 50s in his last 19 innings in India at 20. What's going on with Rahane? Lack of form? Cause of worry before the overseas tour? #IndvSL

— Srini Mama ? (@SriniMama16) December 2, 2017
no headache at all. Rahane cannot be dropped. He scored a hundred four Tests ago. this debate is a waste of time…. https://t.co/wqXR8zQgRH

— Chetan Narula (@chetannarula) December 2, 2017
Rahane in ODI:

Kept scoring fifties but not getting much opportunity..

Rahane in Test:

Kept getting opportunities but not scoring runs..

— Broken Cricket (@BrokenCricket) December 2, 2017
Rahane is Narendra Modi of test cricket. #IndvSL

— Swapnil Suryawanshi (@swapnil_bs) December 2, 2017
Perfectly set up for a Rahane single digit score.

— Alagappan V (@IndianMourinho) December 2, 2017
Rahane going through a tough, difficult phase. Hope he rediscovers his touch just in time for the SA series. We need him badly

— The Masakadzas (@Nesenag) December 2, 2017
Keep calm & believe in Rahane.

He is gonna be modern day Rahul Dravid on Overseas tours next year.#INDvsSL #INDvSL

— Boring… (@graphicalcomic) December 2, 2017
Ajinkya Rahane and Feroz Shah Kotla… some story this! #IndvSL

— Chetan Narula (@chetannarula) December 2, 2017
Rahane Is Out Of Form ! So I Think In Place Of Him My Choice Is To Pick Young @Shaw_Prithvi ! The Young Talented Player ! #INDvSL ?

— Phani teja ?? (@phani98495) December 2, 2017
Ashwin gets panned for his overseas record to the extent his place in the XI is questioned. It's time we did the same to Rahane for his home record! #INDvSL

— anand (@aThakkali) December 2, 2017
Rahane's average against the good length delivery: 28.47.

Other Indian batsmen averages v good length:
Kohli: 37.65
Vijay: 32.73
Pujara: 34.5
Dhawan: 32.22
Rahul: 31.78#INDvSL

— The Cricket Prof. (@CricProf) December 2, 2017
Rahane 's rough patch continues as he's gone for 1
Rahane in this series:
4
0
2
1#INDvSL

— CrazyforCricket (@Fan_ofCricket) December 2, 2017
Rahane's home run is one wretched run this year. Hopefully he will come alive in South Africa on bouncy & non spinning pitches. #INDvSL #SLvIND

— Ankit Bera (@Ankit_Bera) December 2, 2017
This can only go upwards from here.. Hoping that @ajinkyarahane88 finds form quickly.. No. 5 slot is an extremely important one.. specially overseas.#rahane #INDvsSL #INDvSL #TeamIndia

— Santosh Joshi (@santoshjoshi01) December 2, 2017
Rahane is playing trying too many silly shots recently, hope that doesn't happen in SA tour

— Kiran (@kiranin) December 2, 2017
I don't know what to speak about Rahane. Who would fail to score in home pitches but score well in overseas?

— Vasanth Kumar (@gully_point) December 2, 2017
Every batsman goes through a phase where runs are scarce and confidence low. The best survive and come back. I have little doubt @ajinkyarahane88 will

— Harsha Bhogle (@bhogleharsha) December 2, 2017
Ajinkya Rahane's last five First-Class innings
0, 4, 0, 2, 1
Only 7 runs!
Just a little out of touch
A class player nevertheless#INDvSL

— Sarang Bhalerao (@bhaleraosarang) December 2, 2017
Anjikya Rahane ?

Still a mystery for everyone ?

— Master Wayne? (@itsalokj) December 2, 2017
Last Chance For Rahane..I think Bcci Choose Mayank Aggarwal in place of Rahane for Sa Tour

— Akshay (@Akshay69870896) December 2, 2017
What happen to Rahane ! ?
Hope will play better on Overseas series ?#INDvSL

— Shilpa_TheBongGirl (@_YourShilpa) December 2, 2017