Twitter slams Robin Uthappa for his slow knock against Mumbai Indians
He couldn't find his timing and ended up with a 47-ball 40.
Updated - May 5, 2019 9:49 pm
40.7K Views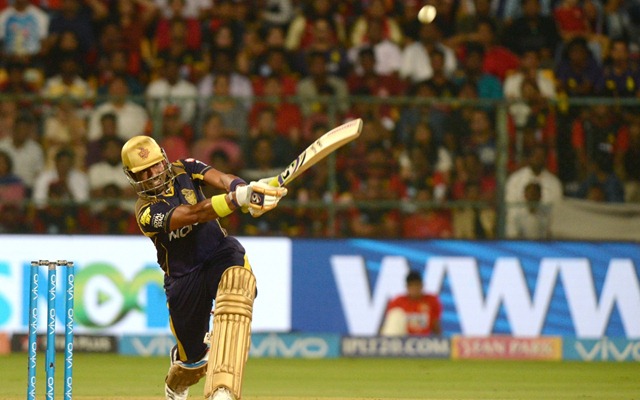 Robin Uthappa has been a class act for the Kolkata Knight Riders (KKR) for quite a few seasons now. The experienced campaigner has been the reason behind a number of KKR's victories. The veteran was also a part of the Kolkata-based franchise when it won the T20 championship for the second time under the leadership of Gautam Gambhir, who left the Knight Riders before the 2018 auction.
There was a time when Uthappa could've racked runs in his sleep, such was his form. However, he hasn't had the best of seasons thus far in the ongoing edition of the Indian Premier League (IPL). During the Knight's match against the Royal Challengers Bangalore (RCB) at the Eden Gardens in Kolkata, he scored nine off 20 balls at a stage when the required run rate was way past 12.
Uthappa strains to get going
Thereafter, the KKR supporters slammed him left, right and centre. Robbie was subsequently dropped from the next few matches. However, Uthappa made his comeback in the match versus the Mumbai Indians (MI) in Kolkata itself, but he didn't get a chance to bat as the KKR top order did the job. The Knights are currently playing their must-win contest against MI at the Wankhede Stadium.
Uthappa came to bat after Shubman Gill and Chris Lynn cobbled together an opening wicket stand of 49 off 37 balls. The visitors needed someone, who could accelerate and set the platform for a final flourish. Robin took his time, but couldn't get bat to ball. He kept playing and missing and at one point he was on nine from 21 balls.
The Knight's run-rate came down below even a run-a-ball. He eventually scored 40 off 47 and got out to Jasprit Bumrah in the last over. The Kolkata fans were definitely not happy with the approach he took throughout his knock. Thereafter, the fans slammed him yet again.
Here is how Twitterati slammed Robbie
Uthappa Should Hit The Stumps With His Bat #MIvKKR

— Chatil Panditasekara (@ChatilPandi) May 5, 2019
Uthappa AGAIN ? Either take a hit or be out #MIvKKR

— Alisha Mandholia (@_BlueFever_) May 5, 2019
Uthappa. Ko choro

— Sajidlaskar (@Sajidlaskar19) May 5, 2019
It's as much management's fault as it is of Uthappa's. He is out of form all through and they still send him at 3 in a crunch game. #MIvKKR

— Wanderer (@DisDatNothin) May 5, 2019
Karthik and Uthappa batting as if post batting they don't have to bowl and will walk off with the stumps and bats.. 😄😄

— Rohit D Kriplani (@rdkriplani) May 5, 2019
Uthappa can be a big thing for india in test 😍
Not everyone can play like this in @IPL unless he is our one and only robin uthappa 😎#ipl #KKRvMI #MIvsKKR #uthappa #rohit #mi #KKR

— Mukul Khurana (@mukul_khurana) May 5, 2019
Tell uthappa to surrender his wicket@robbieuthappa

— jaycee (@somebodys_meh) May 5, 2019
Robin Uthappa plays a maiden over in a very important match between #MIvsKKR!

This is not the first time that Uthappa has ruined the chances of KKR in this IPL!#KKRvsMI #MIvKKR #RobinUthappa #Robbie #Maidenover

— Cricket Now 24/7 (@cricketnow247) May 5, 2019
Amazinggg….. Maiden over by Mitch ..😁😁😁😁😁😁😁😁😁 …..
.
Uthappa 😂😂😂😂😂😂😂😂😂😂😂😂😂😂😂😂😂😂😂😂😂😂😂😂 Bat se touch bhi nhi hone di . . @IPL #KKRvMI

— RAHUL (@RahulDhaked_) May 5, 2019
Vintage Uthappa is back bitches 👿👿

— Kush (@kush4udr) May 5, 2019
9(21) Uthappa this is going bad to worse for him and for his team. Remember this is a big game for them

— Aditya (@CAA_256) May 5, 2019
Robin Uthappa plays a maiden in 11th over in such crucial game…. Wonder what #KKR fans are thinking ..@khushikadri @KKRiders @iamsrk

— Apratim Kumar (@Kumar_Ap07) May 5, 2019
Lord Uthappa…. 🙏

— Maganlal (@Maganlal1303) May 5, 2019
Farewell match of Uthappa for KKR

— Ashish Dubey (@ashishdubey1702) May 5, 2019