Twitter supports Brendan Taylor after he puts forth Zimbabwe's target against Pakistan yesterday
Zimbabwe fell short by 244 runs in yesterday's match in Bulawayo.
Updated - Jul 21, 2018 1:24 pm
611 Views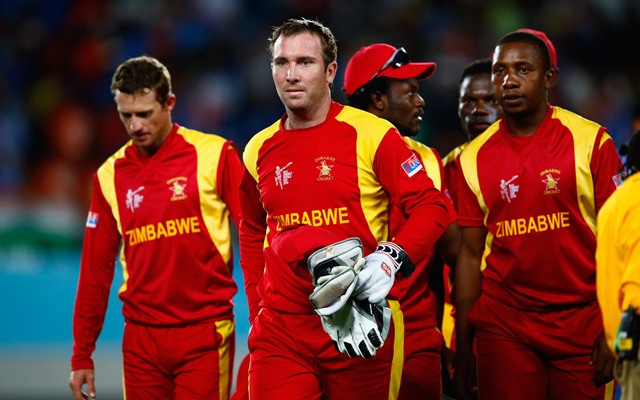 Follow us on Google News
Zimbabwe are currently playing a five-match ODI series against Pakistan at Queens Sports Club in Bulawayo. They lost the series after their defeats in the first three matches. The team also slumped to a drubbing by 244 runs in the fourth contest. The visiting team won the toss and elected to bat first. Fakhar Zaman and Imam-ul-Haq opened the batting and blazed away right from the outset.
The partnership put forth 304 runs from 42 overs and never allowed their opponents to settle. Zaman brought forth his belligerent style of play and outdrew anyone and everyone who stumbled on to his path. The left-hander notched his maiden double-century and became the first Pakistani-batsman to achieve the landmark. His partner Imam, wasn't as attacking as his partner.
Zimbabwean cricket in dire straits
However, he turned out to be an appropriate foil for his team and played a knock of 113 runs from 122 balls. Their partnership was also Pakistan's highest stand for any wicket in the 50-overs format. The stand was eventually broken by Wellington Masakadza, who nipped out Imam after the left-hander mistimed a sweep stroke into the palms of Tarisai Musakanda at deep mid-wicket.
Asif Ali joined Zaman and propelled the Men in Green's score to 399/1 with a whirlwind knock of 50 runs from 22 balls. It also meant that the home team had to track down 400, which they eventually couldn't. Meanwhile, wicketkeeper-batsman Brendan Taylor highlighted the target, which mainly signified the poor state of cricket in Zimbabwe.
Their cricket has recently been tarnished with controversies surrounding the payment of salaries and fees respectively. Zimbabwe played a T20I series, involving Pakistan and Australia respectively and a number of their players opted themselves out for the reason that they haven't been paid their dues, Taylor was one of them. Recently, Malcolm Waller also pulled himself out of the ODI team owing to similar reasons.
In the meantime, Taylor took to Twitter and wrote, "We are chasing 400 #justsaying"
Here is Taylor's tweet
We are chasing 400 #justsaying

— Brendan Taylor (@BrendanTaylor86) July 20, 2018
Meanwhile, Twitterati wasn't surprised and they supported Taylor on his message, pertaining to his concerns for Zimbabwean cricket.
Here is how Twitter reacted              
We will be back soon.

— Brendan Taylor (@BrendanTaylor86) July 20, 2018
Love the sarcasm in this reply lol.

— Alton Meyer (@AltonMeyer6) July 20, 2018
Incredible you still say 'we' after all that they've put you through, Hats off.

— Shashank Kishore (@captainshanky) July 20, 2018
Stopped following Zimbabwe cricket till they do right thing bt 😊

— Outlaw Chris (@dimholtroad) July 20, 2018
I was wondering. Are the chairman of Zimbabwe Cricket and his other bureaucrats also going without pay? And is the current coach and his coaching staff going to be fired after the series? Only if the answer is yes to both questions can we say that ZC is fair.

— Niranjan Jha (@Jhajee01) July 20, 2018
@BrendanTaylor86 @SRazaB24 @GraemeCremer .. i really pray you come soon.. Queens and HSC are becoming horror shows😂😂..i now take my BP meds b4 games

— kooLjinga (@KoooLjinga) July 20, 2018
A good lesson to be learnt if we still want Cricket to be played in the country .

— Trevor Ngorima (@trevorstarz__) July 20, 2018
Hello sir I am from India and I am big fan of u and zim cricket,now days on u r absence its very painful to watch zim cricket…without u and u r fellow once their is no future of zim cricket.I hope u come back soon on field and make zim proud.

— Khiladi Harry (@mahendrakar01) July 20, 2018
It really hurts to see @ZimCricketv like this.

— Rizvi Ahmed Rahat (@RizviRahat10) July 20, 2018
Am going to vote for change just for the seek and my love to @BrendanTaylor86 @SRazaB24 @GraemeCremer @sean14williams @Craig_Ervine77 and to all the sports men and women in Zimbabwe

— mt (@mtgutsah) July 20, 2018
BT we miss u. we need your leadership l know with you guys we lose some but not in this manner

— Eddie Homela (@edhomesXlV) July 20, 2018
Zimbabwe would have done better had you been there.

— Arun Rawal (@ArunRawal93) July 20, 2018
all becoz of a board of Losers, who dont want to resign when they have failed!

— Misheck (@sheckym) July 20, 2018
at least will they understand the importance of you and the other players now ?

— M.V.Surya Ganesh (@surya_ganesh) July 20, 2018
Follow us on Telegram