Twitter takes dig at Vijay Shankar over his flop show in IPL 2019
Here are some of the reactions that Vijay faced from the Twitter following his poor outing against the RR.
Updated - Apr 28, 2019 11:26 am
21K Views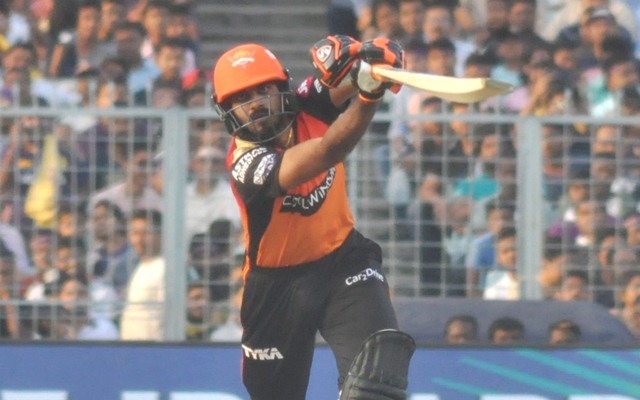 In the last few months, Vijay Shankar's life has changed forever. His decent exploits in ODIs after making debut in the format in Australia earlier this year led to him earning a spot in India's World Cup squad. The decision did not attain a universal acclamation as many thought Vijay is too inexperienced to earn a WC berth. Even the decision to pick him as India's No.4 batsman generated polarised opinions. The 28-year-old Tamil Nadu cricketer pipped Ambati Rayudu to make the squad and chief selector MSK Prasad hailed him as a "three-dimensional" cricketer.
Vijay's critics were even bolstered by his ordinary run in the current Indian Premier League (IPL). Playing for Sunrisers Hyderabad (SRH), he has scored 173 runs in 11 matches at an unimpressive average of below 20 and strike-rate of less than 121 – both figures below his overall career average and strike-rate in T20s. His highest score in this edition has been 40 not out which has also not convinced the fans.
Vijay Shankar fails to impress against low-ranked Rajasthan Royals
The supporters criticized the cricketer on Saturday after he managed just eight off 10 balls against the low-ranked Rajasthan Royals at Sawai Mansingh Stadium in Jaipur. He top edged while attempting to pull Varun Aaron only to be caught by Jaydev Unadkat who ran in from deep square leg. Vijay had the stage set for him to play an influential inning but failed to make use of the situation and put the lower order under pressure after a good start.
In bowling, too, Vijay has not lived up to the "three-dimensional" praise from Prasad as he could pick only one wicket in six overs in 11 games at a poor average of 54. The SRH have 10 points from as many games so far and need to beat the RR in the game to better their chances of making the playoffs. The RR also have a must-win situation in hand as another loss would see them virtually crashing out of the tournament.
Here are some of the reactions that Vijay faced from the Twitter following his poor outing against the RR
Vijay Shankar is A 3D player.. where 'A' stands for Average #SRHvsRR

— Tiilooo 2.0 (@KasamCinemaaki) April 27, 2019
I am tired of watching Vijay Shankar's 3 dimensions

— Mukul Katiyar (@itz_mukul88) April 27, 2019
#SRHvsRR Vijay Shankar bubble has also burst. He will be on tourist visa to England.

— Pvja (@PvjaEnt) April 27, 2019
Till now Vijay Shankar not even scored a single half century, how he will be suitable for no.4 for India in Worldcup.#starikelungal#starsportstamil

— imgogulnath (@crazzygocool) April 27, 2019
@VVSLaxman281 world cup selection has changed a lot, vijay shankar fails after selection and manish performs well after rejection.

— rajesh (@crajeshwnp) April 27, 2019
Now BCCI should really think about 3D skills of the Vijay Shankar over 2D skills of Ambati Rayudu.#CBHaveYourSay #RRvSRH

— OmkarGanda 😎 (@omkarganda36) April 27, 2019
So all Indian players came back into form ahead of the world cup except Vijay Shankar n Kuldeep…the former's form is a huge concern#IPL2019 #RRvSRH

— Lipsa Sharma (@Shristiiiiiiiii) April 27, 2019
Seriously VijayShankar ??? no clue how he is going to perform in #wc2019 #RRvSRH

— Jagdhish Sukasi (@sukasi) April 27, 2019
Out of the 3D, 1D is gone, now remains to see how the 2D's go for Vijay Shankar.😜#RRvSRH #IPL2019

— Vaskar Gautam (@vaskarhere) April 27, 2019
Vijay Shankar our no. 4 😎

Yai kbb khelega🤦😂😂😂#RRvSRH

— Pooja Singh (@pooja333444) April 27, 2019
Looking at Vijay Shankar's performance and ability in this IPL, he is extremely lucky to be in that WC squad.#IPL2019

— Aditya Agarwal (@Bangobondhu) April 27, 2019
Vijay Shankar is a serious doubtful case for India in the coming #WorldCup2019#SRHvsRR #srh

— Fairplaypredictions. (@fairplaypredict) April 27, 2019
Vijay Shankar will bat at number 4 in World Cup…worse than rayudu

— JSK (@imjsk27) April 27, 2019
#Vijayshankar selection is going to be sucidal in #WorldCup2019 😢😢😢😢 #RRvSRH

— அன்பு💕💝 (@anbu2089) April 27, 2019