Twitter trolls Dinesh Karthik for his lacklustre wicketkeeping at Edgbaston
Even in the second innings, he has had his travails behind the wickets.
Updated - Aug 3, 2018 6:02 pm
4K Views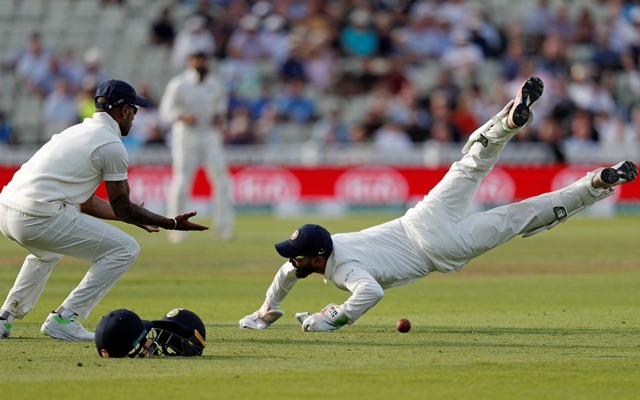 Follow us on Telegram
Dinesh Karthik hasn't had a joyous time thus far in the opening Test between England and India at Edgbaston in Birmingham. He didn't get many opportunities in the limited-overs series against Ireland and England respectively. However, Wriddhiman Saha, who is India's regular wicketkeeper-batsman in Tests, injured his thumb after which he suffered a shoulder injury.
It also meant that Dinesh Karthik was drafted in place of the Bengal cricketer. He played brilliantly in the practice match against Essex at County Ground in Chelmsford and was expected to play a major role in the first match against the Brits. Nevertheless, he couldn't open his account in the first innings as Ben Stokes comprehensively ran through his defence to uproot his middle-stump.
Karthik having a difficult time
He also hasn't been at his best with his wicketkeeping prowess. He is known for his acrobatic skills owing to which he was roped in to play the longest format. He has taken a number of blinders with the gloves and has carved a reputation as a safe gloveman. In English conditions, the leather tends to seam around quite a bit, prodigiously at times, and the ball also moves in the air.
Karthik has been found wanting in the seam-friendly conditions. He has had difficulty to collect the ball cleanly. He hasn't been able to get himself in the right positions to gather the leather. In the first innings, he also dropped the catch of Sam Curran. The Tamil-Nadu-born player dived full length on to his right, but couldn't latch on to the delivery with his right hand.
Even in the second innings, he has had his travails behind the wickets. In the meantime, Twitter is highly dissatisfied with his performance as the keeper. Subsequently, they bashed him left, right and centre.
Here is how Twitter reacted
@msdhoni give some tips to #dineshkarthik how to do wicket keeping. He is not able to hold ball in his gloves 🧤 😂😂.

— kamalparikh (@kamalparikh) August 3, 2018
Dinesh Karthik is palming the ball like goalkeeper rather than wicketkeeper.

— apkesh (@Apkeshchan) August 3, 2018
Dinesh Karthik is one of the worst keepers I have ever seen#ENGvIND

— Aum (@A_jj1510) August 3, 2018
Dinesh Karthik has been poor behind the stumps #ENGvIND

— tejas (@tejarane) August 3, 2018
#DineshKarthik be like More acting less fielding #ENGvIND

— Venkatesh Yaadav (@ImYaadav13) August 3, 2018
@DineshKarthik : Can we plzz expect some action from your bat ? Massive fall in performance since IPL!!!

— Vidit Srivastava (@ViditSrivastav) August 3, 2018
That's pathetic wicket keeping by @DineshKarthik
If such keeping continuous, I'll prefer @RishabPant777 #KyaHogaIssBaar #AskTheExperts @SPNSportsIndia what is your thought on this? #AskSunny

— Akshay Karandikar (@miakshayk) August 3, 2018
Is Dinesh Karthik doing wicket keeping or goalkeeping ?? Any guesses the current trend suggest he is a better goalkeeper @vikrantgupta73 @rawatrahul9

— Rana Pratap Singh (@RanaPratap_17) August 3, 2018
Dinesh Karthik is just not a good enough to keep wicket for an international team in test cricket.
India should play Pant from next match. Atleast he will improve by the time Saha retires.#ENGvIND

— K. D. Reddy 🏏🇮🇳 (@SouthSanghi) August 3, 2018
I admire how Dinesh Karthik fought his way to the team and displayed amazing resolve during his struggle but his wicket-keeping skills are not up to the scratch. Fumbles many a time while collecting. Remember him fluffing a lot of chances during Test series in SL in 2008 #ENGvIND

— Navneet Mundhra (@navneet_mundhra) August 3, 2018
@bhogleharsha the noticeable number of collections that Dinesh Karthik has fumbled makes one realise how spoiled we've been by @Wriddhipops' immaculate glovework over the past few years.

— Ratan Postwalla (@ratanpostwalla) August 3, 2018
Dinesh Karthik has been awfully untidy behind the stumps. He's lucky not many edges have come his way. Just two. Dropped one of them.

— Ashar Jawad (@AsharJawad) August 3, 2018
Definitely @DineshKarthik is not enough a good test behind the stumps.. hope we can get better of him soon…@BCCI #ENGvIND

— Akhil Chowdary (@akhil_95killer) August 3, 2018
Dinesh Karthik is too soft behind the stumps

— Tarbin (@basnet_tarbin) August 3, 2018
Dinesh Karthik is trash behind the stumps

— Bilal 🇿🇦🔥 (@billz_25) August 3, 2018
@bcci have to think about Dinesh Karthik , he's not that good at wicket keeping #ENGvIND

— Amar Rana (@amar_tilakrana) August 3, 2018
Is it just me who thinks that Dinesh Karthik hasn't been good enough behind the stumps…??#EngvInd

— Shubham Agrawal (@Shubh_rapstar) August 3, 2018
Dinesh Karthik is literally grassing half the balls behind the wicket…Pray he doesn't drop a catch 🙏🏼🙏🏼 #ENGvIND

— …. (@ynakg2) August 3, 2018
Follow us on Google News