Twitter trolls 'Good Boy' Tim Paine as he tries to sledge Murali Vijay
Paine and Kohli had a lot of confrontations while the former was batting.
Updated - Dec 17, 2018 5:20 pm
1.2K Views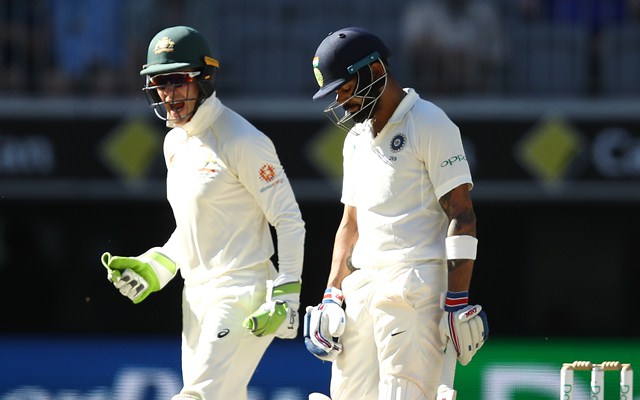 Follow us on Google News
Ever since the second innings has started in Perth, things have spiced up in the middle. While Adelaide witnessed only a few banter to start the series, surely all is not well between the two teams now. The competitive and never give up nature of both the teams have sparked a few verbals and especially between the captains. Tim Paine and Virat Kohli were having a go at each other late on the third day and they didn't back out today as well.
Paine resumed his innings in the morning and didn't give away his wicket batting with a lot of grit and determination. He, along with Usman Khawaja, kept India at bay throughout the first session which left the visitors frustrated. Kohli, at the same time, was trying to get under Paine's skin, by constantly being in his ears while fielding at mid-on.
Also, at one stage, both the captains altercated physically almost as the Indian skipper tried to confront his counterpart while running. Even the on-field umpire Chris Gaffaney had to intervene both the skippers reminding them of their jobs.
Paine indirectly takes a dig at Kohli
However, when India were batting it was payback time. Tim Paine, knowing that he can't make a mistake of sledging Virat Kohli, took a dig at him by egging Murali Vijay. Soon after Kohli got out in the third and final session of the day, he asked the Indian opener if he likes his captain as bloke off the field. "Murali, I know he's your captain. But you can't seriously like him as a bloke," Paine said to Vijay during Lyon's one of the overs.
It was interesting to see the Aussie captain, who was offering a pre-series handshake in the previous series against Pakistan, fired up. Nobody saw it actually coming even as the coach Justin Langer referred to him as a 'pretty faced nice guy'. This is the reason why the Indian fans were quick to troll him on social media after he became vocal behind the stumps in the fourth innings of the Perth Test.
Here's how Paine was trolled:
Tim Paine displaying some elite honesty just like he said he would #AUSvIND https://t.co/FktAsYpPKQ

— Woj (@mattwojcik) December 17, 2018
Who is Tim Paine. ?

His greatest highlight of his career is sledging a few indian players today.

Bloke.#AUSvIND

— Vinit Sawant (@vinit_sawant94) December 17, 2018
Tim Paine needs some catching up to do in the runs column before anything he says becomes relevant.

— Pfaff_JTull (@Pfaff_JTull) December 17, 2018
Tim paine is captain because original captain is banned @MitchJohnson398

— mandeep (@deeepamelbourne) December 17, 2018
Tim Paine : I know he's your captain but you can't seriously like him as a bloke

Ponting : pic.twitter.com/krIMg1Qdoa

— Patty ⚡ (@sanjupandey369) December 17, 2018
I see Tim Paine is in the headlines. Does anyone know if he played club cricket in England?

— Wayne Platts (@Plattsy131) December 17, 2018
Tim Paine just gave us the definition of Elite Honesty https://t.co/xxLPgSAvJI

— Debashish Paul (@Deb_Paul96) December 17, 2018
Tim Paine trending? Thought that was the free agent lad on fifa 15

— Villans Opinions (@VillansOpinions) December 17, 2018
Tim Paine that was a good one…
But be prepared for VK's turn and be scare..very very scare.

— Biswajit Jena (@jena_biswajit) December 17, 2018
Look all I'll say about the Tim Paine sledge to Kohli is, you don't have to like someone to be able to work together with them towards a common goal. #AUSvIND #INDvAUS

— Short Third Man (@vyatikram188) December 17, 2018
Well Tim paine is commenting about kohli, get off bloke you are just a motormouth and what kohli has done atbthis age is you can't even think of. Have some amber fluid and stop this airy fairy mate #AUSvIND

— Ashutosh🏏 (@THANDiiBeer) December 17, 2018
[interaction id="5c16274b2ba69eb22a41224d"]
Follow us on Telegram