Twitter trolls Mohammad Irfan for stating he ended Gautam Gambhir's career as he feared his bowling
Twitterverse didn't take to Irfan's claims lightly, but decided to have fun at his expense and trolled him to no extent.
Updated - Oct 7, 2019 3:31 pm
31.6K Views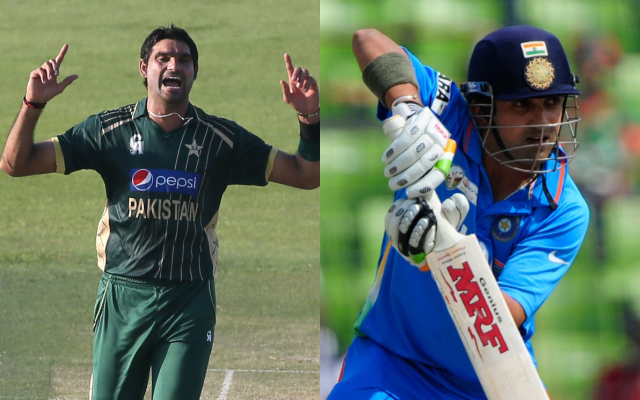 The war of words between the India and Pakistan players have been going on since way back, but in recent times, it has intensified given the hostilities between the two nations on the political and military front and the fact that India has not played a bilateral series against Men in Green since 2013. But the players have been taking potshots at one another at every given opportunity.
The latest in this trend in Mohammad Irfan, the 7 feet 1 inch tall Pakistan bowler, who is legitimately the tallest international cricket ever. Though he started off as a stumbling giant when he made his debut, he returned to the team having some serious pace and his height always was a problem for the batsmen, given that the ball was delivered from well over 10 feet. Irfan played a lot against India when the two sides were much cordial on the field.
Twitterati troll Irfan for saying Gambhir feared him and he ended his career
Mohammad Irfan took a liking to former India opener Gautam Gambhir as he dismissed the Delhiite on four occasions during that limited-overs series (T20Is and ODIs). After falling out of favor with Pakistan selectors and team management, Irfan played in the PSL but was suspended for not reporting the spot-fixing approach.
Irfan meanwhile claimed in a recent interview that Indian batsmen, especially Gautam Gambhir and Virat Kohli feared his bowling and that he even ended the career of Gambhir. "Gautam Gambhir was afraid of me. I think his career ended because of me. He didn't return to the team after that series. He didn't like to face me in a match or when both teams had nets, I always felt he avoided eye to eye contact with me. I remember I got out him four times in 2012 limited over series and he was unnerved against me," Irfan said as quoted by India Today.
He even mentioned that Virat Kohli told him that he was around 130-135 kph, but he increased his pace to 145 kph and this made Kohli extremely uncomfortable playing him in matches and couldn't judge his length. The fast bowler who has played in 4 Tests, 60 ODIs and 20 T20Is for Green Army boasted quite a lot, but it has come back to bite him in the behind.
Twitterverse didn't take to Irfan's claims lightly, but decided to have fun at his expense and trolled him to no extent. We have some of the best work from Twitterati for you.
I had to search google first to see who mohammad irfan was….#GautamGambhir

— Upendra Tudu (@utudugod) October 7, 2019
Anything for the sake of publicity. I am still not able to figure out who the hell is this #MohammadIrfan. https://t.co/BRHVt4C1w7

— Kapil Lakra (@KapilLakra14) October 7, 2019
So #MohammadIrfan thinks he ended #GautamGambhir 's career & also he sacred of him😞😞

Hmmm…

Meanwhile, Who the hell is he?🤔🤔@GautamGambhir be like 😂😂😆😆

Joke tha😅😅😅😅

— P a l l a v i (@pallzie) October 7, 2019
#MohammadIrfan claims he ended #GautamGambhir 's ODI career. It may b true but sir, ur career hitting a roadblock is nobody's doing but ur own after u got banned 4 a year 4 failing to report fixing approach. Gambhir retired as a proud World Cup winner, but u are tainted 4 life

— Mayur Lookhar (@mayurlookhar) October 7, 2019
Mohammad Irfan claims that he ended @GautamGambhir white-ball career. But wait did Mohammad Irfan even start his own career?

— Kedar (@kedart007) October 7, 2019
Mohammad Irfan has proven why kids shouldn't be sent to madarsas…I mean how can he even think of saying this about a world champion….@GautamGambhir would be laughing so hard…lmao #GautamGambhir

— Veracity (@Veracit31937280) October 7, 2019
Rahul feels that Modi and Shah were not comfortable facing him https://t.co/9H14tRB3Cm

— Dexter (@MunnaKaTunna) October 7, 2019
@GautamGambhir bhai …Ek reply iss qutub minar ke liye 😁😁 https://t.co/dRQraeJKth

— Prateek Soni🇮🇳 (@Prateeksoniii) October 7, 2019
— nireekshan (@Nireekshanchand) October 7, 2019