Twitter trolls Pat Cummins after he claimed to knock off Virat Kohli early
India's tour of Australia commences on November 21.
Updated - Jul 12, 2018 5:01 pm
865 Views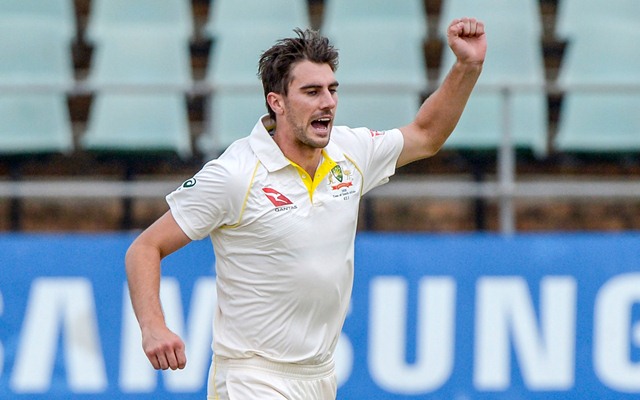 Follow us on Google News
Team India is currently playing in England but the cricketers have started playing mind games already for the upcoming Australia tour. Recently, the Aussie pacer Pat Cummins claimed that they will not allow the Indian skipper Virat Kohli to score a century during the Test series. Glenn McGrath also backed his statement and went on to say that if the hosts manage to put pressure on the skipper. However, Twitterati is not at all impressed with Cummins' statement and have trolled him.
Kohli has a fiery history of playing against the team from Down Under. He loves being involved in the on-field tussle which, according to him, brings the best out of him. During Australia's recent tour to India, there were frequent altercations of him with their certain players. The keenly fought series was won by the hosts but the four Tests had its share of controversies as well.
Moreover, the Indian captain had also said after the series that some of the Australians might never become friends with him again.
Cummins roasted on Twitter
Pat Cummins, in a recent event in Sydney, warned the Men in Blue ahead of their tour in November later this year. "Virat Kohli is not going to get a 100 and we're going to knock them off over here," he had said. No wonder, Kohli is already under the radar of the Aussies as he had ruled over their bowlers back in 2014 when India last toured Down Under.
He had smashed four centuries in as many Test matches. His duel with Mitchell Johnson was also famous during the tour. But last year, Australia managed to keep him quiet which might be the reason Cummins is confident of dismissing him early. Whatever might be the reason, Twitter was not happy with the fast bowler and they hilariously trolled him over his comment.
Here are some of the trolls:
Kohli to Morgan – " Pat Cummins Said That Aussies Won't Let Me Score A Hundred On Australia Tour "

Morgan – 🤣🤣🤣 #INDvENG #ENGvIND #SLvSA #SAvSL #INDvAUS #Cricket pic.twitter.com/27wo2s9mcV

— Saurabh Shinde (@imsgshinde) July 12, 2018
Morgan: Virat, Pat cummins says you wont score a single century against them in test series….

Virat: they better have lots of sandpapers ready then! https://t.co/DB7QXNG8VM

— Kaptaan Kohli (@siedry_) July 12, 2018
Dear Pat Cummins….ask mitchell Johnson….how brutally he was beaten by Kohli previous time…. previous series against you in Australia was a rise of KING KOHLI n this time he has become more dangerous….so mind your words 🙇

— Anurag Thakur (@anurag_thakur07) July 12, 2018
Ya pat cummins right , virat not hit any hundred because virat hit double hundreds…

— Dinesh Kumar Bishnoi (@DineshK029) July 12, 2018
It's not a mind game, it's the dread of Virat's bat. And Pat Cummins is just consoling his team and himself. #KingKohli

— Aditi Singh (@Aditi_si13) July 12, 2018
Pat cummins virat Kohli not getting hundred. this time should be getting TRIPLE HUNDRED. you wait for tour.

— Pratik (@PVanzare) July 12, 2018
Arey kuch nahi yrah pat cummins ganja ohuk key betha hai

— Antul goel (@Antulkumargoel) July 12, 2018
Pat Cummins you r lol…..hahahahahahahaahahga….. …. Virat is not getting a century…..hahahahaha…may be ….. he will convert 100 into 150 or 200 or more.😂😂😂😂😂

— Argha (@Argha42234909) July 12, 2018
Pat cummins and co cant even stop Kholi scoring a century if they were playing on easy mode on xbox.

— The Real Captain Cabbage (@real_cabbage) July 11, 2018
@patcummins30 @imVkohli Mr. Pat Cummins u made a big mistake by challenging Virat Kohli. Please be informed that he will score more than 3 centuries when India travels to Australia by the end of 2018. Even if Virat scores a single century, u wouldn't be able to hide your face.

— ABHISHEK KUMAR SINGH (@abhishek151282) July 11, 2018
They are talking about Virat Kohli or #TeamIndia that to way ahead of tour🤔it means they are afraid n trust more on cliche mind games than their game itself🙄😂😂😂 #ViratKohli #PatCummins

— P a l l a v i (@pallzie) July 11, 2018
Soon to be launched: Biggest mistake of my life by Pat Cummins

— crictoday (@crictoday) July 11, 2018
Pat Cummins "Kohli won't score hundred against them this summer. Kohli Test scores last time when India tour Aus: 115,141,19,1, 169,54,147,46

— #ZIMvPAK #PAKvAUS #AUSvZIM #TriSeries #Cricket (@ScoreUpdate_PK) July 11, 2018
Exactly pat cummins is just dreaming😂 lol

— Rishabh Tripathi (@Rishitripts) July 11, 2018
Pat cummins is a australian cricketer….and the last time india toured australia ..virat scored 4 centuries in test matches….and bhai 1 match kya jeet gaye tum uski khushi 100 saal manaoge ….kyunki muddaton baad jeet naseeb huyi thi tumhe

— abhishek dwivedi (@abhishek_srkfan) July 11, 2018
Pat cummins,
Just pray your prediction about Virat goes right otherwise be ready because this freak guy will bang all holes of your team in Australian summer & he do remember everything others say about him, specially Australians.👍 pic.twitter.com/7fudlEUJ1s

— Prasad Suroshe (@PrasadSachinist) July 11, 2018
Virat is unpredictable batsman so , mr. Pat Cummins virat will give u a right answer with his bat ….Just wait n watch …

— Prajyot Sidwadkar (@prajyotsidwadk1) July 11, 2018
Follow us on Telegram