Twitter trolls PCB for posting picture of kitbags instead of Women cricketers
Domestic season in Pakistan has begun with the National T20 Cup.
Updated - Oct 9, 2020 9:03 pm
5.4K Views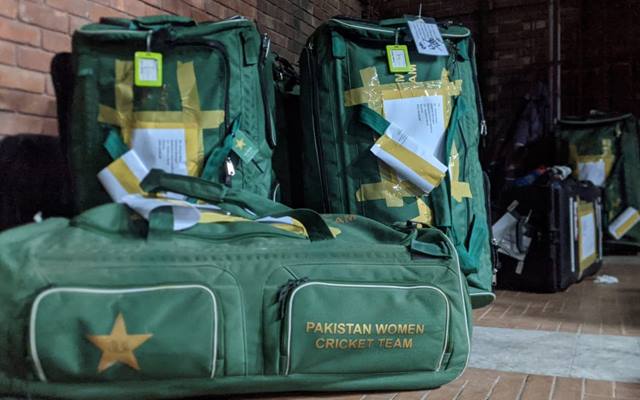 Follow us on Google News
Coronavirus pandemic literally stopped the world this year and sports wasn't an exception. However, after a certain period of time, the authorities had to take a decision and after a few months, slowly but steadily everything resumed albeit behind the closed doors. Cricket is also going on in the same way with England's international summer and CPL happening unscathed even as the Indian Premier League (IPL) is currently in progress in the UAE.
Pakistan Cricket Board (PCB), meanwhile, has also decided to get on with its domestic season and accordingly, organised a National High Performance Camp for its Women cricketers. The players also left for Karachi on October 7 for the same. With no cricket played after the T20 World Cup earlier this year in Australia, Pakistan's Women cricketers will be itching to get back on the field.
Informing the same to the fans, the official Twitter handle of PCB posted the pictures of cricketers' kitbags ahead of their travel to Karachi on Wednesday. It was a little bit weird as instead of kitbags, the players' pictures could've been posted. The fans also pointed out the same and hilariously trolled PCB for the same.
Here's the tweet:
Our women cricketers are all set to travel to Karachi for the National High Performance Camp #BackOurGirls pic.twitter.com/AI9HZkJ0xU

— Pakistan Cricket (@TheRealPCB) October 7, 2020
Pakistan's domestic season underway
In the meantime, Pakistan's domestic season has gotten underway with the National T20 Cup which commenced on September 30. All the top cricketers in the country have taken part in it and some top quality cricket is being played. The players who were in England for T20 Blast have also returned now and are gracing the T20 tournament at home.
Apart from this, the PCB has also decided to end the Pakistan Super League (PSL) with its playoff stage still left. The organisers had tried their best to conclude the season in February/March. But the rising COVID-19 cases had forced them to call-off the season. The remaining four matches of the tournament are set to be played on November 14, 15 and 17.
A couple of tournaments for U19 cricketers are also scheduled while Quaid-e-Azam Trophy is also set to be played from October 25.
Here's how PCB was trolled:
All are looking nice 👍
Same to same.

— Moodytones 🍁 | @__memenist stan acc (@moodytones_) October 8, 2020
Where is women ?

— Unemployed Marwadi 🇮🇳 (@Muaaaahrwadi) October 8, 2020
they must be suffocating inside the bag. pic.twitter.com/8NZWJElrKd

— Manish Tiwari (@_MaNiSh_TiWaRi_) October 8, 2020
wow.. nice team. same colour,same size, almost all the members are same. I believe all are all-rounders. wow. congratulations Pakistan. 😌

— Oshila IShitha (@Oshila123) October 9, 2020
Others should learn from @TheRealPCB that how to avoid corona without using the mask and look so beautiful 😍

— Aayush Singh 🅐 (@singhaayush2106) October 9, 2020
What was the need to send them in Bags ?? 😜😜

— Gautam Shrivastava (@gkstwits) October 9, 2020
Nice way to reduce the travel costs 😉
Hotel vagera ka expenses hi nahi padta

— I hate you, still I (@Vinivinci3) October 8, 2020
Is it only me or no one can see any pic of women cricketers in this tweet?

— Sohail Aziz (@sohailAziz) October 7, 2020
Will they come out of the bag to play or there is a new trick to play from inside?

— Rock Moddy (@some1close2u) October 9, 2020
Bag me pack kiya hai unko?

— ज्ञानी बाबा (@Giyanibaba) October 8, 2020
But, I'm seeing their kit bags are ready, can't see any of your women? 😂

— Muhammad Sheraz (@Muhamma50063091) October 8, 2020
Follow us on Telegram