Twitterati build-up for the India v Pakistan CT 2017 final in their own hilarious style
The defending champions will take on the challengers in the summit clash at The Oval.
Updated - Jun 17, 2017 4:26 pm
11.4K Views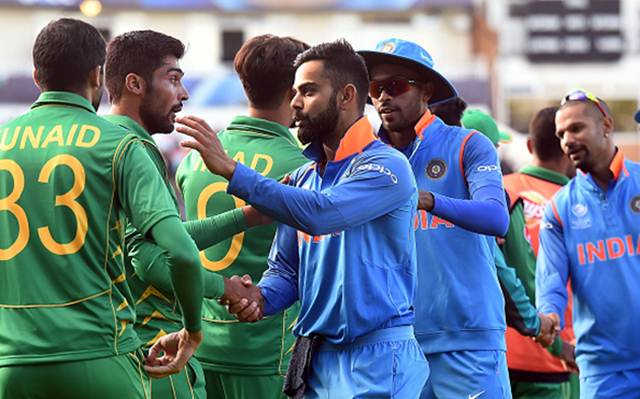 Follow us on Google News
It's the biggest clash of the season. The magnitude of the Champions Trophy 2017 final grew manifold as soon as Team India qualified for the title clash and the match slated to crown the champion became India v Pakistan. When it is Indo-Pak the match can never be restricted to just cricket. Fans from both the sides have huge expectations and emotions attached to the game as well as the rivalry.
The two teams had met in their opening clash of the tournament. As they have been so often in ICC tournaments the Men in Blue were absolutely clinical in their approach and game. They didn't allow Pakistan any chance to get grip in the game and ran away with a morale boosting win by 124 runs. That should have put Pakistan down. They were the No.8 ranked team coming in the tournament and were crushed by the arch-rivals in the opening game. But that was not to be.
Sarfraz Ahmed who has been an inspirational leader of this young team along with a strict and disciplined coach Mickey Arthur were able to script a revival. They first beat the No.1 ranked ODI side South Africa in their second league match and then faced the Sri Lankans in a must-win encounter. It was Sarfraz again who led the team from the front and along with Mohammad Amir scripted a seemingly impossible win.
Their confidence was sky high. But they would meet firm favourites and hosts England in the semi-finals. A hands down winner was expected for Eoin Morgan & Co. who had forced all their three opponents into submission in the league games. But the Pakistani bowlers had different plans, they restricted a strong English lineup to a mere 211 and then their openers chased it down with utmost ease to march their way into the first ever CT final.
Team India, on the other hand, defeated South Africa in a must-win game which turned out to be a one-sided affair as the Proteas crumbled against pressure yet again. Bangladesh were off to a promising start in the semi-final but once wickets started to tumble it was a downhill ride and the ruthless team they were up against didn't give them another chance to bounce back.
Rohit Sharma's 123* and Virat's unbeaten 96 took the team into the final and set up the title clash against Pakistan.
Twitterati is since then busy on both sides. The fans have been posting some hilarious posts, memes and videos to give their team the psychological edge ahead of the summit clash.
Here are some of the best tweets that have surfaced ahead of the CT 2017 final between India and Pakistan
India v Pakistan Final …. !!!!!!!! All TV execs around the World are now cracking a nice bottle open to celebrate ….. #IndiaToWin

— Michael Vaughan (@MichaelVaughan) June 15, 2017
I was wrong. The India v Pakistan group game won't be the most watched sporting event on earth this year…

The #INDvPAK final will be! pic.twitter.com/0Rl3mXPvsg

— Paul Dennett (@the_summer_game) June 15, 2017
Kohli showing Sarfraz the highlights of the group match before the finals. #IndvPak pic.twitter.com/UTOsUuEOPW

— The-Lying-Lama (@KyaUkhaadLega) June 17, 2017
Congratulations Team India On Winning 4th ICC Champions Trophy.
2000
2002
2013
2017

RT & Save This Tweet.?????#INDvBAN #IndVsPak #INDvPAK pic.twitter.com/lJqmVvGOpl

— Sir Jadeja (@SirJadeja) June 15, 2017
India in #CT17#INDvPAK ( Green ) Win#INDvSL ( No Green ) Lose#INDvSA ( Green ) Win#INDvBAN ( Green ) Win#INDvPAK ( Green ) ?????

— Godman Chikna (@Madan_Chikna) June 15, 2017
Sunil's prediction for pakistani openers!!!#IndVsPak #INDvPAK pic.twitter.com/kQlF86Ae98

— Cute Kamina?? (@bittu7664) June 17, 2017
1 Pakistanis when they reached Final
2 Pakistanis when they realised they will face India in final #INDvPAK pic.twitter.com/6e4IzHYMHD

— Hasna Zaroori Hai (@HasnaZarooriHai) June 17, 2017
#INDvPAK Virat Kohli and Ahmed Shehzad doing their weight training. Now you tell me who is better prepared !pic.twitter.com/P4gy0Jv89l

— Harsh Goenka (@hvgoenka) June 17, 2017
???? now who did this ? #WA #IndVsPak #INDvPAK pic.twitter.com/TxfQeXj0TF

— Mask (@Mr_LoLwa) June 16, 2017
Congrats for a great win y'day. #INDvBAN
It'll be #INDvPAK in @ICC #ChampionsTrophy2017 finals. My recent SandArt #GoodLuckIndia ?? pic.twitter.com/PljtknqhBD

— Sudarsan Pattnaik (@sudarsansand) June 16, 2017
Pakistani Players Looking At Indian Batting Line-up !!#IndvsPak #INDvPAK pic.twitter.com/XLA0ouCZoA

— Babu Bhaiya (@Shahrcasm) June 15, 2017
Good Luck @TheRealPCB
Work hard & prepare 4 finals,Believe in yourself & what you can achieve,Things will line up in your favor #PAKvIND

— Mohammad Yousaf (@yousaf1788) June 15, 2017
#PAKvIND #IndVsPak ,#INDvPAK
Sorry Pakistan.. For upcoming #18Jun #CT17 #ChampionsTrophy2017 pic.twitter.com/QHm3XrOzM9

— Koshal sisodya (@koshalsisodya) June 16, 2017
This tournament is officially DESI now!
Quaid-e-Azam be like ab teri bari hai 18 ko ?#PakvInd pic.twitter.com/F2VPeCj1nH

— Kiran Raza (@kiranraza_01) June 14, 2017
Bookie calling Pakistani players one by one. #IndvsPak pic.twitter.com/p8LhUjQcwN

— Smoking Skills (@SmokingSkills_) June 16, 2017
Pic 1: What Bangladeshi fans think that they're
Pic 2: What they actually are ("Grandson of India")
??
Congo team India #INDvBAN #IndVsPak pic.twitter.com/aZ3yMTBiDa

— Piyush Tambe (@piyushjagdishta) June 15, 2017
Lol True ?#INDvsBAN #IndVsPak pic.twitter.com/8nyTQLTO5k

— simran kaur (@simran_Gulabo) June 15, 2017
So it's #IndVsPak on Sunday …
Here it is the first reaction from pakistani captain. pic.twitter.com/sQdYUSu5aa

— R E B E L (@GadhviLaxman) June 15, 2017
BREAKING: PCB requests ECB to play final match of #CT17 against India.#INDvBAN #IndVsPak

— Farrago Abdullah (@abdullah_0mar) June 15, 2017
How Pakistanis celebrating their win #ENGvPAK knowing that they will face #IndVsPak in Finals #CT17 #INDvBAN #PAKvENG #ChampionsTrophy pic.twitter.com/C6KmPA8bXf

— Prem Garg (@premgargd) June 15, 2017
Follow us on Telegram