Twitterati fail to understand how Cheteshwar Pujara managed to get himself out
Pujara fell for 14 on a Chris Woakes delivery.
Updated - Aug 18, 2018 6:33 pm
3.5K Views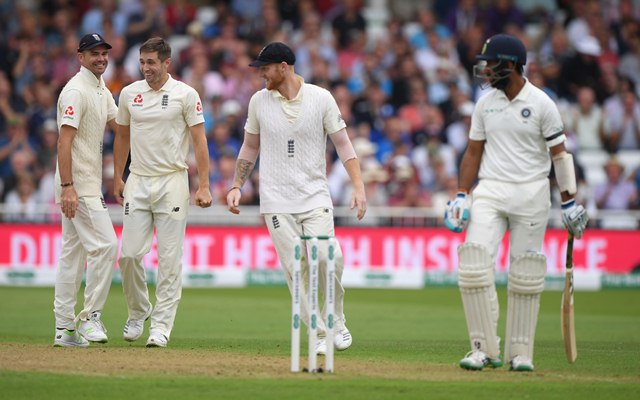 Follow us on Google News
First session on Day 1 of another Test match and the Indian team is in trouble. This premise isn't new as it has been the story for the whole of this tour now. For the third time in as many Tests the Indian team started with a new opening combination. Shikhar Dhawan and KL Rahul got them off to a watchful and rather affirming start but fell to Chris Woakes. With Cheteshwar Pujara and skipper Virat Kohli at the crease, the Indian team would've wanted to go into Lunch two down but that was not to be.
Just at the stroke of the first break, Pujara decided to break character. Facing a short ball from Woakes he chose to attack it, rocked on to the backfoot and hooked the ball. It was angled at his body and around chest height. Under regular circumstances one would expected Pujara to duck under it but not today. He targeted the on-side to get a boundary and end the session on a high but he couldn't keep the hook shot down and the ball was travelling.
Adil Rashid stationed at long leg moved a few steps to his right to grab a stunning catch. The look on Pujara's face was of disbelief as well. He couldn't believe he found the fielder with a shot he was confident will travel to the ropes.
The right-hander fell for 14 and it was lunch. They scored 82 runs in the first session but more importantly lost three wickets. Pretty similar to the Edgbaston Test, the ball didn't swing immediately. Both James Anderson and Stuart Broad couldn't move it a lot in the first spell but there was substantial lateral movement when Ben Stokes and Woakes were operating at around the 15th over of the morning.
With the way things have panned out in the match so far it will once again be up to Kohli to bail the team out of troubles and take them to a substantial total batting first.
Here is how Twitterati reacted to Pujara's uncharacteristic dismissal:
Who ever said #CheteshwarPujara is another "TheWall" is absolutely right… only difference is that this Wall has holes in it…

— madhuusv (@madhuusv) August 18, 2018
Cheteshwar Pujara are you fuckin kidding?? WTF was that??

— Shubham (@SportyShubh) August 18, 2018
Extraordinary shot by Cheteshwar Pujara, proud of you🙏🙏🙏#ENGvIND

— mayank (@MayankDPatel1) August 18, 2018
Floods in Kerala and Cheteshwar Pujara's pull shot at the stroke of lunch, two big disasters felt in India off late. #ENGvIND

— Shubh AggarWall (@shubh_chintak) August 18, 2018
Cheteshwar #Pujara is fast becoming an endangered species in the game.

— caught@point (@caughtatpoint17) August 18, 2018
Pujara has just hit himself out of the team with that shot.

— Nikhil 🏏 (@CricCrazyNIKS) August 18, 2018
Another Day. Another Failure. Cheteshwar Pujara Departs. #IndvsEng

— DIVYANSHU🏏 (@MSDivyanshu) August 18, 2018
@SPNSportsIndia #AskTheExperts Though it's nice to see Cheteshwar Pujara going beyond his comfort zones to be more attacking but I really wondered with that shot why was he trying to be Rohit Sharma suddenly? #KuchKhaasNahiHogaIsBaarBhi

— Kushagra Dubey (@Kushagra_Dubey) August 18, 2018
Why cheteshwar pujara is still in team ?

— SUDHANSHU (@SUDHANS26827936) August 18, 2018
After the first hour England would be the happier side going into lunch that being said such a needless shot from Pujara who once again throws his wicket away after getting his eye in such a shame because Pujara was looking really good today. The look on Kohli's face says it all pic.twitter.com/X7LffNSZIf

— 𝓡𝓪𝓳 (@NoMoreDatGuy) August 18, 2018
Criminal from Pujara. Not worth playing him. Rahane needs to play at 3.

— Akash (@Honhaar) August 18, 2018
Pujara wasn't playing the hook shot…He was playing the shot to keep away the demons of slow strike rate…

— straight point (@straightpoint) August 18, 2018
Fantastic shot played by Pujara…
A test player was playing an ODI innings in a Test Match 😀😝🤪

— ∆.Я ŢⅠШ∆ЯⅠ (@im_ashutiwari) August 18, 2018
Fraud Kohli asked Cheteshwar Pujara to show intent and the result is him sacrificing another wicket #ENGvIND

— Anil Kumble (@CoachKumble) August 18, 2018
Cheteshwar Pujara is showing 'intent'. I fear for him. #EngvInd

— Daksh Panwar (@Daksh280) August 18, 2018
India's habit of losing a crucial wicket just before the stroke of lunch or tea continues. #CheteshwarPujara needs to redeem himself in the second innings. #India #IndvsEng #ENDvIND #KyaHogaIssBaar #TestCricket #ENGvsIND #ENGvIND @cricketwallah @bhogleharsha

— BloggerDan (@DanBlogger) August 18, 2018
Imagine wid Pujara..think he's as gud as VIJAY ….gone from INDIAN TEST TEAM…DIS TOUR is turning out to be CURTAINS Fr quite a FEW CAREERS

— Amit Malhotra (@Hawkquality) August 18, 2018
Lunch karne ki itni jaldi Kya thi pujara saab#ENGvIND #INDvENG #ENGvsIND

— Mohammed Waseem (@wasroz) August 18, 2018
Dukh is baat ka hai ki Pujara ne apna wicket waste karne se pehle ek review waste kar diya.#ENGVIND
bichare pandya ko iski jarurat padegi to kya karega😭🤔

— om rajpurohit (@omrajguuru) August 18, 2018
The way Pujara had gifted his wicket away shows pressure on him to score quickly . In last few Tests he faced lot's of criticism over that . @_rrroy_#CBHaveYourSay

— Akash Dhonde (@akash22ad) August 18, 2018
For someone like pujara who has played county cricket from past 4 years he hasn't learn nothing …

— Karthik (@Cric_fan5) August 18, 2018
Follow us on Telegram