Twitterati hail Tim Paine's selflessness for declaring the innings while batting on 45
It could've been only his sixth Test half-century had Paine not declared the innings.
Updated - Feb 2, 2019 4:18 pm
12.9K Views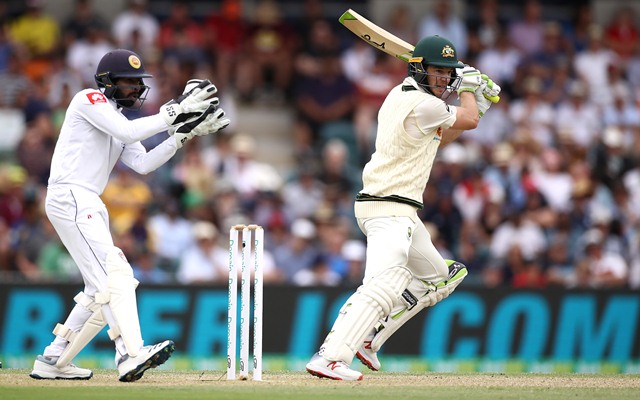 Australia have more or less sealed the fate of the ongoing second Test against Sri Lanka in Canberra. They posted a mammoth total of 534 runs for the loss of five wickets in the first innings with the likes of Joe Burns, Travis Head and Kurtis Patterson scoring centuries. During the second session on the second day, the skipper Tim Paine felt that they have enough runs on the board and decided to declare the innings.
When the wicketkeeper batsman decided to have a go at the opposition, Patterson was batting at 114 and Paine himself was approaching a half-century unbeaten on 45. It could've been the sixth half-century of his 21-Test career. But he set an example by putting the team needs in front of his personal milestones. Nobody would've really questioned Paine had he taken a couple more overs to complete his fifty and then declare.
Possibility of rain around
But Tim Paine didn't think about it at all and felt he needs enough time to bowl Sri Lanka out twice on what is looking like an extremely flat pitch. The selfless act also might have come due to the possibility of rain over the next few days in Canberra but the Aussie skipper has impressed many with his move. It also helped the bowlers get as many as 43 overs to bowl at the opposition and they also picked three wickets by the end of the day.
Australia have not endured the best of summers this year but Tim Paine has impressed many with the way he has led the team in the troubled times. He was delighted when Australia defeated India in Perth and is also looks a happy captain when the hosts are dominated Sri Lanka and is likely to lead his country in the Ashes later this year as well.
Meanwhile, Twitterati was all praise for Paine as he sacrificed his half-century putting the team win ahead. It has certainly given them a little more time to claim a 2-0 series victory even if the rain intervenes now.
Here's how Twitter reacted:
#cricket Tim Paine declared before reaching his own 50. Didn't know an Australian captain could be so self-effacing.

— Rene Kita (@ReneKita) February 2, 2019
This is an example of a great captain, declaring instead of thinking about making his own milestones. Felt pretty sure he wouldn't make his bowlers come in and bat either so they'd be fresh for the bowling attack against Sri Lanka. Loving Tim Paine as Captain.🏏🏏🇦🇺🇦🇺🏏🏏💕💕🏏🏏

— JuliaPC423 (@JuliaPC423) February 2, 2019
A standard one walks by is a standard accepted!!!@tdpaine36 shows leadership in so many ways, and sometimes we have to look beyond "numbers"

Selfless declaration after letting the kid post 100, then costing himself a half century #Respect 👊#AUSvSL #7Cricket pic.twitter.com/5TlSVDNH9R

— Chris Nolan (@DoonaNolan) February 2, 2019
Why would Tim Paine not go for his 50 before declaring? 🤔 #AUSvSL

— Jen Frees (@jenfrees) February 2, 2019
And of course Tim Paine still declares despite being on 45 himself, and with only a handful of test fifties over his career. Class. The leader Australia needed.

— Ryan H (@Hyan_Rartwig) February 2, 2019
Purely unselfish man – Tim Paine❤️.
He doesn't looked for his personal records✌️.He declared australlia innings without completing his 50*.
Tim Paine was just 5 runs short👍.#timpaine #AUSvSL #bbccricket #BBL08 #Hobart pic.twitter.com/UTWCWaRRar

— Prem reddy (@premraina48) February 2, 2019
Tim Paine on 45 still declared the innings 👏#AUSvSL

— Waiting for RC12 (@Bharu_chirufan) February 2, 2019
Tim Paine is a genuine leader. He showed an example of selflessness today. Proud of you skip. @tdpaine36

— Ibraheem Altaf (@IbraheemAltaf) February 2, 2019
@cricbuzz @bhogleharsha @tdpaine36
Declaring the innings without completing his 50…. Setting an example as a captain and a team player …

— dr.kautukk@gmail.com (@DKautukk) February 2, 2019
Selfless Level of @tdpaine36 :- Infinity #AusvSL #Cricbuzz @_rrroy_

— Nitin (@nitin_quiry) February 2, 2019
@tdpaine36 such a selfless captain and cricketer he is. He's currently batting on 45(Not out) without caring his half century he declared the Australian innings at 534/5 . Hats off to you Paine. Aussies lucky to have behind wickets -perfect banter👏👏 #AUSvSL #Australia #Cricket pic.twitter.com/VrWRr4AfeR

— Ketheny (@Robert_John6) February 2, 2019
shows how unselfish tim paine is, declares close to a fifty

— Forest (@forestlin2002) February 2, 2019
@tdpaine36 showing his true leadership – could easily have kept batting until reaching 50 or getting to 1000 test runs, but makes a good decision for his team #AUSvSL #Cricket #leadership @UTASCricketClub @CricketAus @crickettas

— Rodney Purves (@RodMunch21) February 2, 2019
Tim Paine putting team before personal records. Could have went another couple hours made a 50 then 100 but wants to give the bowlers a chance. But yep should be dropped for not scoring hundreds. #AUSvSL

— Gavin (@gavinsingline25) February 2, 2019
It's a shame they didn't play on to get Tim Paine a half century!

— Wayne Marthick (@WayneMavvy) February 2, 2019