Twitterati have a ball as MS Dhoni makes a fan earn a mid-field hug
Dhoni made sure the fan was really committed before eventually meeting him.
Updated - Mar 5, 2019 7:03 pm
41.9K Views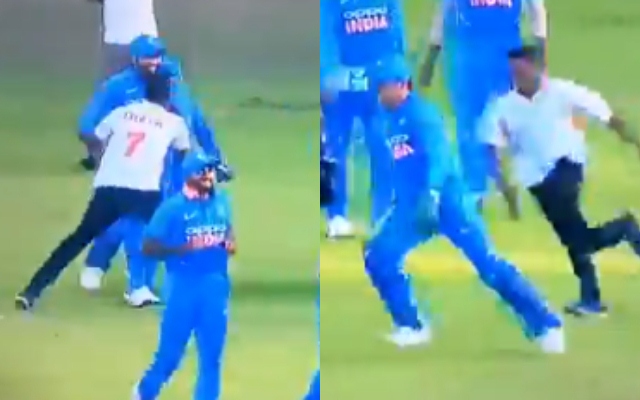 There are only a few who can do things like MS Dhoni does. It is not just his batting, keeping and captaincy but the former Indian skipper who always has fans running onto the field to meet and hug treats them distinctly. He has always acknowledged their love and the fact that the fans are willing to take such risks just for a moment of his time. Something similar happened during the 2nd India vs Australia ODI.
After the Men in Blue cruised to a commanding victory in Hyderabad, the two teams landed in Nagpur and lock horns today for the following game. At the toss, Virat Kohli was asked to bat first and that was what he wanted to do, they didn't have a great start or finish to the innings. But the skipper's century and useful contribution from all-rounder Vijay Shankar that got the team to the 250-run mark.
Dhoni who has been in tremendous form in 2019 had his first failure and was dismissed for a golden duck. Adam Zampa produced a beauty first up and the veteran who walked in at No.6 edged it to first slip. His batting and the runs he scores is of little relevance today with the kind of stature he has in Indian cricketing circles.
When the team was walking on the field to initiate the defence, Dhoni was with the boys and just before they could get to the centre, a fan intruded. The 37-year-old sensed that and sprinted, giving him a real hard time. There was Kohli, Rohit Sharma and everyone else, but this guy was in there only for one man. The cricketer was laughing all along and tried quite a few tricks to deceive him.
The fan was committed and he chased Dhoni, they finally had to interact having reached the square in the middle of the ground. He first shook hands, then tried to touch his feet and ended up hugging the legendary cricketer. MS Dhoni having fulfilled his wish, then sent the fan off.
Twitterati in this incident again found a meme-worthy moment and were at it once again:
Puri Indian team hai bandhe ke samne Rohit Virat ke baju se gaya lekin mohabbat sirf mahi se hai 😍😍❤️
Cricket is a religion Msdhoni is our god 😍❤️❤️#INDVSAUS #AUSvIND #DHONI https://t.co/WdQhL8MzPL

— jitz03 (@jitzvijan03) March 5, 2019
When @msdhoni promotes open Luka Chuppi @TheAaryanKartik @kritisanon #INDvAUS #Nagpur pic.twitter.com/RZ96IaZZUd

— SIPUN DHAL (@SipunDhal) March 5, 2019
@msdhoni bhai You are Always a Living Legend ….
Lotzz of Love Bro ❣️❣️❣️
Bro wanna be your fan till my life ends bhai 🔥🔥🔥🔥💞💞💞 pic.twitter.com/f5iSPnYR9F

— Mr. காராபூந்தி |CSK| (@boondhi_offl) March 5, 2019
Fan chased MS to hug and Dhoni started running 🤣😍#INDvAUS pic.twitter.com/iMkClJk8Da

— Rishabh Srivastava (@AskRishabh) March 5, 2019
Always fan love is infinity it makes everyone to attempt everything#dhonism @msdhoni 💙💙💙💙
Love your reaction sir😍😍😍 pic.twitter.com/3yiTboU81y

— Bharath Kumar (@BharathKumarVe5) March 5, 2019
He is so pure. He is the most popular cricketer rn yet he is so down to earth.. that's why i love him fan for life @msdhoni 🙏🙏 https://t.co/X7GTB5JeiU

— Bharat (@being__shiva__) March 5, 2019
Sometimes I love @msdhoni more than Dhoni fans Does.

— Prakash (@ActuallyNANI) March 5, 2019
Lucky Fan@msdhoni
he enjoyed it made himcatch himby running on filed
😍😍😍😍😍😍😍#INDvAUS pic.twitter.com/tHw2hH1V4w

— Pathan Usif (@Pathan4141) March 5, 2019
Another day another devotee..@msdhoni at his best❤️#MSDhoni #Dhoni #INDvsAUS pic.twitter.com/2pWCnCPcJj

— Naveen kumar Athuluri (@sunnynaveen7) March 5, 2019
This is @msdhoni people just follow him blindly… The love and respect he gets every where is just awesome….
Modern God of cricket….. 💟💟 pic.twitter.com/jWratSDZQR

— Raj 🇮🇳 (SK * MSD) (@rajksdhoni) March 5, 2019
MSD! 😂😂😍 #AUSvIND #MSDhoni https://t.co/G0YU0v5VQB

— Ruchika (@Ruchikaa_) March 5, 2019
Whoa! The #MSD craze!😍❤️ That's how sportive things should be! #INDvAUS #MSDhoni #2ndODI pic.twitter.com/Bdsf0qmth3

— Ashwin Krishnan (@iamashhhwin94) March 5, 2019
Not to be a spoil-sport but I'm not in favour of people breaching the security to get to him but he is always so gracious and pure about handling the situation. All he wanted was to touch @msdhoni 's feet but he got to chase him around and hug him before he got to do that. ❤️ https://t.co/AJGhtX7d6G

— MAHI's girl (@sushmita_7) March 5, 2019
Mahi♥♥♥♥♥#msdhoni #Dhoni #MSDhoni pic.twitter.com/tJYu29TMwR

— killermani (@Killermani7) March 5, 2019
#Fan_movement #INDvAUS #TeamIndia #MSDhoni #Kohli @PaytmTickets @MusicThaman pic.twitter.com/w9WdYHiFBR

— Hari (@Harijanasainik7) March 5, 2019
@msdhoni 😂😂 #INDvsAUS #2ndODI pic.twitter.com/xA6M39r6f8

— SPIDER REDDY 🤟🏻 (@karnatishashank) March 5, 2019
*Thala's thug Life fe*
Love you @msdhoni 😘😍 https://t.co/bdFMnxg07D

— Chandrakant (@cksoo7) March 5, 2019
Dhoni 😍😍😍😍😍👌👌👌👌👌👌👌👌👌💗💗💗💗💗💗💗#Dhoni #INDvsAUS @msdhoni pic.twitter.com/uexhg7QEFe

— Ⓜ️uthusiva (@Muthusiva_0ff) March 5, 2019
This is the best video Which I have seen today. #Thala @msdhoni and his fans never ending love story. Love you 😍 #Thala !! #Dhoni @ChennaiIPL @msdfansofficial @imDhoni_fc #ThalaDhoni #INDvsAUS #MSDhoni pic.twitter.com/9U0uonMlvt

— Akash Ane Nenu (@akashraju98) March 5, 2019