Twitterati initiate a meme war on MS Dhoni's simplicity level
MS Dhoni's simplicity level = infinity.
Updated - Jun 4, 2018 10:41 pm
6K Views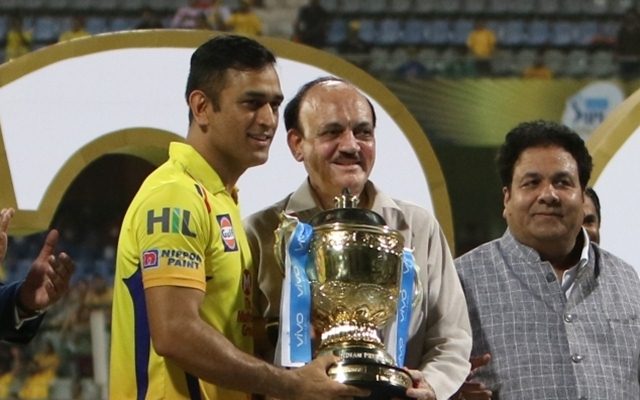 Follow us on Telegram
Former Indian captain MS Dhoni is a fan favourite. He has won over millions of fans all over India and around the world for his calm and composed approach on the field. That coupled with his unbelievable success with the bat and as captain makes him a legend in international cricket. At the same time, he is one of those guys who is well grounded and maintains a low profile off the field.
He is never extravagant while talking and has a well-composed personality. Dhoni last year stepped down as the captain of the Indian cricket team and didn't lead his side in the Indian Premier League (IPL) either. Come IPL 2018 and Chennai Super Kings were back, so was their captain marvellous. He bought the bunch of players he trusted to take them the distance though it didn't look like the best combination to most others.
Dhoni trusted the senior, experienced campaigners to come good and deliver for the team and they responded perfectly as different individuals put his hand up every time the team needed a performance. That went a long way in helping CSK end among the top 2 teams after the end of the league stages.
The skipper himself brought back memories from the early part of his career with the way he was striking the ball. He played some of the most ruthless and thunderous shots in this IPL and every time he walked out to bat had a great intent and clear intentions evident with the way he went about business.
Chennai in the playoffs beat Sunrisers Hyderabad twice to lift the IPL title for the third time. Dhoni's team making a comeback after 2 years was forced to play their home games out of Chennai and in Pune won the title against all odds.
Ever since fans of the franchise and that of the cricketer have been posting a lot of stuff on social media one among that was a post on Dhoni's simplicity level. They highlighted regular things and attempted to glorify it; this trend caught up with trolls and soon there a lot of memes on this topic as well.
Here are some of the best memes that appeared on Twitter:
MS Dhoni could've easily finished off in style with a six on his debut but he intentionally run himself out.

Simplicity level : 9999999#MSDStrong #MSD #Dhoni pic.twitter.com/OUZwX2NIep

— Moiz Essaji (@MoizEssaji) June 4, 2018
Dhoni is so rich,he can Afford Helicopter but instead he plays Helicopter shot.
Simplicity level=Dhoni pic.twitter.com/yZmlq0cf7u

— 🇵🇰😎نگران وزیراعلی پنجاب🔥 (@LeMeUsmann) June 4, 2018
Dhoni is one of the most richest cricketer in the world. He can buy whole GOLD of the country n wear GOLD Crown but he still wears Helmet. Simplicity level: 9999999 pic.twitter.com/5zoTjSLET0

— Ankit Singla (@mAnkitSingla) June 4, 2018
Dhoni being the richest cricketer asked Chahal to call him "SIR" instead of "RICHEST CRICKETER" (Actually not Mahi). Simplicity level Damm high.#MSDhoni #simplicity.

— TejaswaPrakash.Patil (@TejaswaPP) June 4, 2018
#memes #IPL2018 #Dhoni #Sarcasm
Dhoni fans be like: Dhoni can afford a whole Halwayi ki dukan dukan, but he's still sharing a laddoo with his daughter!!
Simplicity Level:💯💯💯💯 pic.twitter.com/QQwog7Neo6

— Gourav Garg (@Pakka_Baniya) June 2, 2018
MS Dhoni is so rich that he can travel to someother planet but he chooses to live on Earth !
Simplicity level : 10000000000 x (No. Of modi trips)

— Manender Chaudhary (@Mistermannu) June 2, 2018
He is taking selfie…he could hire a servent to take his picture….simplicity level dhoni👌🏻 pic.twitter.com/WxlRzwiTky

— Partha Bidarahalli (@ParthaGowda7) June 1, 2018
Dhoni of the most richest cricketer breathes oxygen.
Simplicity level-99999 pic.twitter.com/nbvyPipwZE

— Banti Ray (@bantiism) June 1, 2018
Dhoni is one of the most richest cricketer in the world. He can buy whole oil well of Dubai's but he still bathing in water
Simplicity level: 9999999 pic.twitter.com/XtlLiBkMQe

— Tiwari baba (@MayankT33189649) June 3, 2018
Dhoni is so rich that he can buy a sofa factory, but still he is sitting on the ground!
Simplicity level 100 pic.twitter.com/FVxFZ0kkZQ

— Awarapun (@missed_meme) June 3, 2018
#MSDhoni Simplicity level 💯✔ pic.twitter.com/OmcrqSh0GJ

— MS Dhoni MS Dhoni #Dhoni (@Dhoni7_FC) June 3, 2018
Follow us on Google News