Twitterati lash out at Cheteshwar Pujara for not walking after edging the ball in Ranji Trophy semi-final against Karnataka
Pujara was at 1 then and went on to score 45 runs eventually to get out to the same bowler.
Updated - Jan 25, 2019 3:57 pm
1.5K Views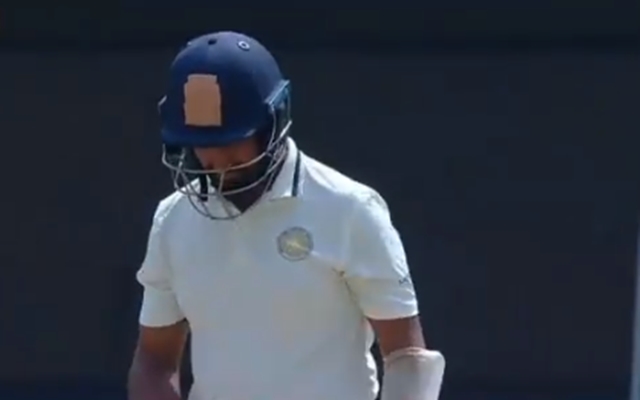 Follow us on Telegram
Cheteshwar Pujara was the one who instilled fear in the Australian camp during the recent series. After spending so much time at the crease, India's number three came back to India, put his head down and joined his state team Saurashtra in the ongoing Ranji Trophy. After helping the team to chase down 372 runs in the quarterfinal, Pujara is in the news again and this time, not for good reasons.
In the semi-final against Karnataka which is currently in progress at the Chinnaswamy Stadium in Bangalore, Pujara, the birthday boy, was given a gift by the on-field umpire. Abhimanyu Mithun's corker of a delivery took the bat's edge as the home side started to celebrate the big wicket. But to everyone's surprise, the umpire didn't raise the finger and instead suggested the players to get on with the game.
The incident happened in the 23rd over of Saurashtra's innings when Pujara was batting only on one run and could've been a huge moment in the game.
Here's the video:
— Mushfiqur Fan (@NaaginDance) January 25, 2019
Pujara gets out to the same bowler
Cheteshwar Pujara didn't walk only to irk the Karnataka players and fans. Though he was unfazed by all the criticism around him. He continued to bat the same way and scored 45 runs off 99 balls before getting out to Mithun itself. Saurashtra were 64/2 when he was given not out by the umpire and Pujara was dismissed when the score read 178.
The visitors are well in control of the proceedings as Karnataka have posted only 275 runs on the board in the first innings. The game is interestingly poised at the moment and if he would've been given out early, Karnataka would've been bossing the game.
Meanwhile, Pujara and the umpire are being lashed out by the fans as they felt the former had to walk off as he knew that he edged the ball. Few also blamed the umpire for not able to pick the edge.
Here's how Twitter reacted:
Pujara takes 12 balls to get off the mark and now gets a life. That Mithun delivery was short, touched his glove and went to the keeper. Umpire says no, even the broadcast guy in the enclosure goes back to the replay and says, "Out hai, out hai." @sportstarweb #KARvSAU

— Wriddhaayan (@Wriddhaayan) January 25, 2019
A birthday gift for Cheteshwar Pujara at the Chinnaswamy Stadium! Abhimanyu Mithun & Karnataka can't believe ChePu has survived this. Umpire Khalil Hussen Saiyed completely missed the nick. #RanjiTrophy #KARvSAU

— Kaushik Rangarajan (@kaushik_cb) January 25, 2019
Cheteshwar Pujara is caught behind for 1. Ball hits the glove. Umpire declares not out. Replays confirm ball hit the glove. Abhimanyu Mithun has bowled a fiery spell post lunch. Saurashtra: 64/2, trail by 211. #RanjiTrophy #KARvSAU

— Karnataka Ranji Team/ ಕರ್ನಾಟಕ ರಣಜಿ ತಂಡ (@RanjiKarnataka) January 25, 2019
#Karnataka extremely unlucky. Pujara gloves one to the wicketkeeper and Karnataka players erupt in joy. To their shock umpire signals that ball hit the shoulder. Replays clearly show the ball brushed the gloves. Should Pujara have walked? @DeccanHerald #RanjiTrophy #KARvSAU

— Vivek Mysore (@mysorevivekmv) January 25, 2019
Shocking to see Pujara not walking for a clear touch on the glove. Such a big noise, huge deflection. Umpire is fucking blind!

— Adarsh (@TheAdarsh_) January 25, 2019
@cheteshwar1 cheater Pujara very poor sportsmanship from u @RanjiKarnataka #kar_vs_sau #RanjiTrophy @BCCI stop this bias ,cheater umpire from baroda

— Avinash L P (@Apula02) January 25, 2019
Not expected dis frm u @cheteshwar1 you are role model to young players n viewers @RanjiKarnataka @BCCI #KARvSAU pic.twitter.com/rfBNtnU9Ar

— ♛ Hemanth kumar ♛ (@gofida2hemanth) January 25, 2019
#SAUvKAR Big Nick from gloves of Pujara and umpire says not out.. International players like Pujara should not have cheated like this

— Keshavamoorthy (@keshavamakki) January 25, 2019
Huge moment: Cheteshwar Pujara @cheteshwar1 (1) given not out by umpire Khalid Saiyed. Bowler Mithun celebrated with teammates as ball went past Pujara's bat to keeper Sharath. #Karnataka players stunned by decision #RanjiTrophy #KARvSAU

— APRAMEYA .C (@APRAMEYAC) January 25, 2019
Very poor umpiring standard in ongoing Ranji trophy matches, Mayank's lbw wasn't given yesterday today Pujara was clearly caught behind of Abhimanyu Mithun's bowling when the rising ball flicked his gloves on the way to wicket-keeper but umpire declared not out, DRS required.

— Rabi Sankar De (@RabiSankarDe3) January 25, 2019
Howler of a decision by the umpire #KARvSAU Pujara gets to bat second time ..Why isn't @BCCI not introducing referrals in the domestic circuit ..Umpiring standards pathetic

— R Bhat (@RSBHAT) January 25, 2019
This Pujara's decision pretty much sums up Mithun's 2018/19 season. More than half a dozen catches put down in the earlier matches and now, he bowls a Jaffa and gets Pujara — but the umpire doesn't recognise it. You ought feel for this guy @imAmithun_264 @rayane_mithun #KARvSAU

— Ramachandra.M/ ರಾಮಚಂದ್ರ.ಎಮ್ (@nanuramu) January 25, 2019
Had you walked on edging today Mr. Pujara, whole cricket community would have held you in very high esteem, not that you are now, however you chose to be counted among the lesser players. Howler by the umpire and the champion cricketer both. @cheteshwar1 ,@RanjiKarnataka #KARvSAU

— Madhu Kiran (@mk21in) January 25, 2019
No tattoo on body.

Simple hair cut.

No IPL contract.

No fake attitude.

Name: Cheteshwar Pujara.pic.twitter.com/Bu7AXR86M5

— Freak (@strangerrr_18) January 25, 2019
We're robbed. Now wait for his marathon innings. Sir couldn't walk off either. https://t.co/57UMtFDhEM

— arfan. (@Im__Arfan) January 25, 2019
So an umpiring howler will probably cost Karnataka the Ranji semi finals. Pujara clearly gloves one but given not out

— Ajay Kamath (@ajay43) January 25, 2019
Follow us on Google News