Twitterati left frustrated with Rishabh Pant's IPL style batting in Adelaide Test
Pant scored 25 runs to leave India at 127/6.
Updated - Dec 6, 2018 10:23 am
830 Views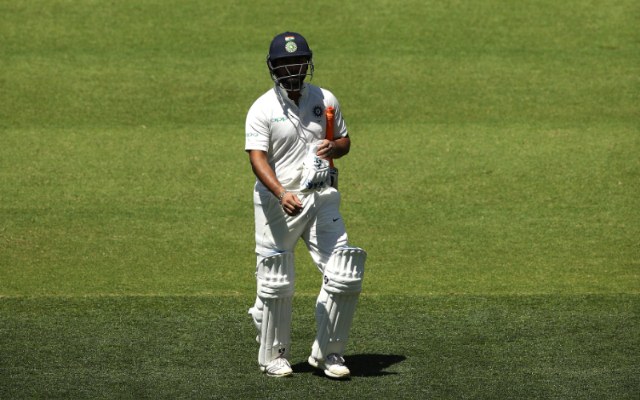 India's batting so far in the ongoing Adelaide Test could only be described with one word, 'Harakiri'. With the featherbed of a pitch on offer and after winning the toss, their top-order literally blew away a chance of batting big in the first hour itself. The new cherry moved a wee-bit and it was enough for the openers. The middle-order including Virat Kohli crumbled and then came Rishabh Pant who seriously didn't have any idea what was going on.
The youngster went tried to go after the bowling but he failed to mix caution with aggression. During his brief stay at the crease, he looked like getting out almost off every delivery. Mitchell Starc was all over him bowling those tempting fuller length deliveries. Pat Cummins also did the same even as the left-hander attempted an ugly hoick which left even the commentators surprised.
While he raced away to 20 off his first few balls itself, Pant never looked confident in the middle. The partnership of 41 runs took India past the 100-run mark but it was only a matter of time before the wicketkeeper-batsman was dismissed.
Lyon does the trick
Rishabh Pant, after getting lucky early on in his innings, was undone by a beautiful drift from Nathan Lyon. The off-spinner is the master of these conditions and the front-foot defence from Pant led to the ball taking his bat's faintest of edges. Tim Paine comfortably pouched the catch and Pant's 'IPL'-style innings came to an end of 25 off 38 balls.
Things aren't looking good for the visitors after the second session as they are 143/6 after 56 overs with Pujara alone fighting it out with a proper Test knock. He has scored 46 runs off 141 deliveries with four fours as Ravi Ashwin is supporting him. The duo has added 16 runs together for the seventh wicket stand and it will take a lot from the to pull India out of the hole they have dug for themselves.
Meanwhile, Twitterati was not at all impressed with Rishabh Pant who batted in T20 mode and thrashed him for his approach.
Here's how they reacted:
Just as he is about to go out to bat, someone must whisper into Pant's ear "Test cricket, not IPL".

— Sanjay Manjrekar (@sanjaymanjrekar) December 6, 2018
Rishabh Pant under the guidance of this reckless Ravishastri is bound to fail at test levels. 100-5 on Scoreboard in a test match and our dear pant goes into T20 mode #INDvsAUS

— Manjunatha Thumpiri (@manju1438) December 6, 2018
Rishabh Pant simply doesnot fit into the test squad…he lacks temperament #AUSvIND

— Sandip (@Solonisko) December 6, 2018
Rishabh Pant enjoy the next 5 days, you aren't playing another game this series #AUSvIND

— Andrew Bailey (@bail3yy) December 6, 2018
I have seen worse batsmen who are Clueless against swing and seam mostly Indian but Rishabh pant in England and Now in Australia …… He is just rubbish ….He should retire #INDvAUS

— Adnan Manzoor (@ImAdnanManzoor) December 6, 2018
I fail to understand how is Rishabh Pant a test batsman..! #AUSvIND #INDvsAUS #AUSvsIND

— Darshit Paun (@DarshitPaun) December 6, 2018
He is not in the test team to hit reckless idiotic shots .. he should learn to play the situation and not just try to slog every ball.. such a kid still #rishabhpant #AUSvIND #TeamIndia #AUSvsIND

— S Shah (@SonalSh40302959) December 6, 2018
Indian can't win a match away from home till we have KL Rahul and Rishabh Pant playing for us. #AUSvsIND

— Ashwatthama (@Pungebaaz) December 6, 2018
As of now, Rishabh Pant doesn't fit in the Test squad. Parthiv has a real chance of making it back to the side. #AUSvIND #AdelaideTest

— Rohit Joshi (@rohitjoshilko) December 6, 2018
#RishabhPant is like mutual funds these days. Invest kiye jao, profit kab dega pata nahi. #AusvInd #IndiavsAus

— A (@leosamit) December 6, 2018
rishabh pant this is not good You can not play such shots at all times Team Ka Situation Toh Dekho Yaar 😞😞😞#INDvAUS

— MŲBÁŔÂĶ PĀŤĔĹ (@MbVk18) December 6, 2018
Rishabh Pant as a test cricketer,i don't know how far it will go. He simply doesn't want to defend. None of them has simply shown the mentality to actually battle it out except pujara. #AUSvIND

— JD (@jayu_192) December 6, 2018
Rishabh pant so called "Future" of India cricket. I think this "Future" is going to last as long as his innings. #AUSvIND #INDvsAUS #CricketMeriJaan #cricbuzzlive

— Keval Chaudhari (@keval_c) December 6, 2018
Why rishabh pant is in hurry?? Take a time to settle. #AUSvIND

— rahul kumar (@Raahhull) December 6, 2018
Rishabh Pant just got out when Adam Gilchrist was on air. Huge moment for all those who keep comparing.#AUSvIND

— Nish Navalkar (@YUVI_NISH) December 6, 2018