Twitterati livid with Dinesh Karthik's omission from ODI series against Australia series
It seems Karthik has fallen behind in the race to Pant to make the cut for the WC.
Updated - Feb 15, 2019 7:08 pm
15.7K Views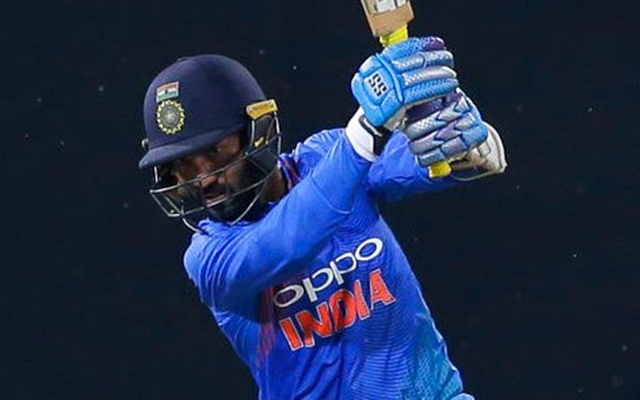 Follow us on Google News
India picked their squads for the three-game T20I and five-match ODI series against Australia on Friday and to many fans' surprise, Dinesh Karthik didn't find a spot in the ODI squad. Young wicket-keeper Rishabh Pant got a call and that gave an indication that the selectors and the management might have settled the dilemma over picking either of the two for the squad that will head to England for the World Cup in May.
It was just a month ago that Karthik, 33, said that the team management looked up to him as a finisher after India won the three-match ODI series against Australia. He played a couple of unbeaten cameos against Australia and New Zealand while chasing to help his side win. In the T20Is too, Karthik has been a successful finisher of late even though his refusal to take a run in the dying moments of a series-decider game against the Black Caps was got lambasted by the fans.
Did Pant eventually win the race?
Experts were found giving their suggestion over who to pick between Dinesh Karthik and Pant as India's second wicket-keeper for the WC given that MS Dhoni has already cemented his place. Some even said both the players could be accommodated with one playing as a specialist batsman. A few games in the recent times saw all three – Dhoni, Karthik and Pant – playing with the former India captain donning the gloves.
But now it seems Karthik has fallen behind in the race to Pant and made the cut for the World Cup, scheduled to start on Thursday, May 30. Having made his debut in 2004, Karthik has been one of the most irregular players for India with just 91 ODIs under his belt in over 14 years.
The Twitterati was livid with Karthik's omission from the entire ODI series against Australia which will be India's final international series before the WC. While some felt Pant snatched his spot eventually, others also felt that his misjudgment of taking a crucial run in the Hamilton T20I against New Zealand that cost him a place.
Here are some of the reactions of the Twitterati on Karthik's exclusion:
Now that Rishabh Pant has been picked, and needs game time to be assessed for a World Cup spot, I wonder whose place he will get. Jadhav? Or Rayudu? Irrespective of that, I hope this is not a final decision on Dinesh Karthik because that will be very hard on him

— Harsha Bhogle (@bhogleharsha) February 15, 2019
No Dinesh Karthik in ODI team! Rohit Sharma not rested. Vijay Shankar is still in contention. #TeamIndia

— Vimal Kumar (@Vimalwa) February 15, 2019
@imVkohli how come @DineshKarthik sir isn't in your #WorldCup2019 scheme of things, i have Alawys seen u praising @DineshKarthik in ur post match presentation, but u do what u always do politics & playing favourites that's why pant is in

— Sahil Jain (@sj_cult) February 15, 2019
#Shocking Wicketkeeper-batsman Dinesh Karthik dropped from India's ODI squad for series against Australia.

— kiranMLokmat (@kiranMLokmat) February 15, 2019
@DineshKarthik ommission is truly unfair, you can't scape a goat as many times you need.. Absurd favourism in selecting #KLRahul.. @imVkohli @MSKPrasad_

— Sridhar Madanagopal (@Shridhar_Rosidh) February 15, 2019
Rishabh pant need one good inning to be selected and dinesh karthik need one bad inning to be dropped. This not fair

— Kartik Malikam (@KartikMalikam) February 15, 2019
@BCCI where is @DineshKarthik
Give one genuine answer why you evicted this classy player!..#DK #BCCI #INDvsAUS

— Ramnath (@RamnathM97) February 15, 2019
What wrong did DK do? Where is dinesh karthik? He is sure shot in world cup

— SHOBHIT KUKRETI (@KukretiShobhit) February 15, 2019
Good to see Rishabh Pant in the team… KL Rahul also makes it to the squad. Dinesh Karthik unlucky to be missed out.. Hope Rayudu justifies the faith of team management. Must score runs more quickly & rotate better. https://t.co/XMC2T1Xd9i

— Navneet Mundhra (@navneet_mundhra) February 15, 2019
Doors shut on @DineshKarthik and @imjadeja for the World Cup? Pant's retention was expected. Biggest gainer has been Vijay Shankar. #IndiaCricketSelection

— Cricketwallah (@cricketwallah) February 15, 2019
KL Rahul gets rewards of becoming Virat servents.If Virat think he is boss of indian cricket team then Oneday he will be replaced and dropped from team like @DineshKarthik . What Kl Rahul and Pant has done for team india?? #INDvAUS

— Ran Bahadur Khadka (@Ran_B_Khadka) February 15, 2019
Why @DineshKarthik is not a part of Squad??????

— Raj Pratap Singh (@rajsingh016) February 15, 2019
No @DineshKarthik ? Fine, then I am not watching any match India plays.

— murthi17 (@KumarRamamurthi) February 15, 2019
Really @DineshKarthik pls @BCCI don't do this his last WC chance Everytime he prove himself

— Shashi_Bhushan (@0_figure) February 15, 2019
Why the hell I don't see @DineshKarthik in the squad? @BCCI should explain no? Stupid call if it's intentional drop! https://t.co/EjS2ybo9pN

— praveenschumi… (@praveenschumi) February 15, 2019
Follow us on Telegram