Twitterati react as selectors stay clear of Yuvraj Singh and Suresh Raina for Australia series
A lot of fans were not quite happy with the selection since both the left-handers continued to remain out of favour.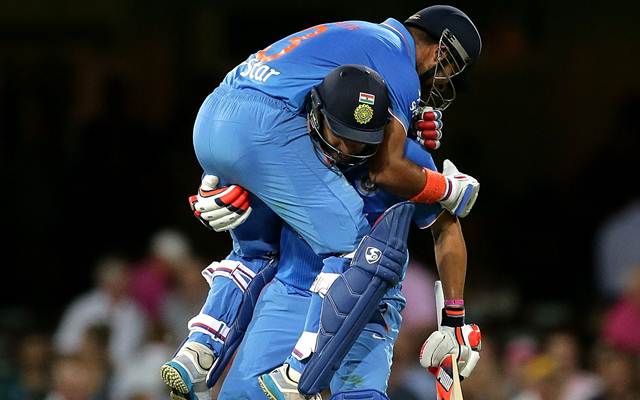 Follow us on Telegram
The Indian selectors announced a 15-man squad led by skipper Virat Kohli for the first three of the five One-Day Internationals against Australia that is set to kick off on the 17th of September at the M Chinnaswamy Stadium in Chennai. As expected, there weren't many changes from the squad that travelled and conquered Sri Lanka.
The two front line pacers the Men in Blue have groomed over the years Mohammed Shami and Umesh Yadav were drafted back into the ODI squad after resting them from the limited-overs leg of Lanka tour. Shardul Thakur who was brought in as a replacement made way for the duo. The pace battery includes the ever reliable Jasprit Bumrah and Bhuvneshwar Kumar. The spin twins Ravichandran Ashwin and Ravindra Jadeja were again rested.
"The team for the three ODIs against Australia has been selected in line with the rotation policy of the Board and accordingly R Ashwin and Ravindra Jadeja have been rested," India's chief selector MSK Prasad said in a release.
However, the non-selection of Yuvraj Singh and Suresh Raina again raised eyebrows amongst the fans. After a dismal series in Sri Lanka, a lot of people were expecting KL Rahul would be dropped as well. But, he continues to retain his place in the side while neither of Yuvraj or Raina was considered.
The fans felt that it was unfair to not include Yuvi who last played an ODI in the West Indies tour early July. They felt that his experience would've been important to knock the Aussies over. Many expressed disappointment about this particular decision by the selectors.
On the other hand, Raina fans were also not happy either. It's been almost a year since the southpaw from Uttar Pradesh played an ODI for India. Some fans even went to the extent of blaming skipper Virat Kohli for supporting his RCB teammates and ignoring others. Some felt Raina would be a better finisher than Kedhar Jadhav.
Here are some of the reactions that took place on account of Yuvraj and Raina being dropped from the squad:
I think seniority plays a vital role while playng wth a team lke #INDvsAUS @YUVSTRONG12 should hav been included nd @ImRaina too in da team

— Gowtham (@Im_Gk14) September 10, 2017
So finally exclusion of @YUVSTRONG12 & @ImRaina .That means you have to perform extremely well to be fit in the bench strenghth. #INDvsAUS

— Rajat Sharma (@rajat_sachin) September 10, 2017
As @YUVSTRONG12 is ignored once again, seems his int'l career is almost over! ? @BCCI @imVkohli

— ?? Arnab Paul ? (@ArnabPaul_) September 10, 2017
@YUVSTRONG12 man who won 2 Word cup for india selectors show some kind of respect atleast @BCCI @YuviWorld @YuviDieHardFans

— Avinash (@AvinashKumar180) September 10, 2017
Where is raina & yuvi?
Why both are not in squad? @ImRaina @YUVSTRONG12 .@BCCI @vikrantgupta73
???????selection process is rubbish @RJohri pic.twitter.com/ZbarNz18eY

— Swaroop Singh Jhala (@imSwaroopsingh3) September 10, 2017
@RaviShastriOfc you have't done any better than @YUVSTRONG12 for india now playing cheap politics with him

— Avinash (@AvinashKumar180) September 10, 2017
How about Yuvraj Singh, how long will his 'rest' continue? #IndvAus

— Samrat Chakraborty (@samrat_tweets) September 10, 2017
You can't understand value of @ImRaina. Fuck you!!! ? https://t.co/KU1CHVjPp0

— ♔ (@ItsRakesh_) September 10, 2017
were is @ImRaina he's just playing well ?

— rohitmarawi (@rohitmarawii3) September 10, 2017
I dont know why @ImRaina is not selected he should have given a chance this time instead of jadhav #IndvAus .really felling sad for him

— Raina Naresh (@RainaNareshh) September 10, 2017
@klrahul11 ke jagah @ImRaina Ko hona chahiye tha

— Paras Besra (@Paras79734866) September 10, 2017
Please give a chance to @ImRaina & @YUVSTRONG12 & replace Rahul & Pandey. https://t.co/KU1CHVjPp0

— ♔ (@ItsRakesh_) September 10, 2017
Where is suresh Raina? India will definitely lose this series because Raina is not in the squad…recent times I hate cricket

— Dhoni Sreeram (@DhoniSriram1) September 10, 2017
Again and again Hurt No @ImRaina ???@Bcci ?@imVkohli ? pic.twitter.com/qRtwUsWrOW

— Suresh Raina ツ (@ImRainaBro) September 10, 2017
There should be @ImRaina he deserves the place. But why Rahul is there oh got it RCB??

— Mohit Jaiswal (@mohitjais321) September 10, 2017
@ImRaina Sureshraina !! Back back soon to middle order u only play role of cricket opener, no3 no4 no5 no6 no7 any ware u only play !!

— porika vikas (@porika3) September 10, 2017
Why Do @BCCI Selected @klrahul11 Instead Of @ImRaina
R.I.P Bcci

— Niranjan BiswalDhoni (@niradhoni) September 10, 2017
This is unfortunate the world cup hero is not in the team why we don't respect our match winner @BCCI @YUVSTRONG12 https://t.co/yRwGrqPIql

— RAJESH SARKAR (@RAJESHSarkar143) September 10, 2017
We r with u @YUVSTRONG12 haar mat manna 2019 w.c tak. Never quit

— sumanta yuvi (@sumantajha7) September 10, 2017
It's not fair , why selector doing wrong with @YUVSTRONG12 ! Champion player hain yrrrrr @BCCI #wewantyuvi

— Naseem akram (@naseemakram100) September 10, 2017
Yuvraj Singh is rested or it is the end of his career ?

— Shubham Kumar Hota (@IamShubhamHota) September 10, 2017
#INDvAUS why not Yuvraj Singh…

— SUBODH MANDAL (@SUBODHMANDAL67) September 10, 2017
Follow us on Google News