Twitterati react to the Indian team playing PUBG while Jasprit Bumrah was the only odd man out
The Indian team was at the Mumbai airport and decided to kill time with PUBG.
Updated - Nov 1, 2018 5:33 pm
1K Views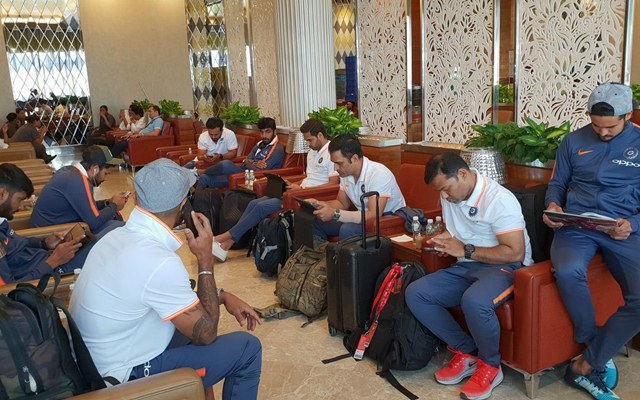 Follow us on Telegram
The country has been struck by the PUBG fever. PlayerUnknown's Battleground a multiplayer online game has fans across a spectrum from college students to professionals. The Indian cricket team that unwinds and switches off of cricket with digital games has also got into PUBG. While most of the members were busy in the virtual battle game, Jasprit Bumrah wasn't.
The Indian team currently engaged with West Indies in an ODI series right now. They've already travelled a wide landscape of the country. Their recent trip was from Mumbai where they played the 4th ODI to Thiruvananthapuram, the venue for the last ODI. The Indian players were at the Mumbai airport and with to kill time decided to switch on to the PUBG mode.
Board of Control for Cricket in India's (BCCI) social media handlers shared the moment with the fans. One can see the likes of Manish Pandey, MS Dhoni, Khaleel Ahmed, Rohit Sharma, Bhuvneshwar Kumar and Kedar Jadhav all engrossed in their mobile phones. But not Bumrah. In fact, he had a look on his face which suggested that he was judging them for being addicted to the game.
There was Shikhar Dhawan as well busy talking on the phone. But the look on the Indian pacer's face defined how he wasn't interested in the game and was thinking what is in it that these guys never seem to get enough of it.
Twitterati like always didn't miss out on it, while most people loved the fact that the Indian cricketers also enjoy playing PUBG, they also noticed Bumrah looking over. As expected they churned out quite a few memes and it was so hilarious.
Here are some of the best tweets and reactions from fans on Team India playing PUBG and Bumrah's expressions:
Bumrah looks as if he is above all these petty things….😂

— Debodipta Paul (@debodipta_paul) October 30, 2018
I can totally relate to @Jaspritbumrah93 here pic.twitter.com/PM784Xo4u7

— Annanya (@annanyajohari) October 30, 2018
@Jaspritbumrah93 bhai ne moksh ki prapti kar li hai .

— Tweet-ul-Hind (@Bharatnama_) October 30, 2018
Bumrah looks weird , strange!! 😂😂😂😂

— आवारा™Zero🧢 (@The_Freaky_KT) October 30, 2018
@Jaspritbumrah93 ji shot dead 💀 early or what …!!!???? 😹😹😹

— DHRUV PATEL (@Dhruv_pat3l) October 30, 2018
Bumrah kitna acha bachha hai chup chap baitha hai

— Swadesh Kumar singhdeo (@SwadeshSinghdeo) October 30, 2018
Bum rah is in very highly devoting mode😑😑😑😑😑😴😴😴😴😴👌🙌🏻🙌🏻😛😛

— Roshan.B.choudhary(R. B. C) (@roshanRBC7) October 31, 2018
But Boom Boom @Jaspritbumrah93 is not interested in PUBG.😜👻

— ABhijeet. (@imAbhijeet0803) October 30, 2018
Follow us on Google News