Twitterati recall MS Dhoni's heroics after Niroshan Dickwella missed an easy run-out chance
Dickwella missed a direct hit which denied a famous and much-needed win for Sri Lanka.
Updated - Mar 20, 2019 6:43 pm
8.8K Views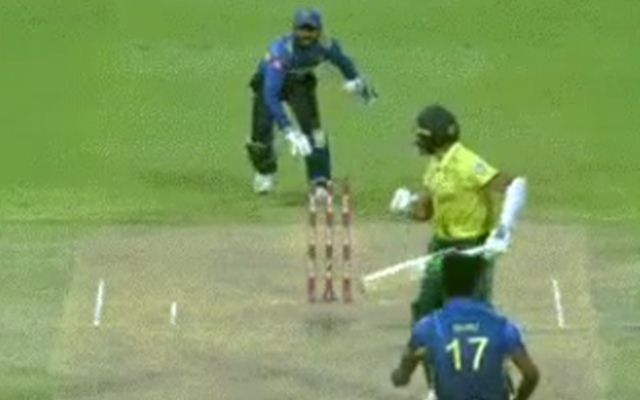 Follow us on Telegram
These days, wicket-keepers' lives have become tougher, thanks to the legend called MS Dhoni. His performance behind the stumps across the world today are being judged against that of the street-smart cricketer and more often than not, his competitors are found wanting. A few days ago, Dhoni's compatriot Rishabh Pant came under fire for not being able to match the senior keeper's show on the ground and missing some crucial chances of dismissal.
Now, Sri Lankan keeper Niroshan Dickwella has also found himself in a similar situation. He missed an easy run-out chance against South Africa in the first T20I in Newlands, Cape Town, on Tuesday, which allowed the hosts to level the scores and take the game into the super over. The Proteas then had an easy win in the super over to go 1-0 up in the three-match series.
Dickwella's error instantly brought in a comparison with Dhoni and the Twitterati explained what the Indian keeper would have done in such a situation.
Dickwella misses the direct hit
It so happened that South Africa required two runs off the last delivery to overhaul the Sri Lankan total of 134 in 20 overs and the batsmen – Imran Tahir and Dale Steyn — ran one run to tie the scores. It was clever delivery from Isuru Udana which the former missed to connect. The ball then went to Niroshan Dickwella even as the two batsmen ran for a run blindly.
Dickwella threw the ball towards the stumps in a hurry only to miss it by a fair margin thereby allowing the single which kept the visitors away from a famous victory.
Here's the video:
Niroshan Dickwella has missed the easiest run-out of his life. Length ball on off, and Dickwella tries to cut, but the ball's been under-edged to Dickwella. Steyn runs from the other end, and Dickwella takes aim at all three stumps, but he misses! #SAvSL pic.twitter.com/kas1yJdfkS

— Deepak (@TaleAndhera) March 19, 2019
The fact that MS Dhoni is hogging the limelight here is due to his heroics against Bangladesh in the World T20 in 2016 at the Chinnaswamy Stadium. Bangladesh needed two off the final ball when the batsman didn't connect and Dhoni, with his one glove, ran faster than the non-striker to affect the dismissal. Smartly, he didn't throw the ball as it could've missed the stumps and this is what Dickwella should've done according to the fans.
Here's how Twitter reacted to Dickwella's mistake:
Dickwella has missed a direct hit
Now we know why MS DHONI ran to the sticks against bangladesh#SAvSL #dickwella

— Steve Jobless INDIAN (@over35goals) March 19, 2019
MS Dhoni would have had his glove off. So off.

— Andrew Fidel Fernando (@afidelf) March 19, 2019
He wouldn't have just have had his glove off, he would have been keeping at a distance where he KNEW he could beat the non-striker through to the stumps if the batsmen tried to run a bye.

— Andrew Fidel Fernando (@afidelf) March 19, 2019
Niroshan Dickwella should have done a MS Dhoni but tried to do a Bumrah and ended up being a clown.

Not everyone can be a MSD or a Bumrah. #SAvSL

— Vigz (@MadridistaSays) March 20, 2019
Dickwella is no Dhoni! #SAvSL

— Arindam Saha (@arindam_aka_dar) March 19, 2019
Last ball runout run like #dhoni 🔥
Not do like #Dikwella 🤷‍♂️ 🤦‍♂️#SAvSL @OfficialSLC @RusselArnold69

— S.H.Tyron (@tyron1808) March 19, 2019
Watched the highlights of #SAvSL match the Dickwella learn from Dhoni Imran Tahir celebration wow 😁

— Kishore Bardhan (@KishoreBardhan) March 20, 2019
What a match! #SAvSL

It's a tie but some brilliance from Dickwella could've ended up in a victory for Sri Lanka. But there is only one Dhoni. pic.twitter.com/1BrLnEaKm9

— Shubham Dogra (@Shubham513) March 19, 2019
That is just about the difference between an average keeper & Dhoni 🤷🏽‍♂️#SAvSL

— SwingAndSeam (@swing_seam) March 19, 2019
Here's Mumbai Indians' full squad for IPL 2019:
Follow us on Google News