Twitterati slam Australian keeper Alex Carey after appealing for hit-wicket
Rahul was eventually dismissed in the same over.
Updated - Nov 22, 2018 12:17 pm
4.6K Views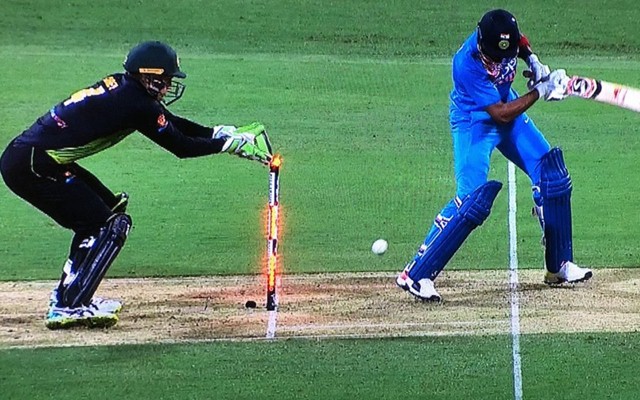 The first T20I between Australia and India at the Gabba, Brisbane, on Wednesday went down to the wire and eventually it was the hosts who prevailed over Virat Kohli's men by just four runs. India were given a target of 174 to be chased in 17 overs by the DLS Method after rain interrupted during the first innings. Opener Shikhar Dhawan's 42-ball 76 and Dinesh Karthik late-innings rush (30 off 13 ball) took the visitors within a striking distance of victory but they lost.
The match saw quite a few high performances from both the batters and bowlers but there was also a moment of controversy which set the social media abuzz. It was the 'hit wicket' instance in the ninth over of India's innings which saw the Aussie wicket-keeper Alex Carey facing a backlash.
Did Carey deliberately dislodge the bails?
It so happened in the first delivery of the over which spinner Adam Zampa was bowling. The ball was hit on the offside by KL Rahul and it was seen that one of the bails lit up and fell down. The first impression was that the batsman hit the stumps and the fielding side claimed his dismissal. The Australian wicket-keeper looked unsure of the actual thing.
The matter was hence referred to the third umpire. In the replay it was seen that Rahul's bat or backfoot was nowhere near the stumps and the bails were dislodged by the touch of the wicket-keeper's gloves. The ball was deemed illegal as the umpire called it a no-ball and Rahul took a couple in the free hit that followed next. However, the Australians had the last laugh in the very next ball as Alex Carey stumped Rahul out and the decision was confirmed by the third umpire.
The Twitterati was, however, furious with the 'hit wicket' controversy and came out blasting Carey, who made his international debut this year itself, even calling him a "cheat". They also criticised Australia, a side which of late has come under heavy criticism over matters related to ethical conduct on the field.
Here are some of the reactions that the Twitterati came up over Carey's act:
Alex Carey – elite honesty!

— ACE (@ayzaz78) November 21, 2018
After Brad Haddin and Tim Paine and @MatthewWade13 another cheater wicket keeper for Aussies Alex Carey https://t.co/s4ASaIyLJC

— Abhi Biswas 💪♔ (@youwillconfuse) November 21, 2018
@cricketcomau Please ask your team to play fair, pulling down bail by hand and appealing for hit wicket. #alexcarey

— Nikhar Srivastava (@nikhar0007) November 21, 2018
This is fire commentary from harsha "He(alex carey) knows he's flicked the bails out, he knows he'll look silly when on the screen, his coach did it some time back in the past" (referring to an old incident when langer cheated against lankans).

— srinath (@srinath245) November 21, 2018
Australians r cheaters and their wicketkeeper #alexcarey proved that today

— Amrendra Kumar (@amrendrakumar02) November 21, 2018
*When Alex Carey hit the bails by his gloves and appealed for a hit wicket* pic.twitter.com/zTWkGgvxIe

— Vishal Kumar (@Vish_kmr) November 21, 2018
Clearly you have no idea about cricket and rules .The dismissal was not at all clear and could have been gone to batsman, Mich Clarke belived it as well
Alex Carey the true Australian acting on the pitch with innocence.I wonder you cheat don't know it's 2018 and there are cameras

— Ankit Sharma (@Heyankit_mufc) November 22, 2018
And earlier when he realised the umpire was going to call a wide, needlessy appealed for a caught-behind when everyone knew there were miles between bat and ball. #AlexCarey, #AUSvIND https://t.co/GpTaPkOojq

— Rajkrishnan Menon (@RajkrisMenon) November 21, 2018
@CricketAustrala @sanjaymanjrekar @gilly381 is #alexcarey following the path of #dave & #smith best wicket keeper of the year

— tony joseph (@tonyjoseph3) November 21, 2018
Match summary :

#1 – Zampa for ballon d'Or.

#2 – Stoinis is the Marcelo of Australia.

#3 – Tye joins Smith and Warner on account of suspension.

#4 – Alex Carey for Oscar. #AUSvsIND 🇦🇺 💛#AUSvIND

— WRYTER (@wry__ter) November 21, 2018
Hey Warne,
What you say about Alex Carey, the liar? 😂

— Raj (@gentlemanraj07) November 21, 2018
What a game!!
Team Australia had to take help of DLS to win!!
Saw Alex Carey hit stumps n appeal for hit wicket too with other #aussie ways of cricket 😉
Interesting series this will be.#AUSVIND

— Anup Baheti (@bahetianup) November 21, 2018
Alex carey👍

great australian legacy ni carry chestunnaadu👏

— KESAV REDDY (@reddykesava) November 21, 2018
ALEX CAREY UPHOLDING AUSTRALIA'S ELITE HONESTY #AUSvIND

— Introvert (@BoredCricketFan) November 21, 2018
#Brainfade moment for Australia's wicket keeper Alex carey! #AUSvIND pic.twitter.com/d8CbrlUuGx

— Pra Dee Paa 🇮🇳 (@Pra_Dee_Paa) November 21, 2018