Twitterati slam the third umpire for making a horrendous decision in giving Daryl Mitchell out
A shocking decision led to the crowd booing as well.
Updated - Feb 8, 2019 1:24 pm
30.1K Views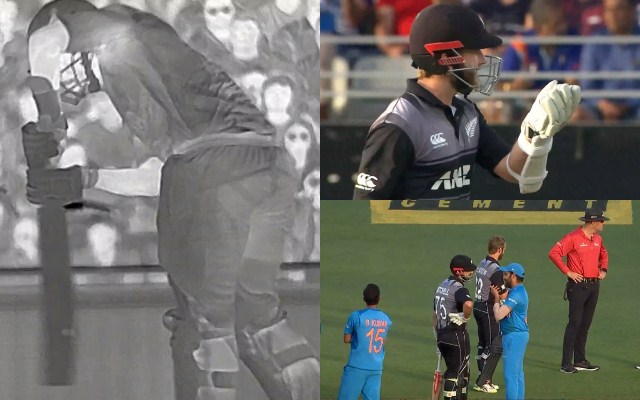 Follow us on Telegram
There were dramatic scenes at the Eden Park in Auckland during the sixth over of New Zealand innings. The third umpire Shaun Haig made a howler of a decision using the technology to adjudge Daryl Mitchell out shockingly despite it was clear that there was an inside edge. Even the on-field umpires were left perplexed as Kane Williamson questioned the decision even as the jam-packed crowd booed.
The short-pitched delivery from Krunal Pandya skidded to hit Mitchell's pad in front of the stumps and the appeal was upheld by the on-field umpire as well. The batsman was confident of inside-edging it and hence went for the review. In the replays only it was confirmed that the ball had hit the inside part of the bat before hitting the front pad. Even the hot-spot confirmed the same.
However, to everyone's surprise, the Real-Time Snickometer (RTS) didn't spot the edge as there was a flat line when the ball passed the bat. Based on that, the third umpire upheld the decision of the on-field umpire.
Rohit involved in the discussion
Both Williamson and Daryl Mitchell were convinced that it was not-out and even Indian players had gone back to their fielding positions waiting for the decision. However, there was chaos when the final decision came. The crowd starting booing the umpires while the Kiwi skipper confronted the officials to have a look at it again. Meanwhile, Rohit also spoke to Mitchell about the same.
The batsman was asking may be to withdraw the appeal but with the final decision being made, Daryl Mitchell had to walk back. New Zealand also lost the review unnecessarily. Mitchell, playing only his second T20I could muster only a solitary run and clearly, wasn't happy with the decision as he walked back in despair. Meanwhile, Twitterati ripped apart the third umpire Shaun Haig for giving one of the worst decisions in the modern day cricket with the help of technology.
Here's how Twitter reacted:
Hey @ICC this is a howler! How on Earth did the TV umpire give him out? #IndvNZ

— Vikrant Gupta (@vikrantgupta73) February 8, 2019
BIZZARE. ARE WE SERIOUS? Third Umpire has failed the DRS 🙈😱 #Mitchell #NzvInd

— Aakash Chopra (@cricketaakash) February 8, 2019
And to make it worse. NZ have lost the review too. EPIC 😱 https://t.co/wjCXw4nl3a

— Aakash Chopra (@cricketaakash) February 8, 2019
*Third Umpire gives a wrong decision*
*On field umpires get together to take a call*

One umpire to another umpire: Tu puch (nahi tu puch) Tu puch na.. Last time mai pucha tha Dhoni se…

— 𝐒𝐢𝐥𝐥𝐲 𝐏𝐨𝐢𝐧𝐭 (@FarziCricketer) February 8, 2019
What was that??

He has hit it. The hot spot has confirmed it…#NZvInd

— Sandipan Banerjee (@im_sandipan) February 8, 2019
Once the DRS messed it up there was no solution other than asking the batsman to leave. The 3rd umpire has preferred snicko over hot spot. We haven't heard the last of this.

— Harsha Bhogle (@bhogleharsha) February 8, 2019
Rubbing salts to the wounds, New Zealand lose their review too.

Laughable chain of events. Batsman didn't realise there was an inside edge. Third umpire sees it and doesn't rule it.#NZvIND

— Suneer (@suneerchowdhary) February 8, 2019
Forget Hotspot, forget Snicko – the first spin vision in real time was enough evidence to give it *not out. Goes to show, you can have all the technology in the world but won't mean a thing if it's not used properly. Poor all around. #NZvsIND

— Vinayakk (@vinayakkm) February 8, 2019
Chaos in Auckland! A clear inside edge picked up by Hotspot on the review by Daryl Mitchell, but the third umpire ignores it and declares him OUT, based on ball-tracking.

Rohit Sharma, seemingly, isn't allowed to call him back – New Zealand lose their review. #NZvIND

— Cricbuzz (@cricbuzz) February 8, 2019
Huge controversy in the India v NZ t20. Umpires and technology under the spotlight again. Hot spot shows a huge mark, but 3rd umpire isn't convinced. #nzvind pic.twitter.com/dG99RgUX7C

— Gav Joshi (@Gampa_cricket) February 8, 2019
India won't be getting any spirit of cricket awards soon. I would bet that, if the @BLACKCAPS were fielding, Kane Williamson would gave called the batsman back. Bad third umpire decision. #NZvIND

— Grant McLachlan (@GrantMMcLachlan) February 8, 2019
#KoffeeWithKaran moment for shaun baig, the third umpire. Daryl Mitchell hard done by bad decision. #INDvNZ #NZvIND @cricbuzz @TheCricketerMag

— Shashank Mirani (@ShashankMirani) February 8, 2019
The third umpire did not see enough frames on RTS and Hot spot showed a clear edge. 3rd ump seem to think it is out from the start as even on regular replay, he seemed to suggest no bat although it looked lot closer for the naked eye decision. #NZvIND

— PasupathikovilKannan (@KanSRam) February 8, 2019
Third umpire in today's match#INDvNZ #NZvIND pic.twitter.com/o4db0qMTv0

— Subham (@subhsays) February 8, 2019
Dear @ICC, please teach the 3rd umpire some basic umpiring 🙄 Such a stupid decision by him.. #INDvNZ

— V.Eshwar Viswanath (@eshwar0303) February 8, 2019
DRS was introduced to overturn the on-field umpires' wrong decisions. Now ICC should introduce DDRS to overturn TV umpire's wrong decisions 😏

— Breathing_Fire (@_MuskanVerma_) February 8, 2019
Guys @ImRo45 tried to call the batsman back, but the umpire ignored him. Please do not give unnecessary hate for Rohit .

— Sir Rohit Sharma (@aniketwex_rishi) February 8, 2019
It seems Rohit tried to take that decision back but umpire ignored him.#NZvIND

— Captain Jeetha (@captainjeetha) February 8, 2019
I can understand if the 3rd umpire says the two resolution methods are in conflict and so I will go with the on-field decision. But he doesn't say that. https://t.co/cJ8l5wnrcl

— Harsha Bhogle (@bhogleharsha) February 8, 2019
Follow us on Google News