Twitterati slams Australia PM Scott Morrison for choosing cricket over bushfires
The bushfires which were triggered by lightning have hit the state of New South Wales the hardest.
Updated - Jan 2, 2020 5:04 pm
345 Views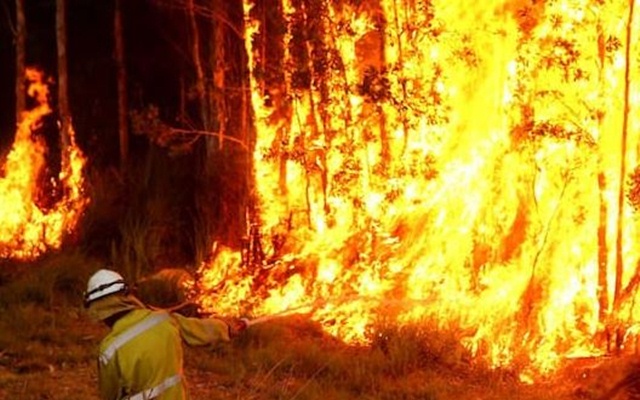 Follow us on Telegram
As the Australian states battle with one of the worst cases of bushfires, PM Scott Morrison has come under heavy criticism from the public for apparently placing cricket over the ongoing crisis of fires. Morrison vowed that the third Test match between Australia and New Zealand at the Sydney Cricket Ground (SCG) will be played as scheduled despite the state struggling to contain the raging calamitic catastrophe.
The bushfires which were triggered by lightning have hit the state of New South Wales the hardest and it has been estimated that over half-a-billion wildlife have lost their lives despite the efforts from firefighters and other authorities. The smoke from the fires has heavily decreased air quality levels and firefighters are constantly struggling hard to get these situations under control. Under such circumstances, PM Morrison has found himself guilty of some insensitive comments and placing cricket above everything else.
Australia PM has been censured for vacationing in Hawaii
Scott Morrison recently hosted the Australia and New Zealand teams at the Kirribilli House and mentioned that the SCG Test will go forward as scheduled. "Australians will be gathering, whether it's at the SCG (Sydney Cricket Ground) or around television sets all around the country, and they'll be inspired by the great feats of our cricketers from both sides of the Tasman and I think they'll be encouraged by the spirit shown by Australians and the way that people have gone about remembering the terrible things that other Australians are dealing with at the moment," he was quoted as saying by stuff.co.nz.
The Australian PM has been under fire for vacationing in Hawaii while his country burns and though he hoped that his recent speech inspired his fellow countrymen, not many have agreed with him and called him out on Twitter. The Sydney Morning Herald also reported that both teams played out a few overs on the lawn at the reception, which was an annual affair for visiting teams.
The Australian citizens on social media called out Morrison for a lack of acknowledgement of the impact of climate change on the fires crisis and for insisting the latest outbreaks were no different from any other disaster.
Here are some of the angry tweets for Morrison by Australian citizens:
Scott "#ScottyFomMarketing" Morrison has time to do a sports team photo op and play some backyard cricket, but cannot spare a minute to comment on climate policy for the future.

This negligence condemns us to a future in which this is the new normal.#AustraliaBurning #auspol

— Dave (@davidscaife) January 2, 2020
An embarrassment and danger? You must be referring to my Prime minister, Scott Morrison, who watches cricket and has cocktail parties while Australia burns to ash. To despair for your country is a horrible thing.

— Gina Schien (@Ginaschien) January 2, 2020
If there is no power in the hall, how are these poor souls supposed to watch the cricket & be inspired, after all, that is the advice issued by @ScottMorrisonMP the 'leader' of our nation.
If only this was satire!#AUSTRALIANBUSHFIRES #NotMyPrimeMinister #auspol2020

— 💧KORKI 🐯🏆🐯 (@CKorki) January 2, 2020
It's a shame that the only ashes Scott Morrison cares about are cricket related.

— Kirsty Webeck 🏳️‍🌈 (@KirstyWebeck) January 2, 2020
What a silly question. @ScottMorrisonMP has far more important things to do than lead a nation is catastrophic crisis. He has NYE parties to host and enjoy the cricket which we must all be inspired by because after all it has a backdrop of fires in the background.

— Noah Fence (@NoahFen00903729) January 2, 2020
The fact that Morrison is nonchalantly hosting backyard cricket at Kirribilli while the nation burns and mourns is abominable. He may be PM — but he is not a leader https://t.co/aJuXBgTMlZ

— Asher Wolf (@Asher_Wolf) January 1, 2020
Seriously?!
Who is advising this bloke that while the country burns it would be a good look for him to take a photo with blokes who play a GAME!!!

YOU SHOULD NOT HAVE TIME FOR THIS RIGHT NOW. #bushfiresAustralia #SydneyTest pic.twitter.com/xEWX6tsa2g

— Liam Flanagan (@ljflannas) January 1, 2020
Compare the pair #bushfiresAustralia pic.twitter.com/QG9gbYgGUE

— Adam H (@thereddevils84) January 1, 2020
Congratulations to Scott Morrison for putting in a performance as a national leader during an emergency that is actually at sub-Trump level.

One longs to be tossed some paper towel. Anything.#auspol #firecrisis

— Van Badham (@vanbadham) January 1, 2020
Follow us on Google News